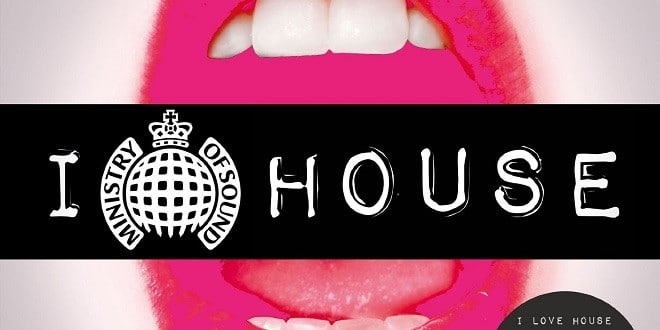 Mit der Ministry of Sound I Love House gibt es den nächsten Ausblick auf die kommende Party Saison, denn in der Tracklist gibt es reichlich Tracks und Künstler von denen wir in den nächsten Monaten sicherlich noch viel mehr hören werden.
Kaum ein anderes Label hat so eine hohe Frequenz in Sachen Release von Dance Compilations wie Ministry of Sound. Zwar kommt der Teil der Besucher bei uns eher aus England aber auch in Deutschland ziehen die Werke von Ministry of Sound ihre Kreise und das obwohl sich Ministry of Sound bekanntlich aus Deutschland zurück gezogen hat.
Mit der " I Love House " bietet das englische Label einen musikalischen Ausblick auf die kommenden Monate. Auf 3 CDs verteilt bekommt ihr hier über 60 Tracks geboten, die euch die nächsten Wochen sicherlich ausreichend begleiten werden. In der Tracklist warten Top Songs von den ganz großen der Szene aber auch reichlich Stuff, von eher noch unbekannteren Deejays bzw. Produzenten.
Der Release Termin ist für den 17. April 2015 angesetzt und schon kurze Zeit später kommen weitere Compilations auf den Markt, diese werden wir euch in den nächsten Wochen natürlich noch alle vorstellen. An dieser Stelle gibt es wie immer natürlich auch hier wieder die Tracklist und das dazu passende Cover der Ministry of Sound I Love House, damit ihr euch einen ersten Eindruck von der neuen Compilation machen könnt.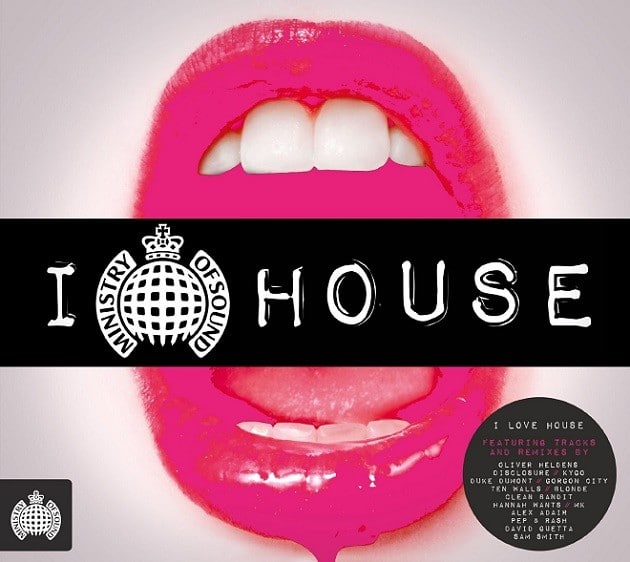 Disk: 1
1. Dr Kucho & Gregor Salto – Can't Stop Playing Oliver Heldens & Gregor Salto Remix – Can't Stop Playing (Makes Me High)
2. Disciples – The Dont Know – They Don't Know
3. Hannah Wants & Chris Lorenzo – Rhymes – Rhymes
4. Disclosure – White Noise – White Noise
5. Blonde – Loved You Radio Edit – I Loved You
6. Gorgon City – Go All Night – Bump & Grind 2014
7. R Kelly vs Waze & Odessey Bump N Grind 2014 Radio Edit – Money On My Mind (MK Remix)
8. Sam Smith – Money On My Mind (MK Remix) – Look Right Through (MK Vocal Edit)
9. Oliver Heldens Feat. Becky Hill – Gecko (Overdrive) Radio Edit – Revive (Say Something)
10. Kokiri – Retrospect Illyus & Barrientos Remix – Gecko (Overdrive)
11. Storm Queen – Look Right Through MK Radio Edit – Retrospect (Illyus & Barrientos Remix)
12. Breach – Everything You Never Had Radio Edit – Everything You Never Had (We Had It All)
13. Clean Bandit & Jess Glynne – Real Love Tough Love Remix – Hideaway
14. Kiesza – Hideaway – Real Love (Tough Love Remix)
15. The Magician ft. Years & Years – Sunlight Radio Edit – Sunlight
16. Route 94 – My Love – I Wanna Feel
17. Duke Dumont – Need You 100% Radio Edit – Climbin' (Piano Weapon)
18. Secondcity – I Wanna Feel – Kick Your Ass
19. Shadow Child And Doorly – Climbin' (Piano Weapon) – Thinking About It
20. Just Kiddin – Thinking About You – Need U (100%)
21. Lana Del Rey – Summertime Sadness MK's Feel It In The Air Mix – Summertime Sadness (MK Feel It In The Air Remix)
22. Jessie Ware – Running Disclousre Remix – Running (Disclosure Remix)
Disk: 2
1. Oliver Heldens ft. K Stewart – Last All Night (Koala) Radio Edit – Last All Night (Koala)
2. Tchami ft. Kaleem Taylor – Promesses Radio Edit – Promesses
3. Duke Dumont – I Won't Look Back Radio Edit – Won't Look Back
4. Gorgon City – Ready For Your Love – Ready For Your Love
5. Ferrick Dawn & Redondo – Love Too Deep Radio Edit – Love Too Deep
6. Mike Mago x Dragonette – Outlines Radio Edit – Always (Route 94 Remix)
7. Breach – Jack Radio Edit – Outlines
8. MK – Always Route 94 Remix – Jack
9. Le Youth – Girl – Girl
10. Pep & Rash – Fatality Quintino Edit – 9TS (90s Baby)
11. Redlight – 9TS (90s Baby) – Ey Yo
12. KANT v MK – Ey Yo – Low Frequency
13. Denney – Low Frequency Original Mix – Reverse Skydiving (Shadow Child Remix)
14. Hot Natured – Reverse Skydiving Shadow Child Remix – What I Might Do
15. Ben Pearce – What I Might Do Original Mix – Shake That
16. Dansonn & Marlon Hoffstadt – Shake That – Got A Feeling (Bontan Remix)
17. Josh Butler – Got A Feeling Bontan Remix – Infinity 18. Green Velvet
18. Infinity Ink – Infinity
19. Green Velvet – Bigger Than Prince Hot Since 82 Remix – What You Need (Denney Remix)
20. Oscar G – What You Need Denney Remix – Turn It Up (Tchami Remix)
21. Mercer – Turn It Up Tchami Remix – Fatality (Quintino Edit)
22. Sander van Doorn & Oliver Heldens – This – THIS
Disk: 3
1. Alex Adair – Make Me Feel Better Radio Edit – Dangerous (Robin Schulz Remix)
2. Bakermat – Teach Me Radio Edit – Prayer In C (Robin Schulz Radio Edit)
3. David Guetta – Dangerous Robin Schulz Radio Remix – My Head Is A Jungle (MK Remix)
4. Lily Wood & The Prick – Prayer In C Robin Schulz Radio Edit – Waves (Robin Schulz Remix)
5. Duke Dumont – I Got U – Benediction 6. Parra For Cuva Feat. Anna Naklab
6. Mr Probz – Waves Robin Schulz Radio Remix
7. Hot Natured – Benediction – Bullit 8. Ten Walls
8. Para For Curva – Wicked Games
9. Wanklemut – My Head Is A Jungle MK Remix Radio Edit – Faded
10. Ten Walls – Gotham Original Mix – Ertesuppe
11. Watermat – Bullit – Jubel
12. ZHU – Faded – Changes
13. Klingande – Jubel – New Orleans
14. Naxxos – New Orleans – So Good To Me
15. Faul & Wad Ad – Changes – Stay (Justin Martin Remix Radio Edit)
16. Dante Klein – Ertesuppe – Touching Me
17. Klangkarussell – Sonnenttanz – Cut Your Teeth (Kygo Remix)
18. Kyla La Grange – Cut Your Teeth Kygo Remix – Sonnentanz
19. Henry Krinkle – Stay Justin Martin Remix Radio Edit – Something Special
20. Chris Malinchak – So Good To Me Radio Edit – Come On Now (Set It Off)
21. Finnebassen – Touching Me – Love Somebody Else
22. Maceo Plex – Love Somebody Else Original Mix – Say You Love Me (Alex Adair Remix)