Ministry of Sound startet mit " Our House is Your House " wieder einmal eine neue Reihe, die erste Ausgabe liegt in Sachen Tracklist Schwerpunkt mäßig bei Todd Terry. Kaum ein anderes Label bringt derzeit so viele neue Compilation auf den Markt wie Ministry of Sound.
In Deutschland werden diese zwar wenig bis gar nicht beworben aber in England sind sie dafür umso beliebter. Nachdem sich das Label aus dem deutschen Markt zurück gezogen hat, haben wir auf unseren Webseiten nur noch wenig über neue Compilations des Labels berichtet. Seit einigen Monaten hat sich das jedoch wieder geändert und an dieser Stelle bedanken wir uns mal, dass ihr uns Lob für diese Entscheidung zukommen lassen habt.
Die jüngere Generation wird den Namen Todd Terry vielleicht gar nicht mehr so kennen aber in den 80er und 90er Jahren war er unfassbar erfolgreich und hat so einige große Tracks und Remixe auf den Weg gebracht. Auf dieser Compilation findet ihr eine gesunde Mischung aus aus den frühen Tagen seiner Karriere und einem Mix aus seinen aktuellen Favoriten.
Bis zum Release Termin, müsst ihr euch noch etwas gedulden, denn dieser ist für den 3. April 2015 angesetzt. Wir haben an dieser Stelle natürlich wieder die Tracklist und das Cover für euch am Start, denn natürlich sollt ihr euch auch in diesem Fall einen ersten Eindruck der neuen Compilation machen können.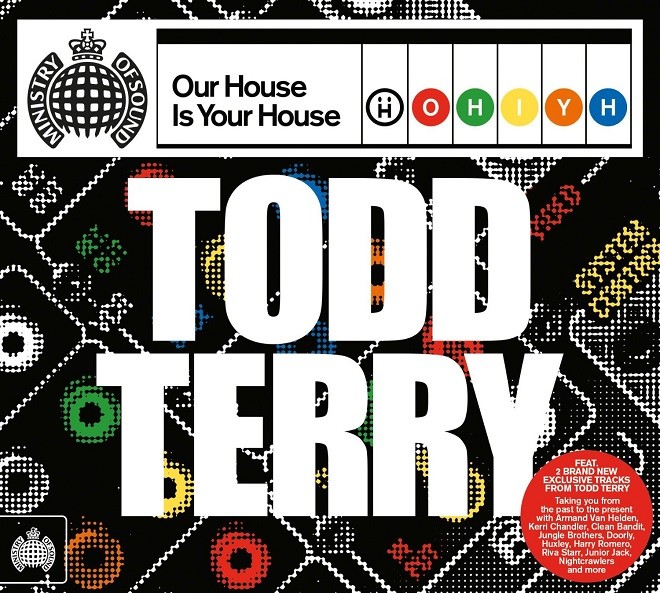 Disk: 1
1. Todd Terry – LiL Crash
2. The Todd Terry Project – Back To The Beat
3. Jungle Brothers – I'll House You
4. The Todd Terry Project – Bango
5. Class Action – Weekend
6. Maurice – This Is Acid
7. Nightcrawlers – Push The Feeling On The Dub Of Doom
8. MD-Xpress – God Made Me Phunky
9. Studio Apartment – Siarre (Bonus Beats)
10. House Of Gypsies – Samba
11. The Todd Terry Project – Jumpin (Tee's Mac Edit)
12. Todd Terry Feat. Martha Wash & Jocelyn Brown – Keep On Jumpin' (WMC Mix)
13. Todd Terry – Something Goin' On
14. Prok & Fitch vs Todd Terry – Something Going On
15. Doorly vs Todd Terry – On A Mission (Doorly Re-Chunk)
16. Tori Amos – Professional Widow (Armand's Star Trunk Funkin Mix)
17. Junior Jack – Thrill Me
18. Crystal Waters – Gypsy Woman (La Da Dee La Da Daa)
Disk: 2
1. Todd Terry & Robin S – Give Me A Reason
2. Clean Bandit – Come Over Feat. Stylo G (Todd Terry Rub-A-Dub)
3. Todd Terry – Real House (Tee's Freeze Mix)
4. Sam Smith – I'm Not The Only One (Armand Van Helden Remix)
5. Todd Terry feat. Martyna Baker – Go Away
6. Huxley – Inkwell (Deep House 2 Edit)
7. Everything But The Girl – Missing (Todd Terry Club Mix)
8. Stuart Ojelay – Good Old Days
9. Kerri Chandler – Think of Something
10. Codec – Feel
11. Foamo – Release Me feat. Lotti
12. Todd Terry & Ant LaRock – Back Around
13. Harry Romero – Tania (Riva Starr Remix)
14. Muzzaik – Closer
15. Todd Terry presents CLS – Can You Feel It (Prok & Fitch Remix)