Mit der Ministry of Sound Smooth Grooves und ihrer Tracklist, kommt ein weiterer Top Sampler des englischen Labels auf den Markt. Dieses mal beackert man dort den Sektor der zeitlosen Klassiker, zu denen größen wie Michael Jackson, Lionel Richie, Soul II Soul und weitere gehören.
Das man bei Ministry Of Sound genau weiß was angesagt ist, hat das Label bereits mit zahlreichen Compilations bewiesen, die so gut wie immer ein voller Erfolg sind. In diesem Jahr schwächeln zumindest auf dem deutschen Markt, die Flaggschiffe etwas aber dennoch ist das Interesse der Szene groß.
Die Ministry of Sound Smooth Grooves sind genau das richtige für der Start einer Party, wenn man die Stimmung erst einmal auflockern will bevor es dann so richtig los geht. Denn diese Zeitlosen Klassiker kennt man einfach und singt recht schnell automatisch mit.
Auch diese Compilation erscheint am 8. April 2016, dies scheint in diesem Jahr der Start für zahlreiche Frühlings-Compilations zu sein, denn auch viele andere Labels bringen an diesem Tag ihre Flaggschiffe auf den Markt.
So ist es also auch höchste Zeit einen Blick auf die Tracklist zu werfen, damit ihr auch wisst was euch hier erwartet. Wie immer gibt es darüber hinaus natürlich auch das passende Cover, damit ihr auch wisst wonach ihr im Fachhandel ausschau halten müsst.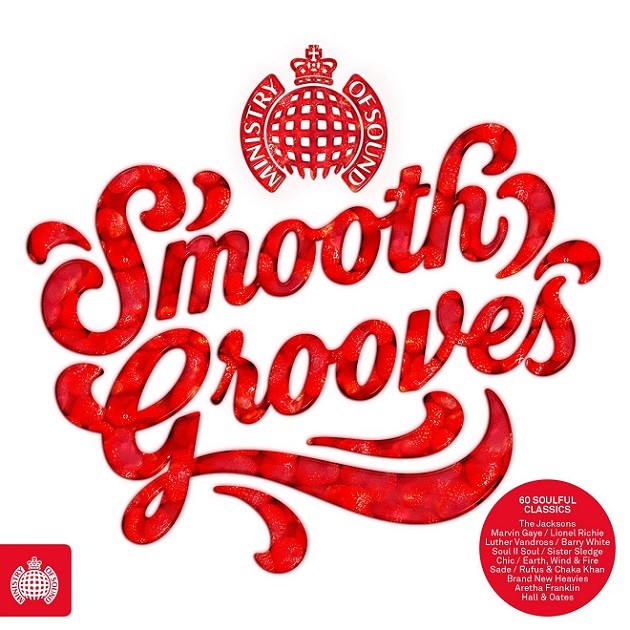 Disk: 1
1. Michael Jackson – Human Nature
2. Marvin Gaye – Sexual Healing
3. Luther Vandross – Never Too Much
4. Barry White – Can't Get Enough of Your Love Baby
5. Hall & Oates – I Cant Go For That
6. Chic – I Want Your Love
7. Earth Wind & Fire – Fantasy
8. Bill Withers – Lovely Day
9. Sister Sledge – Thinking Of You
10. Cheryl Lynn – To Be Real
11. Evelyn Champagne King – Love Come Down
12. Change – The Glow Of Love
13. The Jacksons – Show Me The Way To Go
14. Tom Browne – Funkin For Jamaica
15. Billy Ocean – Carribean Queen
16. Imagination – Just An Illusion
17. Mtume – Juicy Fruit
18. Toto ft Cheryl Lyn – Georgy Porgy
19. Alicia Myers – I Want To Thank You
20. The Jones Girls – Nights Over Egypt
Disk: 2
1. Lionel Richie – All Night Long
2. Alexander O'Neil – Criticize
3. Marvin Gaye – Got To Give It Up
4. Womack & Womack – Teardrops
5. Rufus & Chaka Kahn – Aint Nobody
6. Gwen McCrae – All This Love That I'm Giving
7. Mantronix – Gotta Have Your Love
8. The Pointer Sisters – Automatic
9. Cherelle ft. Alexander O'Neal – Saturday Love
10. Oliver Cheatham – Get Down Saturday Night
11. Kool & The Gang – Fresh
12. Aretha Franklin – Jump To It
13. Gwen Guthrie – Nothing Going On But The Rent
14. The Fatpack Band – I Found Lovin
15. Mac Band – Roses Are Red
16. Odyssey – Inside Out
17. Loose Ends – Hanging On A String
18. The Gap Band – Outstanding
19. Mary Jane Girls – All Night Long
20. Dennis Edwards – Don't Look Any Further
Disk: 3
1. Sade – Smooth Operator
2. Joyce Simms – Come Into My Life
3. Soul II Soul – Back 2 Life
4. Brand New Heavies – Dream On Dreamer
5. Jocelyn Brown – Somebody Else's Guy
6. S.O.S. Band – Just Be Good To Me
7. Young Disciples – Apparently Nothing
8. Shola Ama – You Might Need Somebody
9. Jamiroquai – Too Young To Die
10. Angie Stone – Wish I Didn't Miss You
11. Driza Bone – Real Love
12. Keni Burke – Rising To The Top
13. Evelyn Champagne King – I'm In Love
14. Michael Wycoff – Looking Up To You
15. Rene & Angela – I'll Be Good
16. Change – Change of Heart
17. Aretha Franklin – Who's Zooming Who?
18. Cheryl Lynn – Encore
19. Youssou N'Dour, Neneh Cherry – 7 Seconds
20. Omar – Theres Nothing Like This