Mit der Ministry of Sound Tropical House und ihrer ausgezeichneten Tracklist, wirft das englische Label die nächste Top Compilation auf den Markt. Wir können uns nicht daran erinnern, dass wir eine Ministry of Sound Compilation mal für schlecht befunden haben, so ist es auch bei dieser Ausgabe nicht anders.
Das House Subgenre "Tropical House" ist derzeit sehr beliebt. Auf zwei CDs gibt es Tracks und Remixes von Tieks, Kygo, Jonas Blue, Felix Jaehn, Lost Frequencies, Mr Probz, Robin Schulz, Klingande, Bakermat, Wanklemut, Seinabo Sey und viele mehr.
Wenn ihr euch die Tracklist genau anschaut, werdet ihr noch reichlich weitere Tracks finden, die ihr bereits kennt und das ein oder andere mal, werdet ihr euch vielleicht wundern wer hinter diesen Tracks steckt, denn mal ehrlich oft kriegt man gar nicht mit von wem die Tracks stammen.
Bis zum Release der Ministry of Sound Tropical House dauert es noch ein paar Tage, denn erst ab dem 22. Juli 2016 könnt ihr das gute Stück erwerben. Nutzt dafür Online-Shops wie Amazon und Co, denn im deutschen Einzelhandel wird es schwerer sein CDs von Ministry of Sound zu finden.
Wir haben an dieser Stelle natürlich wie immer die Tracklist und das passende Cover für euch am Start, damit ihr wisst was euch erwartet. Bislang konnten wir keinen MiniMix finden für diesen Sampler, es kann aber auch sein das dieser nur in Deutschland gesperrt ist, da derzeit viel von Ministry of Sound gesperrt wird.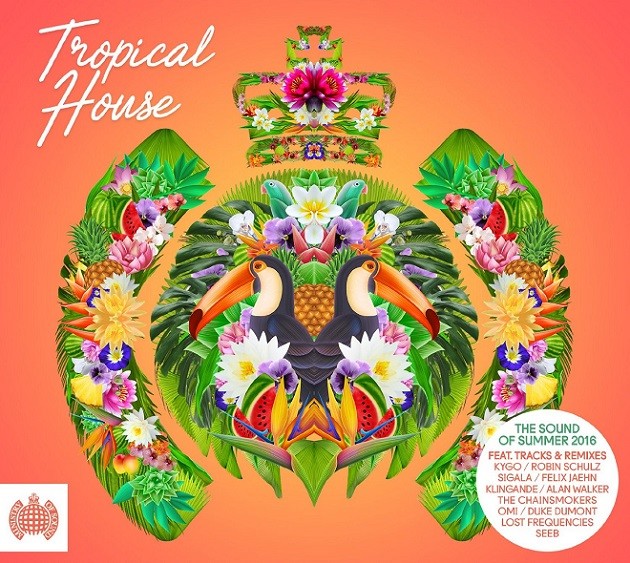 Disk: 1
1. TIEKS Feat. Dan Harkna – Sunshine (Radio Edit) – Sunshine (Radio Edit)
2. Kygo Feat. Conrad Sewell – Firestone – Firestone
3. Jonas Blue Feat. Dakota – Fast Car – Fast Car
4. Mike Posner – I Took A Pill In Ibiza Seeb Remix – I Took A Pill In Ibiza (Seeb Remix)
5. Imany – Don't Be So Shy Filatov & Karas Remix – Don't Be So Shy (Filatov & Karas Remix)
6. Sigala – Easy Love Faiirr Remix – Easy Love (Faiirr Remix)
7. Ninetoes – Finder (The Path) – Finder (The Path)
8. OMI – Cheerleader Felix Jaehn Remix – Cheerleader (Felix Jaehn Remix)
9. Lost Frequencies – Are You With Me – Are You With Me
10. Mr. Probz – Waves (Robin Schulz Radio Edit) – Waves (Robin Schulz Radio Edit)
11. Parra For Cuva Feat. Anna Naklab – Wicked Games – Wicked Games
12. Lilly Wood, The Prick & Robin Schulz – Prayer In C Robin Schulz Remix – Prayer In C (Robin Schulz Remix)
13. Robin Schulz Feat. Francesco Yates – Sugar – Sugar
14. Sam Feldt Feat. Kimberly Anne – Show Me Love – Show Me Love
15. Felix Jaehn Feat. Jasmine Thompson – Ain't Nobody (Loves Me Better) – Ain't Nobody (Loves Me Better)
16. Klingande – Jubel – Jubel
17. Faul & Wad Ad Vs. Pnau – Changes – Changes
18. Bakermat – Teach Me – Teach Me
19. Alex Adair – Make Me Feel Better – Make Me Feel Better
20. Asaf Avidan & The Mojos – One Day / Reckoning Song Wankelmut Remix – One Day / Reckoning Song (Wankelmut Remix)
21. Robin Schulz Feat. Jasmine Thompson – Sun Goes Down Extended Vocal Mix – Sun Goes Down (Extended Vocal Mix) 22. Seinabo Sey
22. Seinabo Sey – Younger Kygo Remix
Disk: 2
1. Kygo Feat. Maty Noyes – Stay – Stay
2. Justin Bieber – What Do You Mean? – What Do You Mean?
3. Alan Walker – Faded Tiesto's Deep House Remix – Faded (Tiesto's Deep House Remix)
4. Years & Years – King Gryffin Remix – King (Gryffin Remix)
5. Duke Dumont Feat. Jax Jones – I Got U – I Got U
6. The Chainsmokers Feat. ROZES – Roses – Roses
7. Shawn Mendes – Stitches Seeb Remix – Stitches (Seeb Remix)
8. Marvin Gaye – Sexual Healing Kygo Remix – Sexual Healing (Kygo Remix)
9. Coldplay – Midnight Kygo Remix – Midnight (Kygo Remix)
10. Tez Cadey – Seve – Seve
11. Sigala Feat. John Newman & Nile Rodgers – Give Me Your Love The Rooftop Boys Remix – Give Me Your Love (The Rooftop Boys Remix)
12. Watermät – Bullit – Bullit
13. Wankelmut & Emma Louise – My Head Is A Jungle (MK Remix) – My Head Is A Jungle (MK Remix)
14. Le Youth – C O O L – C O O L
15. Campsite Dream – Crush – Crush
16. Kygo & Kyla La Grange – Cut Your Teeth Kygo Radio Edit – Cut Your Teeth (Kygo Radio Edit)
17. Henry Krinkle – Stay – Stay
18. Chris Malinchak – So Good To Me – So Good To Me
19. Filous Feat. James Hersey – How Hard I Try – How Hard I Try
20. Klingande Feat. Broken Back – Riva (Restart the Game) – Riva (Restart the Game)
21. Milky Chance – Stolen Dance FlicFlac Club Edit – Stolen Dance (FlicFlac Club Edit)
22. Tom Odell – Another Love Zwette Remix Radio Edit – Another Love (Zwette Remix Radio Edit)