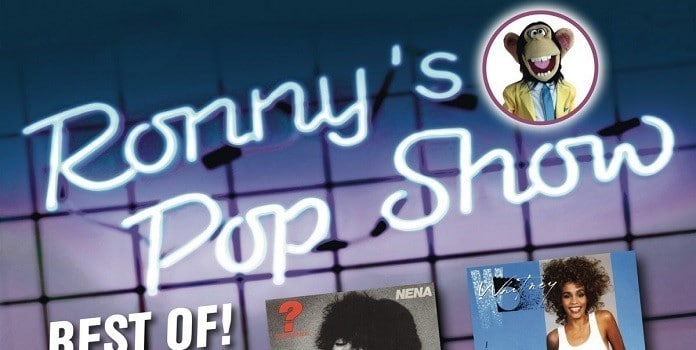 Die Ronny's Pop Show – Best Of (2017) steht so gut wie im Handel für euch bereit, höchste Zeit sich die Tracklist einmal anzuschauen. Im deutschen Fernsehen rollt die Retro Welle immer weiter, längst tot geglaubte Sendungen werden wieder ausgestrahlt und teilweise sogar neu aufgesetzt.
Nachdem RTL Nitro sogar wieder Tutti Frutti sendete und auch diese Sendung nun wieder neu aufgelegt werden soll, bekommt auch Ronny's Pop Show eine neue Chance. Die jüngeren Leser werden an dieser Stelle die Sendung ganz bestimmt nicht mehr kennen, während Freunde der 80er Jahre sich nur zu gut an Ronny's Pop Show erinnern werden.
Wer nun aber glaubt, dass die Sendung ursprünglich auch bei der RTL Gruppe lief, der irrt, denn von 1982 bis 1988 lief die Sendung auf ZDF. Bei RTL versucht man derzeit alles, möglichst viele erfolgreiche Formate der guten alten Zeit zu sicher, was allerdings nicht immer gelingt, sehr zur Freude der ProSieben Sat 1 Gruppe.
RTL hatte jüngst versucht, sich die rechte des Formats "Genial Daneben" zu sichern. Als man im Hause ProSieben Sat 1 davon erfuhr, beschloss man kurzer Hand die Sendung selber neu zu produzieren. Kommen wir aber zurück zur Ronny's Pop Show, hier wird es 6 Folgen auf RTL Nitro geben unter anderem auch mit dem Erfinder von Ronny, Otto Waalkes.
Die gleichnamige Compilation wird natürlich im Umfeld der Sendung auf RTL Nitro beworden. Ab dem 13. Januar 2017 könnt ihr die Ronny's Pop Show – Best Of (2017) erwerben und damit ihr wisst was euch hier erwartet, haben wir natürlich auch in diesem Fall wieder die Tracklist und das passende Cover für euch am Start.
Sollte euch eben diese Tracklist gefallen oder ihr euch einfach nur ein Stück Erinnerung nach Hause holen wollt, dann könnt ihr das gute Stück natürlich schon jetzt bei Amazon und Co vorbestellen.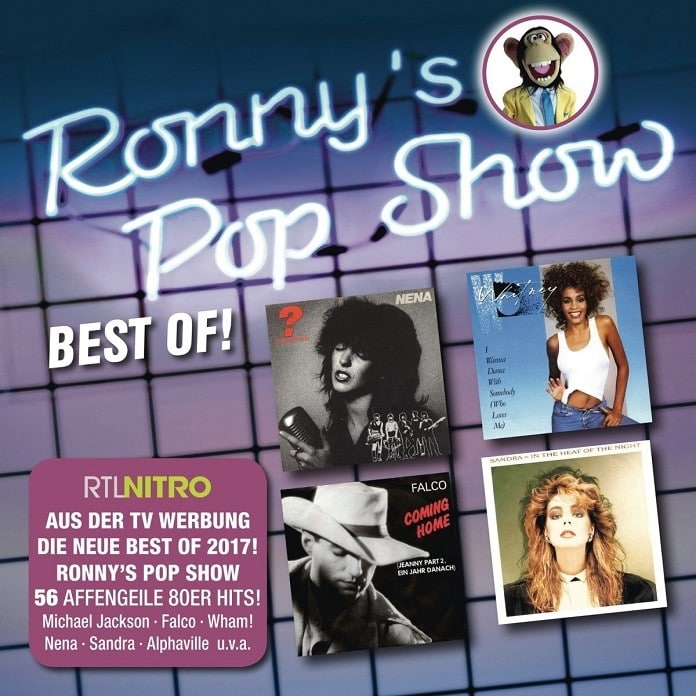 Disk 1:
01.Michael Jackson – Wanna Be Startin' Somethin' – 12′ Mix 6:30
02.Laura Branigan – Self Control 4:02
03.Bill & Jennifer Warnes Medley – (i've Had) The Time Of My Life 4:47
04.Culture Club – Time (clock Of The Heart) 3:43
05.Alison Moyet – All Cried Out 6:49
06.Cutting Crew – (i Just) Died In Your Arms 4:44
07.Thompson Twins – Doctor! Doctor! 4:38
08.Daryl & John Oates Hall – Maneater 4:34
09.Alphaville – Forever Young 3:45
10.Cyndi Lauper, Rob Hyman – Time After Time 3:59
11.Dr. Robert, The Blow Monkeys – It Doesn't Have To Be This Way 4:03
12.Bananarama – Robert Deniro's Waiting 3:35
13.Rick Astley – Never Gonna Give You Up 3:33
14.Whitney Houston – I Wanna Dance With Somebody (who Loves Me) 4:53
15.George Michael, Wham! – Club Tropicana 4:27
16.Kim Wilde – Cambodia 3:55
17.Milli Vanilli – Girl I'm Gonna Miss You 3:44
18.Richard Sanderson – Reality 4:01
Disk 2:
01.Frankie Goes To Hollywood – Relax 3:57
02.Survivor – Eye Of The Tiger 3:46
03.Scorpions – Still Loving You 6:43
04.Whitesnake – Here I Go Again '87 4:33
05.Marillion – Kayleigh – Single Edit 3:33
06.Tina Turner – We Don't Need Another Hero 4:14
07.John Farnham – You're The Voice 5:04
08.Alice Cooper – Poison 4:27
09.Bonnie Tyler – Holding Out For A Hero 4:29
10.Billy Ocean – Get Outta My Dreams, Get Into My Car 4:43
11.The Pointer Sisters – Neutron Dance 4:14
12.Dead or Alive – You Spin Me Round (like A Record) 3:20
13.Kenny Loggins – Footloose 3:46
14.Journey, Neal Schon, Jonathan Cain, Ross Valory, Steve Perry – Separate Ways (worlds Apart) 5:26
15.Spandau Ballet – Through The Barricades 5:55
16.Belinda Carlisle – Circle In The Sand 4:15
17.Adam Ant – Strip – Single Version 3:48
18.Europe – The Final Countdown 3:59
Disk 3:
01.Helen Adu, Sade – Smooth Operator – Remastered 4:19
02.Falco – Coming Home (jeanny, Pt. 2, Ein Jahr Danach) 5:28
03.Sandra Reemer – In The Heat Of The Night 5:20
04.The Weather Girls – It's Raining Men 3:31
05.Marietta – Fire And Ice 4:06
06.Bros When Will – I Be Famous? 3:59
07.The Pasadenas – Tribute (right On) 3:46
08.Aretha Franklin – Who's Zoomin' Who? – Single Version 4:07
09.Ray Jr. Parker – Ghostbusters – From 'ghostbusters' 4:03
10.Samantha Fox – Touch Me (i Want Your Body) 3:44
11.Sabrina – Boys (summertime Love) 3:54
12.Modern Talking – Cheri Cheri Lady 3:45
13.Peter Schilling – Terra Titanic – Single Version 4:34
14.Joachim Witt – Goldener Reiter 4:26
15.Hubert Kah – Sternenhimmel 3:05
16.Spider Murphy Gang – Skandal Im Sperrbezir 3:36
17.Nena, Nena Kerner – ? (fragezeichen) 4:28
18.Markus – Kleine Taschenlampe Brenn' 3:36
19.Otto Waalkes – Ndw 2:36
20.Otto Waalkes – Ronny's Pop Show Thema 0:36