Mit der RTL Hits Sommer 2019 und ihrer Tracklist, rückt eine Compilation voller potentieller Sommer Hits 2019 an. In mehreren Monaten Abstand, bringt Sony Music bereits seit Jahren in Zusammenarbeit mit RTL, große Charts Compilation auf den Markt und das mit riesigen Erfolg.
Begleitet wird die RTL Hits Sommer 2019 sicherlich wieder von einer großen TV-Kampagne auf RTL, welche man so nur noch selten sieht, seitdem auch die großen Compilations überwiegend online auf zahlreichen Videoplattformen wie z.B. Youtube beworben werden.
Im Vergleich zur Kontor Top of the Clubs 82 im Dance Musik Bereich, ist die Tracklist der RTL Hits Sommer 2019 nahezu mickrig, jedoch ist es im Chart Musik Bereich noch völlig normal, dass es hier für den fast selben Preis "nur" eine Doppel-CD gibt und keine 4er CD-Box.
Wenn wir an dieser Stelle mal einen Blick auf die Tracklist der RTL Hits Sommer 2019 werfen, finden wir hier zahlreiche Top Tracks aus den Charts. Mit dabei sind unter anderem Songs von P!nk, Zedd, Katy Perry, Galantis, Zara Larsson, Stefanie Heinzmann, Jeanette Biedermann, Alvaro Soler und viele mehr.
Der Release ist für den 24. Mai 2019 angesetzt und natürlich haben wir auch im Fall der neuen RTL Hits Sommer 2019, die Tracklist und das passende Cover parat, damit ihr schon vor dem Kauf wisst, was euch hier erwartet und ihr nicht die Katze im Sack kaufen müsst.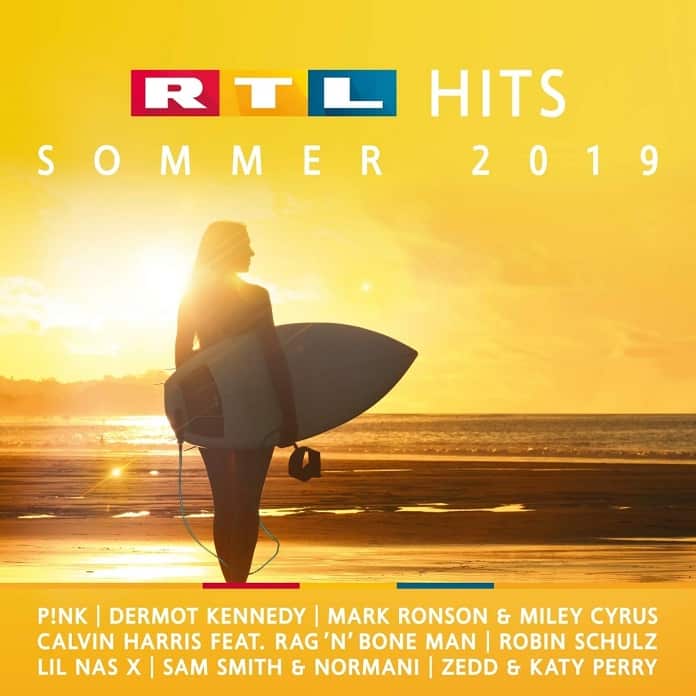 Disk 1:
01.P!nk – Walk Me Home 3:01
02.Sam Smith x Normani – Dancing With a Stranger 2:51
03.Matt Simons – Open Up 2:48
04.Mark feat. Miley Cyrus Ronson – Nothing Breaks Like a Heart 3:37
05.Zedd & Katy Perry – 365 3:01
06.Panic! At The Disco – High Hopes 3:10
07.Rag'n'Bone Man, Calvin Harris – Giant 3:49
08.Dermot Kennedy – Power over Me 3:26
09.James Blunt, Alle Farben & James Blunt – Walk Away 3:15
10.Galantis feat. OneRepublic – Bones 3:25
11.The Chainsmokers & 5 Seconds of Summer – Who Do You Love 3:46
12.Johannes Oerding – An guten Tagen 3:16
13.Lea – Halb so viel 3:20
14.Michael Schulte – Back to the Start 3:14
15.Justin Jesso – Getting Closer 3:01
16.Declan J Donovan – Pieces 3:35
17.Zara Larsson – Don't Worry Bout Me 3:28
18.George Ezra – Pretty Shining People 3:32
19.Stefanie Heinzmann – Mother's Heart 3:23
20.Jeanette Biedermann – Wie ein offenes Buch 2:58
21.Schiller & Nena – Morgenstund – Charming Horses Edit 2:58
22.Xavier Naidoo – Ich danke allen Menschen 3:08
Disk 2:
01.Lil Nas X – Old Town Road 1:53
02.Pedro & Farruko Capo – Calma – Remix 4:00
03.Martin Garrix feat. Macklemore & Patrick Stump of Fall Out Boy – Summer Days 2:46
04.Antonia feat. Erik Frank – Matame 2:54
05.Alvaro Soler – Loca 3:11
06.Mero – Wolke 10 2:52
07.Ardian Bujupi x Farruko feat. Xhensila – CIKA CIKA – Remix 3:18
08.Maitre Gims en duo avec Maluma – Hola Señorita 3:26
09.Sabrina Carpenter, Farruko Alan Walker – On My Way 3:19
10.Decco x Alex Clare – Crazy to Love You 2:49
11.Triplo Max – Shadow 2:57
12.Melisa Carolina – Caliente 2:08
13.The Prince Karma – Later Bitches 4:07
14.Marlon Mcclain, Loud Luxury feat. brando – Body 2:43
15.Drenchill feat. Jano – Allume Allume 2:57
16.Abel Tesfaye, Gesaffelstein & The Weeknd – Lost in the Fire 3:22
17.Ina Wroldsen, Dynoro & Ina Wroldsen – Obsessed 3:28
18.Darren Flynn, Lost Frequencies feat. Flynn – Recognise 3:06
19.Kygo & Valerie Broussard – Think About You 3:28
20.Robin feat. Erika Sirola Schulz – Speechless 3:34
21.Gaullin, Youcef Maamri – Moonlight 2:53