Auf der CD Supertalent 2014 – Magic Moments, findet in der Tracklist alle gesanglichen Magic Moments der aktuellen Staffel. In diesem Jahr waren wieder einmal erstaunlich viele wirklich gute Sänger dabei und so bekommt ihr hier reichlich auf die Ohren.
Während andere Castingshows im Quotentief stecken, fahren The Voice of Germany und eben auch das Supertalent weiterhin gute Quoten ein. Im Januar geht es dann bei Deutschland sucht den Superstar wieder los und bereits jetzt lassen die Trailer auf viele schräge Momente hoffen.
Da wie bei allen Castingshows in Deutschland die Castings am besten ankommen, wird es bei Deutschland sucht den Superstar keine Liveshows geben in der kommenden Staffel.
Am Samstag den 20. Dezember 2014 findet auf RTL das Finale der aktuellen Supertalent Staffel statt und kurz darauf und zwar am Montag kommt die Magic Moments CD auf den Markt. Leider hält sich RTL bzw. Ariola (Sony Music) sehr bedeckt was die Tracklist angeht, diese liefern wir euch natürlich nach sobald sie von Sony bestätigt wurde.
Bis dahin haben wir schon einmal das Cover zur CD für euch am Start, im Handel steht sie wie angesprochen ab dem 22. Dezember 2014. Nun wünschen wir euch natürlich noch viel Spaß beim Finale des Supertalent 2014, auf das euer Favorit auch Sieger wird.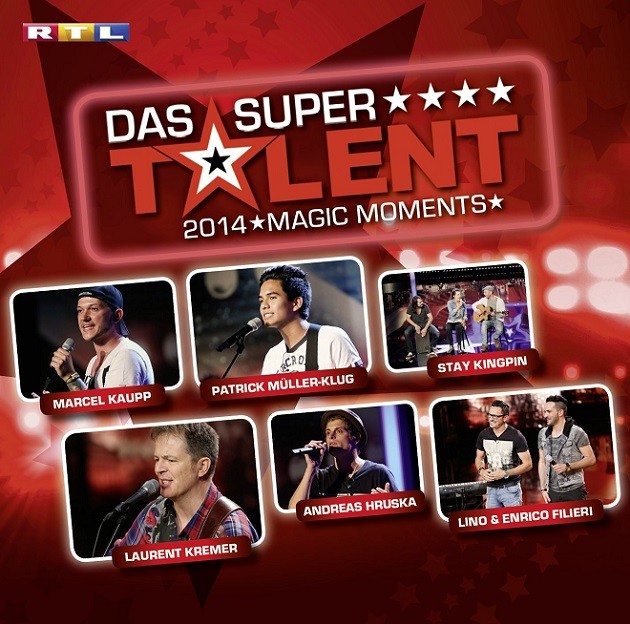 1.Andreas Hruska – Keine ist wie du 3:56
2.Stay KingPin – Symphonie 3:36
3.Lino & Enrico Filieri – Caruso 4:59
4.Laurent Kremer – Brother Louie 3:02
5.Marcel Kaupp – Rise Like a Phoenix 3:02
6.Patrick Müller-Klug – Story of My Life 4:04
7.Andreas Hruska – Amoi seg' ma uns wieder 4:36
8.Stay KingPin – I See Fire 5:04
9.Lino & Enrico Filieri – O Sole Mio 3:22
10.Laurent Kremer – You're My Heart, You're My Soul 2:49
11.Marcel Kaupp – One Moment in Time 4:19
12.Patrick Müller-Klug – Lego House 3:08