Na endlich, die neue Compilation The Disco Boys 15 steht in den Startlöchern, höchste Zeit sich die Tracklist anzuschauen. Wenn man an House Music aus Deutschland denkt, dann kommt man an den Disco Boys einfach nicht vorbei, denn kaum ein Act aus Deutschland ist im Bereich der House Music so lange aktiv, wie die zwei.
Ihr wohl bekanntester Hit ist " For You ", diese Nummer vereint mittlerweile ganze Generationen auf der Tanzfläche, doch das Duo hat natürlich deutlich mehr zu bieten und nicht nur diesen Track. Ihre Aktuelle Single " Im Taxi nach Paris " macht sich derzeit in den Dance Charts ordentlich Breit und läuft in den Clubs schon lange rauf und runter.
Nachdem es etwas ruhiger um das Duo wurde, legen sie nun wieder ordentlich los und stehen auch in den kommenden wieder auf zahlreichen Bühnen, um euch so richtig einzuheizen. Die CD The Disco Boys 15 erscheint am 12. Juni 2015 auf WePlay Music, also heißt es natürlich schon jetzt fleißig vorbestellen.
Wie gewohnt haben wir an dieser Stelle natürlich wieder einmal die Tracklist und das passende Cover für euch am Start. So könnt ihr euch schon jetzt einen ersten Eindruck von der neuen Compilation machen und nicht die Katze im Sack kaufen müsst.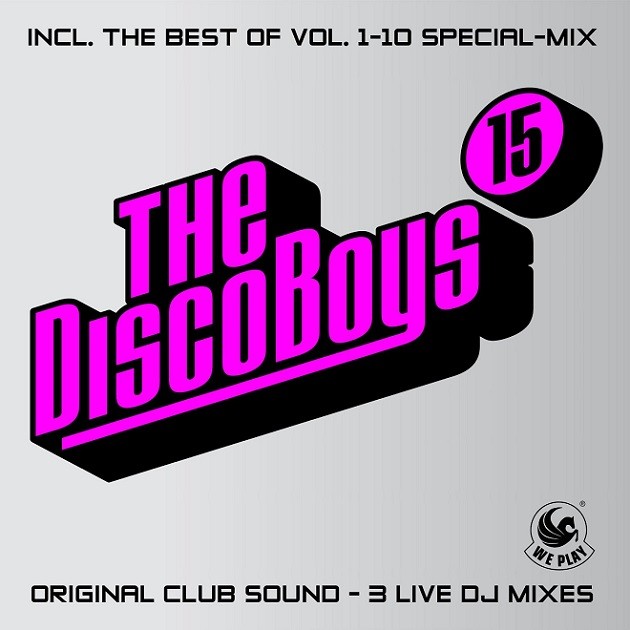 Disk 1:
1.The Disco Boys – Volume 15 – Intro "Preacher Man" (feat. Shaun Baker)
2.Bakermat – Teach Me (Rado Edit)
3.Mark Knight – Ironing Man
4.Clean Bandit & Jess Glynne – Real Love (Tough Love Remix) (Edit)
5.MERON – Somebody Like Me
6.The Disco Boys – Sundance (feat. Shafagh) (Extended Mix)
7.Kid Massive – House Music (Move Your Body) (feat. Jim C) (Muzzaik Remix)
8.Bryce – Frontline (Extended Mix)
9.Felguk – Buzz Me (Bruno Barudi Remix)
10.Tune Brothers – Get the F..k Out (Club Mix)
11.Storm Queen – Look Right Through (MK Vocal Extended)
12.Chocolate Puma – Step Back (feat. Kris Kiss)
13.Joey Negro – Make a Move on Me (Vocal Club)
14.Röyksopp & Robyn – Do It Again (Issac Christopher Remix)
15.Tello – Shake It Up (The Cube Guys Mix)
16.Nicky Romero & Vicetone – Let Me Feel (feat. When We Are Wild) (Fedde Le Grand Remix)
17.The Disco Boys – Beat This
18.Arno Cost & Norman Doray – Strong
19.Pierce Fulton – Kuaga
20.StoneBridge – Put 'Em High (feat. Therese) (Atilla Cetin Nitec Remix)
21.Robin Schulz – Headlights (feat. Ilsey)
Disk 2:
1.Felix Jaehn – Dance with Me (feat. Thallie Ann Seenyen)
2.FCL – It's You (Mousse T.'s Discotronic Mix)
3.Amine Esge, Dance & Tough Love – Perfect Love, Pt.1
4.Jay Frog & Lizzie Curious – Fired Up (feat. Terri B!)
5.The Disco Boys – Discoliver (You Know That I Love You)
6.Samuele Sartini – You're No Good for Me
7.Antonio Giacca – Back Home
8.The Disco Boys – Taxi nach Paris (Deep Mix)
9.Reboot – The Frenchie Thing
10.Purple Disco Machine – Where We Belong
11.Sugar Pie – 2 People
12.Me & My Toothbrush – All Mine
13.Sugar Hill & Wasabi – It's on You (Purple Disco Machine Remix)
14.Sean Finn – Rhythm of the Night (Jay Frog Remix Edit)
15.Elicit – I Wann Be Your Lover (Club Mix)
16.Croatia Squad – Work It
17.Higher Self – Ghosts (feat. Lauren Mason)
18.Simion – Give You Love (The Piano) (Club Mix)
Disk 3:
1.Kid Cudi & Crookers – Day 'N' Night (Crookers Remix)
2.CamelPhat – Paradigm (feat. A*M*E)
3.The Disco Boys – The Eve of the War
4.S & H Project – Perculate It (Spencer & Hill Remix)
5.The Egg – Walking Away (Tocadisco Rmx)
6.Nicky Romero – Still the Same Man (feat. John Christian & Nilson) (Club Mix)
7.Chanel – My Life (Fonzerelli)
8.Syke 'n' Sugarstarr & CeCe Rogers – No Love Lost (Extended Mix)
9.Mousse T. with EmmaLanford – Right About Now (Fuzzy Hair Mix) (with Emma Lanford)
10.Tiga – Pleasure From the Bass (12″ Mix)
11.Studio 45 & Joe & Jessey – Pure Hooney (Studio 45 Remix)
12.Soulsearcher – Can't Get Enough
13.Cunnie Williams – Saturday (Mousse T.'s Welcome to the Star Hotel Mix)
14.Michael Gray – The Weekend (12″ MIX)
15.Stefano Prada & Rockstroh – To the Moon (Rockstroh Mix)
16.Les Rythmes Digitales – Hey You What's That Sound?
17.Freemasons – Love on My Mind (The Disco Boys Remix)
18.Spektrum – Kinda New (Tiefschwarz Dub Mix)
19.Stargard – Wear It Out
20.Full Intention – Musique
21.Praise Cats – Shined on Me (feat. Andrea Love) (Jerry Ropero & Dennis the Menace Remix)
22.Ian Carey – Keep on Rising (feat. Michelle Shellers) (Vocal Mix)