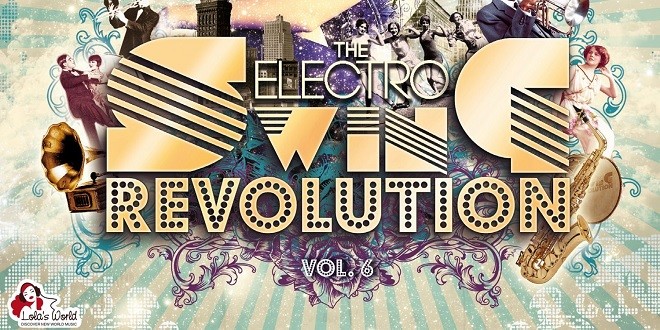 Mit der The Electro Swing Revolution 6 bekommt ihr eine CD, deren Tracklist ihr so wohl bislang noch nicht gesehen habt. Es könnte der neue Trend in den Clubs werden, doch auch wenn sich The Electro Swing in Deutschland noch schwer tut, ist der Trend absolut auf dem Vormarsch.
Mit der The Electro Swing Revolution 6 kommt nun die nächste Ausgabe der ersten erfolgreichen Compilation in diesem Bereich auf den Markt. Bis zum Release am 27. November 2015 habt ihr es zum Glück auch nicht mehr so lange, die kurze Wartezeit kann man gut nutzen um sich die Tracklist einmal anzuschauen.
"The Electro Swing Revolution Vol. 6" präsentiert 34 brandneue Hits für den Dancefloor. Der ideale Soundtrack für eine durchtanzte Nacht, der sicher die Herzen aller Electro Swing- Fans höher schlagen lässt. 'Swingende' Gründe, diese Compilation zu erwerben! "
Wen die Tracklist überzeugt, der kann sich das gute Stück ja noch schnell bei Amazon oder anderen Shops vorbestellen, dann habt ihr sie noch diese Woche im heimischen Briefkasten. Selbstverständlich bieten wir euch eben diese Tracklist und das dazu passende Cover.
CD 1 "Yabba Dabba Doo" – Compiled & mixed by Gülbahar Kültür
1. Rachelle Garniez – Just Because You Can
2. Blue Harlem – Til My Baby Comes Back to Me
3. Luke & Belleville Orchestra – Bad Bad Fever
4. Moonlight Breakfast – Play
5. Super Preachers – Do Da Swing
6. Zoowax – You Gotta Go
7. The Gaslight Troubadours – The Devil Swings Out (Original)
8. Peppe Voltarelli – Scarpe Rosse Impolverate (Dusty Red Shoes) (4MuLA Remix – Radio Edit)
9. Laliko – I Want To Swing
10. Swingrowers – Chiovi
11. Louis Armstrong – Cuban Pete (Pep's Show Boys, Sebastian Röser & Russo Remix)
12. Bob Zuga & His Orchestra feat. Billie Holiday – It's Too Hot For Words
13. Yabloko Moloko – Till Dawn
14. Elle & The Pocket Belles – Swingin' Together (C@ in the H@ Remix)
15. Marcella Puppini – In The Mood For Trouble
16. Buscemi – The Way You Talk To Me (feat. Bovarii)
17. Alan de Laniere & Miss Wonder – I Want It All (Electro Swing Mix)
CD 2 "Swing Is The Thing!" – Compiled & mixed by Louie Prima
1. Louie Prima & Wolfgang Lohr – Digga Dooh
2. Parov Stelar – Demon Dance
3. Klischée – Femme Fatale
4. Caro Emerald – One Day (Swingrowers Remix)
5. Tape Five – Gipsy VIP
6. Catjam – Peanut Gutter (Original Mix)
7. Charlie Beale – Brother Moses
8. Al Jawala – Voodoo Rag (CMC & Silenta Remix)
9. Farrapo & JazzDog feat. Cico – 69 Times And Then One More
10. Jazzotron feat Sofija Knezevic – Let's Go (Nikola Vujicic Remix)
11. Manouche – Men Si Fensi
12. Swingrowers – Enjoy The Moment (Bart&Baker Remix)
13. The Gentlemen Callers of Los Angeles – Old Tyme Religion (Original)
14. Zouzoulectric – Shim Sham
15. Pep's Show Boys & Julio Posadas feat. Rosantique – My Baby (Sebastian Röser)
16. 11 Acorn Lane – Spend My Time With You (Electro Swing Remix)
17. Barbara Schöneberger – Gibt's Das Auch In Groß