Die sunshine live – Die 90er 2 ist endlich da ! In der Tracklist warten wieder einmal jede Mega Legendäre Tracks der 90er Jahre auf euch. Bereits seit Jahren kommen 90er CDs super an und auch bei den Fans von sunshine live scheint das nicht anders zu sein.
Die 90er sind nach wie vor in aller Munde – ob es nun um Klamotten, Filme oder auch den musikalischen Zeitgeist dieser Ära geht – the 90s are back! Und nun, nach dem Mega-Erfolg der ersten 90er Compilation von sunshine live, kommt nun mit Vol. 2 ein ebenbürtiger Nachfolger in die Läden.
Wieder randvoll mit allen, die es in dieser Zeit ganz nach oben in die Charts geschafft haben. Mit dabei sind diesmal auf der Party und auf der CD: Mr. President mit Coco Jambo, Masterboy und ihr unvergessener Hit Feel The Heat Of The Night, 2Unlimited mit Tribal Dance, Culture Beat mit Inside Out, Captain Hollywood Project, DJ Bobo, E-Rotic, Dune und noch jede Menge weiterer erstklassiger Hits aus dieser Zeit!
Auf den Release müsst ihr nun auch nicht mehr warten, denn bereits seit dem 13. November 2015 steht die sunshine live – Die 90er 2 für euch im Handel bereit. Wie immer an dieser Stelle haben wir natürlich wie immer die Tracklist und das passende Cover für euch am Start.
Wenn euch die sunshine live – Die 90er 2 zusagt, könnt ihr sie natürlich wie immer, mit einem Klick auf die Like Buttons supporten.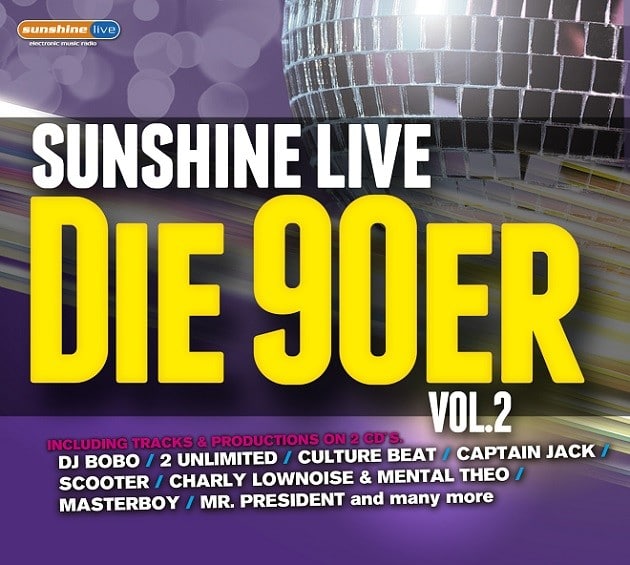 Disk 1:
1. DJ Bobo – There is a Party
2. 2 Unlimited – Tribal Dance
3. Culture Beat – Inside Out
4. Captain Jack – Drill Instructor
5. Gigi D'agostino – L'amour Toujours
6. Dr. Alban – Sing Hallelujah!
7. Reel 2 Real feat. The Mad Stuntman – I Like To Move It
8. Interactive – Tell Me When
9. E-ROTIC – Sex On The Phone
10. Magic Affair – Fire
11. SNAP! – The Power
12. B.G. The Prince Of Rap – The Colour Of My Dreams
13. Ice MC – It's A Rainy Day
14. General Base – I See You
15. Cappella – U & Me
16. Captain Hollywood Project – Find Another Way
17. Dune – Can't Stop Raving
18. Storm – Storm
19. U96 – Das Boot
Disk 2:
1. Scooter – Endless Summer
2. Charly Lownoise & Mental Theo – Stars
3. Masterboy – Feel The Heat Of The Night
4. Mr. President – Coco Jamboo
5. Corona – Baby Baby
6. Sash – With My Own Eyes
7. Moby – Feeling So Real
8. Members Of Mayday – Sonic Empire
9. Faithless – Insomnia (Original Mix Radio Edit)
10. Dance 2 Trance – Power Of American Natives
11. Dr. Motte & WestBam present Sunshine
12. ATB – 9 Pm (Till I Come)
13. Kai Tracid – Too Many Times
14. MC B. feat. Daisy Dee – This Beat Is Technotronic
15. Bass Bumpers – Good Fun
16. Zhi-Vago – Dreamer
17. Mark 'oh – Randy (Never Stop That Feeling)
18. Marusha – It Takes Me Away
19. RMB – Redemption