Auch in diesem Jahr kommt mit der Welcome to the Club 33 die beliebte Radioshow zu euch nach Hause. Im Gepäck hat sie wieder einmal jede Menge Top Tracks, die ihr bereits aus der beliebten Radioshow auf dem Dance Musik Sender sunshine-live kennt.
Wie immer wird das ganze von keinem geringerem als dem Klubbingman präsentiert. Bei sunshine-live gibt es wohl kein bekannteren DJ / Moderator als der Klubbingman und das seit gefühlten Ewigkeiten.
Wenn wir einen Blick auf die Tracklist werden, sehen wir schnell jede Menge nationale und internationale Künstler, die es auch in diesem Jahr wieder so richtig krachen lassen. So sind z.B. auch Namen wie Kindervater, CJ Stone und DJ Shog dabei, die bereits seit Jahrzehnten in der Dance Szene unterwegs sind.
Auch wenn es bis zum Release Termin noch eine ganze Weile hin ist, um genau zu sein am 3. April 2014, haben wir selbstverständlich auch jetzt hier für euch die Tracklist und das dazugehörige Cover, denn wie immer möchten wir euch die Möglichkeit bieten, euch einen ersten Eindruck von der Welcome to the Club 33 zu verschaffen.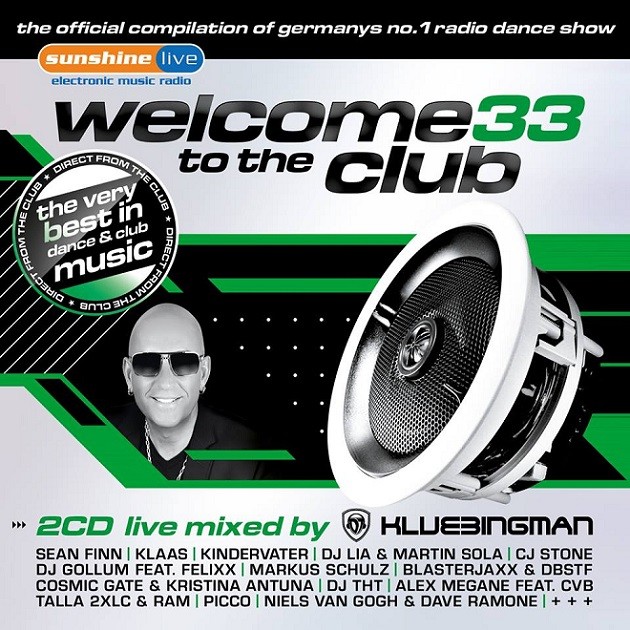 Disk 1:
01. Klubbingman – Global Collapse
02. Blasterjaxx & DBSTF feat. Ryder – Beautiful World
03. Cosmic Gate with Kristina Antuna – Alone
04. Dannic & Shermanology – Wait For You
05. Sean Finn – The Rhythm Of The Night
06. Klaas – Calavera
07. Mike Nero – Falling (Adrima Remix)
08. CJ Stone – Sound Of Infinity (Cj Stone & Milo Mix)
09. Omnia feat. Jonny Rose – Two Hands
10. Rene Rodrigezz – Be Young
11. DJ Shog feat. Drew Love – I'm Alone
12. Joey Dale – Zodiac
13. Dimaro & Dave – Till Do Ya Thing
14. Klubbingman & Andrew Crowd – I Get You
15. Ninetoes – Finder (Klardust Remix)
16. Krid P – Boom!
17. Picco – Nobody
18. Markus Schulz – Bayfront
19. DJ Lia & Martin Sola – Revelation
20. Andre Lacoure and Mad Rage – Repeat Love
21. Andrew Crowd & Klubbingman – Rock This Club Down
22. D-Red – Harder & Louder
23. Niels van Gogh & Dave Ramone – Kick It
24. Empyre One & Enerdizer feat. D.T.E. – Tornado
25. Alex Reger – Breakdown
26. Guenta K & Andy Ztoned – Hey Ho (Motherf****)
Disk 2:
01. Klubbingman – Eternal Fire
02. Talla 2XLC & RAM feat. Kim Kiona – Until The End
03. Calderone Inc. – You Lift Me Up
04. Alex Megane feat. CvB – Bring Back The Night (Newdance Mix)
05. Dancefloor Kingz vs. Alex van Tune – Everybody Dance
06. Basslovers United & CombiNation – Salvation (Hands Up Mix)
07. Punkrockerz feat. Carmen & Camille – Without You (Mr. G! Remix)
08. Hardcharger vs. Aurora & Toxic – Feelings 4 You (DJ THT Remix)
09. Javi Reina & Rousseau feat. Playb4ck – Lungs (DJ THT Remix)
10. Alex M. – Let It Go (Alex Megane NewDance Mix)
11. Robi & Vir-T feat. Alicia Madison – Diamonds (Xam Sato & Kovan Remix)
12. Bass Inferno Inc. – Bang Hard
13. DJ Fait vs. Dancefloor Kingz – The Northern Way (DJ Fait Mix Extended)
14. DJ THT – Party Rockin'
15. DJ Mikesh & DJ Neo – No Alternative (Dancecore Mix)
16. DJ Gollum feat. Felixx – Electrified
17. Piure – Freezing (Clubbticket Remix)
18. Kindervater – Get Wicked
19. Shaun Bate & Sam Walkertone – Alive (DJ Gollum & Empyre One Remix)
20. Marc Korn & Klubbingman feat. Craig Smart – Lift Me Up (Ziggy X Remix)