Die neue sunshine-live Welcome to the Club 34 rollt an und die Tracklist dürfte gerade Hands Up Fans begeistern. Während andere große Compilation den Hands Up Sektor in den letzten Jahren mehr und mehr verlassen haben, setzt man bei der Welcome to the Club 34 weiterhin auf dicke Hands Up Sounds.
Vom Konzept her ist die Welcome to the Club Reihe mittlerweile eigentlich mit der Future Trance zu vergleichen, während auf CD 1 die House Sounds regieren, gibt es auf CD zwei ordentlich auf die Mütze. Da ist es nicht verwunderlich, dass die Tracklist von Mike Candys über Sick Individuals bis hin zu Basslovers United oder Hands Up Freaks geht.
Im Gegensatz zu anderen Webseiten oder gar Online-Shops bieten wir euch neben dem Cover, bereits jetzt die Tracklist der sunshine-live Welcome to the Club 34. Im Handel steht sie dann ab dem 30. Oktober 2015, bis dahin könnt ihr sie natürlich gerne vorbestellen.
Wer es bis dahin nicht abwarten kann, kann sich natürlich auch die App von sunshine-live herunterladen und das Programm der Nummer 1 Dance Station im Bereich Radio anhören. Kommen wir nun aber zum besagten Cover und der Tracklist der Welcome to the Club 34, viel Spaß mit der CD.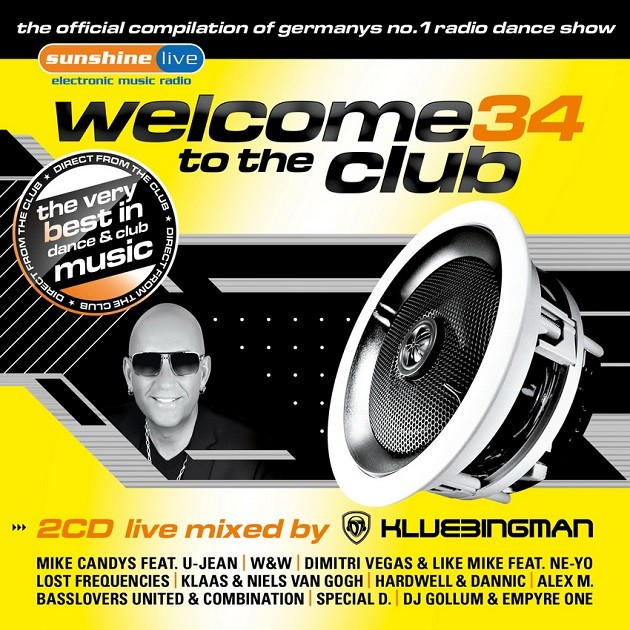 Disk: 1
1. Klubbingman – Black Invasion (Intro)
2. Mike Candys feat. U-Jean – Paradise (Extended Mix)
3. Lost Frequencies feat. Janieck Devy – Reality (Extended Mix)
4. Rico Bernasconi & Tuklan feat. A-Class & Sean Paul – Ebony Eyes (Original Club Mix)
5. CJ Stone – The Sun (Original Mix)
6. Jane Vogue & Steve Cypress – Paris Latino 2K15 (Steve Cypress Mix)
7. Mad Kingz – Wanderlust (CJ Stone Club Mix)
8. Arno Cost feat. James Newman – Coming Home (Original Mix)
9. Sandro Silva – Firestarter (Original Mix)
10. W&W – The One (Original Mix)
11. Dimitri Vegas & Like Mike feat. Ne-Yo – Higher Place (Bassjackers Remix)
12. Klubbingman & DJ Lia – Hegele (3-2-1-Let's Go) (Extended Mix)
13. Jack Perry – Dime (Extended Club)
14. Klubbingman & Andrew Crowd – Yo! Drop (Original Mix)
15. Hardwell & Dannic feat. Haris – Survivors (Original Mix)
16. Andy Jay Powell – Dream (Original Mix)
17. Klaas & Niels van Gogh – Resurection (Club Mix)
18. David Puentez feat. Robyn The Bank – Collide (Original Mix)
19. Rene Rodrigezz & Sanny – Jumpin Boobs ()
20. Palmer & Stone – Gangsta Beat (CJ Stone Remix)
21. Klubbingman & DJ Lia – Make Some Noise (Let's Go) (Extended Mix)
22. Sick Individuals & DBSTF – Waiting For You (Original Mix)
23. Dash Berlin & Syzz – This Is Who We Are (Club Mix)
Disk: 2
1. Klubbingman – Dolphins (Intro)
2. Basslovers United & CombiNation – Salvation (Hands Up Freaks Remix)
3. Hands Up Freaks – Never Stop This Feeling (Extended Mix)
4. Cueboy & Tribune – Sky (Original Mix)
5. Alex M. – Let It Go (Alex Megane NewDance Mix)
6. Andrew Spencer feat. Latoya – You Keep Me Hangin'On (RainDropz! Remix)
7. DJ Restlezz Vs. Tribune – Happy Revolution (Cueboy & Tribune Remix)
8. Enveloperz! – Clue (Kovan & Plac!d Remix)
9. John Snow – Smile (DJ THT meets Commercial Club Crew Remix)
10. Danceboy – Give It To Me Louder (Original Mix)
11. Xtance feat. Jo – You Rock My World (Imprezive Meets Pink Planet Remix)
12. Special D. – Chief Party Rocker (Extended Mix)
13. Nick Skitz – Boom Boom Boom (Nick Skitz & Technoposse Remix)
14. René de la Moné & Slin Project – Makin' Luv (Handsup Freaks Remix)
15. DJ Roxx – Move Your Body (DJ THT Remix)
16. DJ Cap feat. MaryBran – One More Chance (Extended Mix)
17. DJ Gollum & Empyre One – Stars (DJ THT Remix)
18. NeoTune! feat. Isabel Higuero – My Remedy (Hands Up Mix)
19. Bass Inferno Inc. – Ray of Sunshine (Club Mix)
20. Mr. G! feat. CvB – Today Is Our Tomorrow (Cold Rush Remix)
21. Lazy G vs. NICCO – Kiss Me (DJ Gollum feat. DJ Cap Remix)