Die The Dome 75 rückt näher und wie immer bieten wir euch die passende Tracklist dazu. In den Download und Compilation Charts kann sich die The Dome Reihe bislang noch gut platzieren, doch die Luft für die Charts Compilation wird langsam dünner, denn Compilations wie About Berlin oder #afterhour rennen ihnen den Rang ab.
Seitdem es das gleichnamige Event zur Compilation nicht mehr gibt, hat die Nachfrage zumindest auf unseren Magazinen zu dieser Compilation deutlich nachgelassen und so könnte es langsam eng werden für diese Compilation. An House Musik soll es aber auch bei der The Dome 75 nicht fehlen, denn wer die Charts wieder spiegelt, kommt an Deep House derzeit nicht vorbei.
So findet man hier auch Namen wie Faithless, Avicii, Lost Frequencies, David Guetta, Paul Kalkbrenner, Robin Schulz und viele mehr. Bis zum Release Termin der The Dome 75 dauert es noch ein paar Tage, denn erst ab dem 4. September 2015 steht das gute Stück für euch im Handel zum Kauf bereit.
Bis dahin haben wir natürlich wie gewohnt die Tracklist und das passender Cover am Start. So bekommt ihr vorab einen ersten Eindruck von der neuen The Dome 75 und müsst nicht die Katze im Sack kaufen. Wenn euch die neue The Dome nicht überzeugen kann, sieht es vielleicht bei der neuen Bravo Hits 91 anders aus, diese kommt jedoch erst Ende September auf den Markt.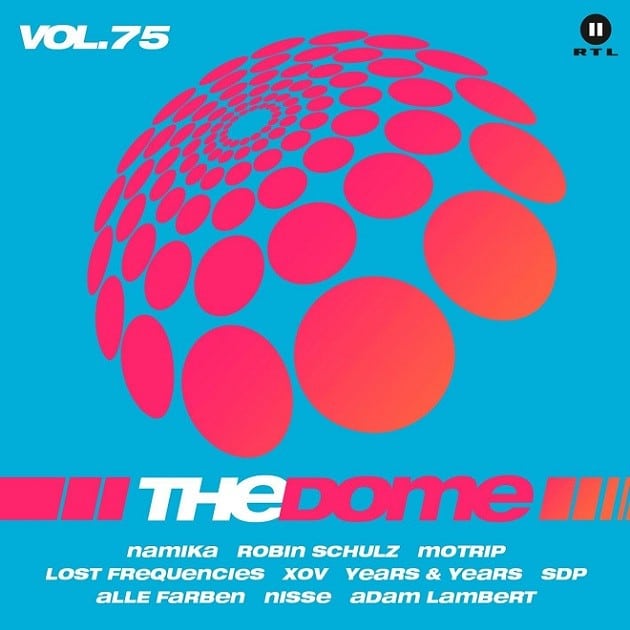 Disk 1:
1. Namika – Lieblingsmensch
2. MoTrip feat Lary – So wie Du bist
3. SDP feat. Adel Tawil – Ich will nur dass Du weißt
4. Years & Years – Shine
5. XOV – Lucifer
6. R-City feat Adam Levine – Locked Away
7. Walk The Moon – Shut Up And Dance
8. 5 Seconds Of Summer – She's Kinda Hot
9. Hurts – Rolling Stone
10. Little Mix – Black Magic
11. Rita Ora feat. Chris Brown – Body On Me
12. Pharrell Williams – Freedom
13. Kelvin Jones – Call You Home
14. Andy Grammer – Honey, I´m Good
15. Jakub Ondra – On The Menu
16. Boy – We Were Here
17. Louane – Avenir
18. Die Lochis – Ab gehts
19. Mark Forster – Bauch und Kopf
20. von Brücken – Lady Angst
21. Wanda – Bussi Baby
22. Nisse – Herz auf Beat
Disk 2:
1. Lost Frequencies feat. Janieck Devy – Reality
2. Alle Farben – Get High
3. Sigala – Easy Love
4. Adam Lambert – Ghost Town
5. Faithless – Insomnia 2.0 (Avicii Remix)
6. Paul Kalkbrenner – Cloud Rider
7. David Guetta feat. Nicki Minaj – Hey Mama
8. Feder feat. Lyse – Goodbye
9. Major Lazer feat Mo & DJ Snake – Lean On
10. Robin Schulz feat. Ilsey – Headlights
11. Koby Funk feat. Max Giesinger – Unser Sommer
12. Lizot & Charming Horses ft. Jason Anousheh – Sonnenmädchen (Lizot Radio Edit)
13. Kygo – Nothing Left
14. Beth – Don´t You Worry Child (Charming Horses Remix)
15. MICAR – This Time It's My Life
16. Sam Feldt feat. Kimberly Anne – Show Me Love
17. Mafia Clowns feat. Sean Kingston – I Wanna Luv (Deep House Radio Mix)
18. Silentó – Watch Me (Whip/ Nae Nae)
19. DJ Snake & Aluna George – You Know You Like It
20. Job 2 Do – Doo –Ther-Tam (Green Cherry Mix)
21. Alvaro Soler – El Mismo Sol
22. Nicky Jam & Enrique Iglesias – El Perdon (DJ Buddha Remix)