Pünktlich zur Weihnachtszeit, steht die The Dome 76 mit ihrer grandiosen Tracklist im Handel und zum Download bereit. In Sachen Chart-Musik, kommt man in Deutschland an 2 Compilations eigentlich nicht vorbei und zwar an der The Dome und ganz klar dem Flaggschiff der Bravo Hits.
Obwohl das Live-Event der The Dome schon lange nicht mehr stattfindet, ist die gleichnamige Compilation noch immer beliebt. Bestes Beispiel dafür ist der Besteller-Rank bei Amazon, denn 3 Wochen vor dem Release, rückt die neue The Dome 76 hier immer weiter nach vorne.
Wenn wir mal einen Blick auf die Tracklist werfen, finden wir hier nur absolute Top Tracks aus den Charts von z.B. sarah Connor, Olly Murs, Silbermond, Stefanie Heinzmann, The BossHoss, Omi, Calvin Harris, Lena, Chris Brown, Flo Rida, Avicii, Justin Bieber und vielen mehr.
Bis zum Release am 4. Dezember 2015 müsst ihr euch noch etwas gedulden, doch da genau an diesem Wochenende auch Nikolaus ansteht, ist die neue The Dome 76 doch das perfekte Geschenk zu Nikolaus.
Wie immer an dieser Stelle, bieten wir euch natürlich auch in diesem Fall die Tracklist und das passende Cover, so bekommt ihr schon vor dem Release einen ersten Eindruck der neuen The Dome Ausgabe und wisst was euch hier erwartet.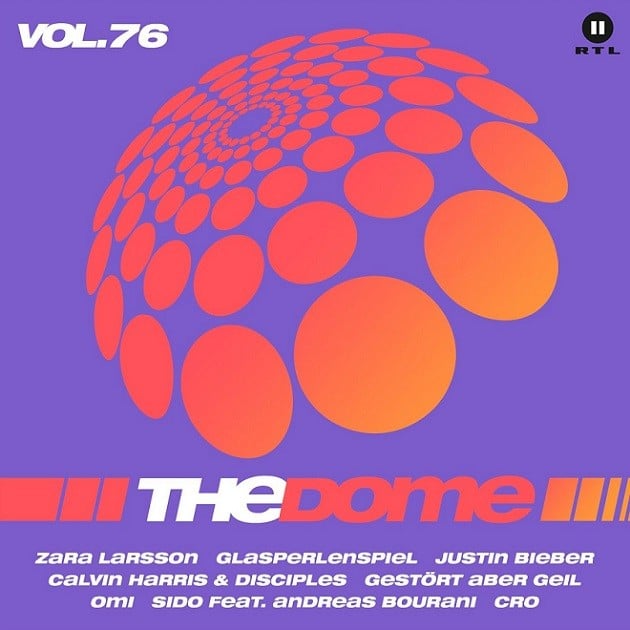 Disk: 1
1. Lush Life – Larsson, Zara
2. Leichtes Gepäck – Silbermond
3. Astronaut – Sido Feat. Andreas Bourani
4. Marvin Gaye – Puth, Charlie Feat. Meghan Trainor
5. Melodie – Unplugged Version – Cro
6. Kiss Me – Murs, Olly
7. Wild & Free – Lena
8. Today's The Day – P!Nk
9. Let It Go – Bay, James
10. Bedingungslos – Radio Edit – Connor, Sarah
11. Fight Song – Platten, Rachel
12. Here – Cara, Allessia
13. Lights – Hurts / Hutchcraft, Theo
14. Like I'm Gonna Lose You – Trainor, Meghan Feat. John Legend / Trainor, Meghan / Legend, John / Gelbuda, Chris
15. Armour – Garvey, Rea
16. Policeman – Radio Edit – Simons, Eva Feat. Konshens
17. Name Drauf – Fantastischen Vier, Die Feat. Seven
18. Bis Ans Ende Der Welt – Joris
19. Dos Bros – Bosshoss, The
20. Stitches – Mendes, Shawn
21. Stranger In This World – Heinzmann, Stefanie
22. 7 Years – Graham, Lukas
Disk: 2
1. Geiles Leben – Madizin Single Mix – Glasperlenspiel
2. Hula Hoop – Omi
3. How Deep Is Your Love – Harris, Calvin & Disciples / Wrolsden, Ina
4. Book Of Love – Jaehn, Felix Feat. Polina
5. Catch & Release – Deependend Remix – Simons, Matt
6. Ich & Du – Gestört Aber Geil Feat. Sebastian Hämer
7. Sugar – Schulz, Robin Feat. Francesco Yates
8. Whip It! – Lunchmoney Lewis Feat. Chloe Angelides
9. Here For You – Kygo Feat. Ella Henderson
10. Broken Arrows – Avicii
11. Don't Be So Hard On Yourself – Glynne, Jess
12. Sing That Song – Radio Edit – Bate, Shaun Feat. Sirona
13. How Hard I Try – Filous Feat. James Hersey
14. I Can't Say No! – Broiler Remix – Rue, Lea
15. Domino – Video Edit – Carlprit & U-Jean
16. Glitterball – Sigma Feat. Ella Henderson
17. Zero – Brown, Chris
18. Alive – Radio Edit – Sia
19. Keep My Cool – Madcon / Powers Severin, Johnny / Thornfeldt, Jimmy / Sky, Teddy
20. My House – Flo Rida
21. What Do You Mean? – Bieber, Justin
22. Das Ist Dein Leben – Dittberner, Philipp