Mit der The Dome 77 geht eure Party in die nächste Runde, denn die Tracklist lädt wieder einmal zu einer ausgelassenen Party ein. Wie man es von der The Dome Reihe kennt, kann man sich eigentlich mit der Bravo Hits vergleichen, denn beide setzen auf die Top Tracks der Charts.
So ist es nicht verwunderlich, dass man hier Tracks von Justin Bieber, One Direction, Sean Paul, Sido, Bosse, Tujamo, Chainsmokers und vielen anderen findet. Wir haben also nicht zuviel versprochen, der Querschnitt durch die Charts, spiegelt sich auf der The Dome 77 deutlich wieder.
Wir sind gespannt, wie lange es diese Compilation noch geben wird, denn in den Statistiken im Netz sieht man deutlich, dass die Nachfrage nach der "The Dome" nur groß ist, wenn auch Werbung dafür aktiv ist. Dies ist bei anderen Compilations wie z.B. der Bravo Hits Reihe anders, diese wird regelmäßig gesucht.
Die The Dome 77 steht auch schon fast im Handel für euch bereit, denn bereits am 11. März 2016 steht das gute Stück für euch im Handel bereit. Wie ihr es von uns gewöhnt seid, geht hier keine Compilation ohne Tracklist online, da ist es natürlich klar, dass wir auch an dieser Stelle die Tracklist und das Cover parat haben.
Wenn euch die Tracklist zusagt, könnt ihr das gute Stück natürlich bei Amazon oder anderen Shops vorbestellen, so haltet ihr sie bereits zum Tag des Release in euren Händen.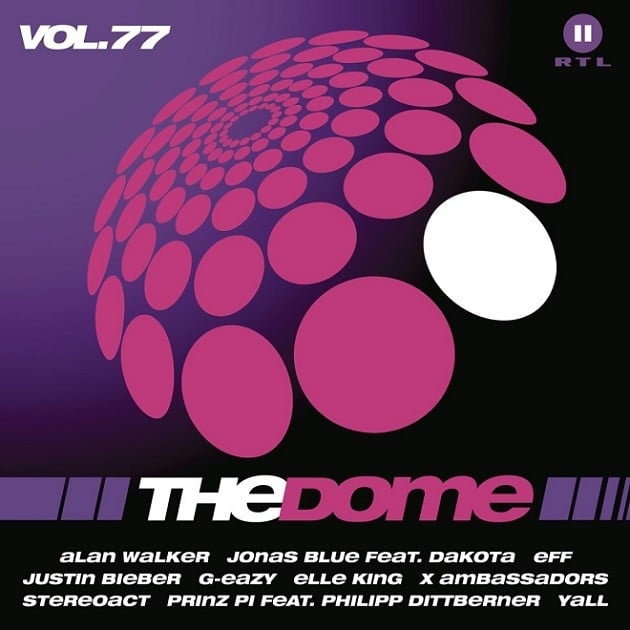 Disk: 1
1. Love Yourself – Bieber, Justin
2. Me, Myself & I – G-Eazy X Bebe Rexha
3. Ex's & Oh's – King, Elle / King, Elle
4. Renegades – X Ambassadors
5. Pillowtalk – Zayn
6. Sax – East, Fleur
7. Be The One – Lipa, Dua
8. Speeding Cars – Walking On Cars
9. Make Up – R. City Feat. Chloe Angelides
10. White Tiger – Single Version – Bizu, Izzy
11. Jolene – The Bosshoss Feat. The Common Linnets
12. Come – Jain
13. Georgia – Tiggs Da Author
14. Conqueror – Aurora
15. History – One Direction
16. Cheap Thrills – Sia Feat. Sean Paul
17. Ich Bleibe – Adesse
18. Kommst Du Mit Ihr – Connor, Sarah
19. Zuhause Ist Die Welt Noch In Ordnung – Sido Feat. Adel Tawil
20. Kompliziert – Single Edit – Namika
21. Steine – Bosse
22. 1,40m – Prinz Pi Feat. Philipp Dittberner
Disk: 2
1. Faded – Walker, Alan
2. Fast Car – Radio Edit – Blue, Jonas Feat. Dakota
3. Stimme – Eff
4. Roses – Chainsmokers, The Feat. Rozes
5. Hundred Miles – Yall Feat. Gabriela Richardson
6. Never Forget You – Larsson, Zara & Mnek
7. Home – Radio Edit – Topic Feat. Nico Santos
8. Sweet Lovin' – Original Mix – Sigala Feat. Bryn Christopher
9. Running Man – Radio Edit – Gabriel, Ollie
10. Booty Bounce – Vocal Radio Edit – Tujamo & Taio Cruz
11. The Right Song – Tiesto & Oliver Heldens Feat. Natalie La Rose / Natalie La Rose
12. Stay – Kygo Feat. Maty Noyes
13. Forget Me Nots – Tryst Feat. Lilie
14. We Survive – Medina
15. Missing – Luca Schreiner Feat. Kimberly Anne
16. Stand By Me – Radio Mix – Smith, Geeno
17. Jour 1 – Louane
18. Something In The Way You Move – Goulding, Ellie
19. Einfach Nur Weg – Radio Edit – Lizot Feat. Jason Anousheh
20. Es Rappelt Im Karton – Pixie Paris
21. Hulapalu – Gabalier, Andreas
22. Die Immer Lacht – Radio 2016 Mix – Stereoact Feat. Kerstin Ott