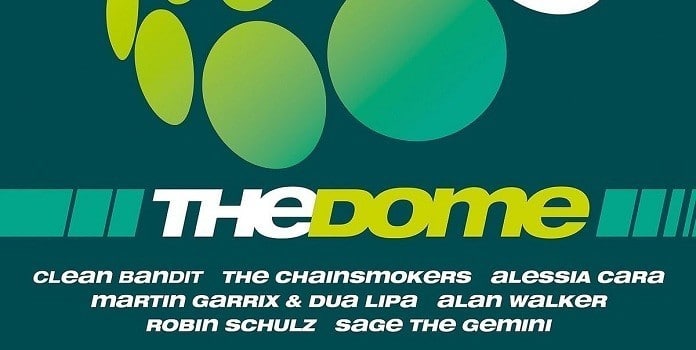 Die neue The Dome 81 steht in den Startlöchern und wir haben schon jetzt die Tracklist für euch am Start. In Sachen Charts Musik kommt man an zwei Compilations in Deutschland nicht dran vorbei. Zum einen ist das natürlich die Bravo Hits Reihe und zum anderen die The Dome Compilation.
So kann Sony Music auch bei der mittlerweile 81. Ausgabe der The Dome Reihe mit einer ordentlichen Tracklist überzeugen. Da Sony Music so viele Compilations auf den Markt bringt, ist das oft nicht garantiert, dass die Tracklist auch den aktuellen Charts bzw. Trends entspricht.
Wenn wir nun einen Blick auf die Tracklist werfen, sehen wir hier reichlich Top Namen aus den aktuellen Charts wie z.B. The Chainsmokers, Martin Garrix, Shakira, Milky Chance, Wincent Weiss, Clean Bandit, Tim Bendzko, Alan Walker, Kungs und eine ganze Reihe weitere.
Auch wenn es bis zum Release der The Dome 81 noch eine Weile hin ist, haben wir natürlich auch hier die Tracklist und das dazu passende Cover für euch am Start. Wenn euch die neue The Dome überzeugen kann, könnt ihr sie ab dem 17. März 2017 im Handel erwerben oder eben schon jetzt bei Amazon und anderen Shops vorbestellen.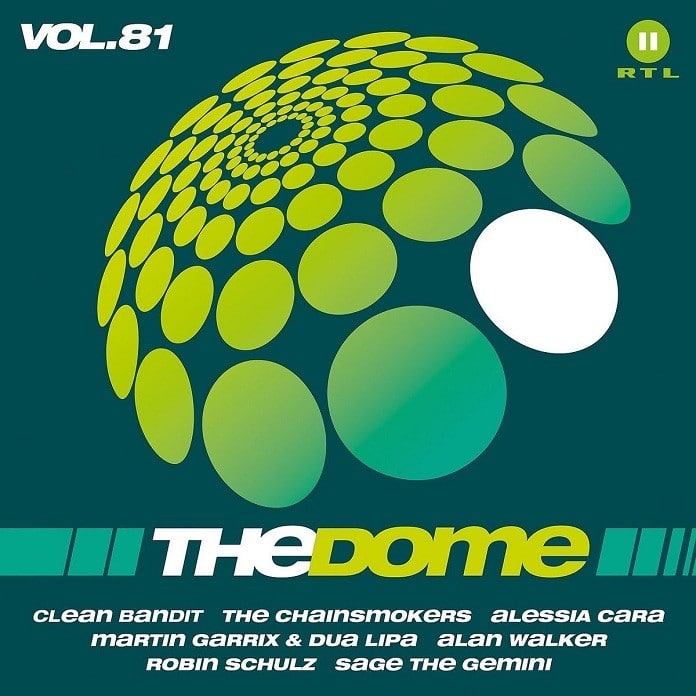 Disk 1:
01.The Chainsmokers – Paris 3:42
02.Selena Gomez, Kygo – It Ain't Me 3:40
03.Jon Bellion – All Time Low 3:41
04.Clean Bandit – Rockabye 4:11
05.Martin Garrix, Dua Lipa – Scared To Be Lonely 3:41
06.Rag N Bone Man – Skin 4:00
07.Sage The Gemini – Now And Later 3:11
08.Maître Gims – Loin (pilule Violette) 3:07
09.Rae Sremmurd – Black Beatles 4:52
10.Alessia Cara – Scars To Your Beautiful 3:51
11.Mo, Snakehips – Don't Leave (dirty Version) 3:34
12.Levina – Perfect Life 3:02
13.Tim Bendzko – Leichtsinn 3:13
14.Wincent Weiss – Feuerwerk 3:29
15.Sdp – So Schön Kaputt 3:16
16.Bilderbuch – Bungalow 3:44
17.Beginner – Meine Posse 3:43
18.Shakira – Chantaje 3:16
19.Luis Fonsi, Daddy Yankee – Despacito 3:49
20.Milky Chance – Cocoon 4:15
21.Alice Merton – No Roots (single Version) 3:56
22.Marian Hill – Down 3:18
Disk 2:
01.Alan Walker – Alone 2:41
02.Sean Paul – No Lie 3:43
03.David Guetta, Robin Schulz, Cheat Codes – Shed A Light 3:12
04.Luke Christopher – Lot To Learn 4:07
05.Imagine Dragons – Believer 3:25
06.Jp Cooper – September Song 3:41
07.John Legend – Love Me Now 3:31
08.Nevada – The Mack 2:47
09.Martin Jensen – Solo Danc 2:55
10.Jax Jones – You Don't Know Me (radio Edit 3:34
11.Kungs – I Feel So Bad 3:27
12.The Weeknd – Starboy 3:50
13.Bruno Mars – 24k Magic 3:46
14.The Vamps, Matoma – All Night 3:18
15.Rhodes, Felix Jaehn – Your Soul (holding On) 2:42
16.Lcaw – Man In The Moon 3:18
17.Yall – Together 3:13
18.Bakermat – Baby 2:40
19.Martin Solveig – Places 3:23
20.Alok, Bruno Martini – Hear Me Now 3:14
21.Guy Gabriel, Marky Style – Karma 3:03
22.Starley – Call On Me (ryan Riback Remix) 3:16
23.Calum Scott – Dancing On My Own 4:21