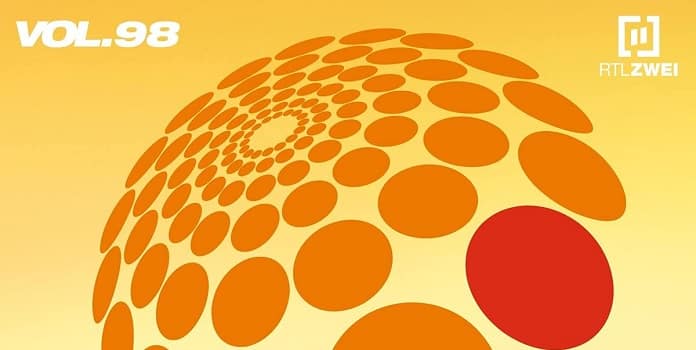 Die neue The Dome 98 steht in den Startlöchern und schickt vorab ihre Tracklist ins Rennen. Während es langsam aber sicher Sommer wird und die ersten kleinen Events wieder starten können, ist es höchste Zeit sich mit der richtigen Musik einzudecken, damit die gute Laune erhalten bleibt.
Wer zwischen den zahlreichen Bravo Hits Ausgaben auf die neuste Charts Musik nicht verzichten möchte, kommt an der The Dome Reihe nicht vorbei. Wer sich die Tracklist der aktuellen The Dome 98 einmal anschaut, wird wieder zahlreiche Top Tracks aus den aktuellen Single Charts finden.
Gemeint sind hier unter anderem Songs von z.B. Mark Forster, Alvaro Soler, David Puentez, Alle Farben, Tom Gregory, Robin Schulz, Sido, Capital Bra, Justin Bieber und viele mehr. Natürlich darf auch der offizielle UEFA Euro 2020 Song "We Are The People" nicht fehlen.
Insgesamt warten ganze 44 Top Songs verteilt auf 2 CDs auf euch. Der Preis dieser Compilation bewegt sich im gewohnten Umfeld und liegt somit je nach Shop bei um die 20 Euro. Der Release ist für den 4. Juni 2021 angesetzt und wie immer an dieser Stelle darf die Tracklist und das passende Cover nicht fehlen.
Wenn euch die neue The Dome 98 zusagt, dann nutzt die Zeit bis zum offizielle Release und bestellt euch beim Händler eures Vertrauens direkt ein Exemplar vor. Eins ist an dieser Stelle sicher, die Tracklist macht eindeutig Lust auf die eine oder andere kleine Party im heimischen Garten.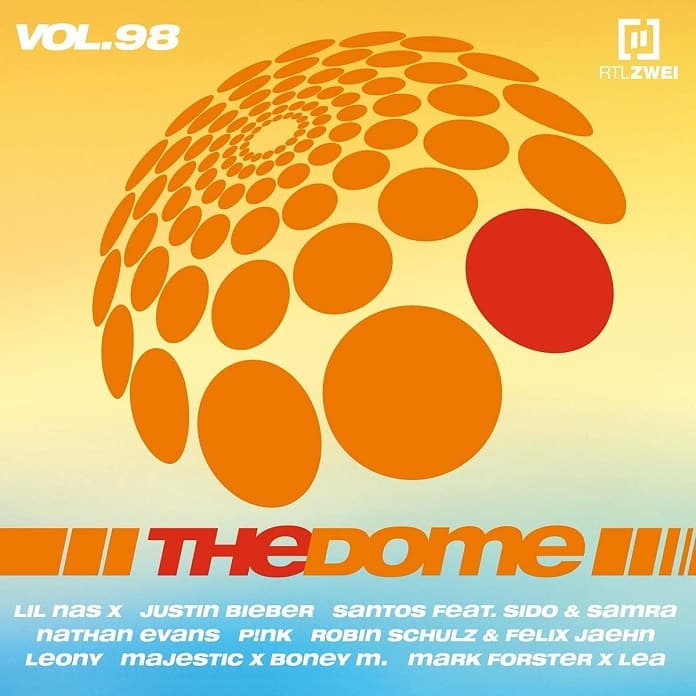 Disk 1:
01.Lil Nas X – MONTERO (Call Me By Your Name) 2:17
02.Mark Forster x LEA – Drei Uhr Nachts 2:40
03.Pink – All I Know So Far 4:37
04.Alvaro Soler – Magia 3:12
05.Imagine Dragons – Follow You 2:55
06.Leony – Faded Love 2:28
07.Miley Cyrus – Angels Like You 3:15
08.Tom Gregory – River 3:10
09.Ofenbach feat. Lagique – Wasted Love 2:19
10.Ilira, Vize Ilira – Dynamite 2:06
11.Heston Kiu, Justin Wellington, Mosten Hani, Justin Wellington feat. Small Jam – Iko Iko (My Bestie) 3:02
12.Alle Farben x Theresa Rex, Theresa Schæfer – Sex 2:15
13.YouNotUs x Mi Casa – Chucks 2:49
14.David Puentez feat. FAST BOY – Drive All Night 2:32
15.Glockenbach feat. ClockClock – Redlight 2:59
16.Demi Lovato – Dancing With The Devil 4:04
17.Bill Kaulitz, Tokio Hotel x VIZE -Behind Blue Eyes 2:51
18.Lotte – Bleib nochn Tag (Ladadi) 2:33
19.Martin Garrix feat. Bono & The Edge – We Are The People – Official UEFA EURO 2020 Song 3:37
20.Purple Disco Machine feat. Moss Kena & The Knocks – Fireworks 3:20
21.Majestic x Boney M. – Rasputin 3:06
22.Nathan Evans Wellerman – Sea Shanty 2:35
Disk 2:
01.Justin Bieber feat. Daniel Caesar & Giveon – Peaches 3:18
02.Doja Cat feat. SZA – Kiss Me More 3:28
03.Robin Schulz & Felix Jaehn feat. Alida – One More Time 3:19
04.Alok feat. Alida – Love Again 2:27
05.Glass Animals – Heat Wave 3:59
06.Polo G – Rapstar 2:46
07.Capital Bra & Cro – Blessed 2:32
08.Sido, Samra SANTOS – Leere Hände 2:49
09.Marteria – Niemand bringt Marten um 3:17
10.Jan-Marten Block – Never Not Try 3:23
11.Goldford, Lost Frequencies – Rise 3:13
12.Kelvin Jones – Pillow 2:37
13.Johannes Oerding & Gentleman – Horizont 2:57
14.Juan Daniel – Corazon 3:08
15.Clueso – Leider Berlin 3:19
16.James Arthur – Medicine 3:30
17.Joris – No Drama Song 2:54
18.Milow, Jonathan Vandenbroeck – Asap 3:04
19.Wincent Weiss – Weit Weg 3:08
20.Silbermond – Bestes Leben – Re-Edit 2:50
21.Tom Grennan – Little Bit of Love 3:46
22.Rag'n'Bone Man & P!nk – Anywhere Away from Here 3:58