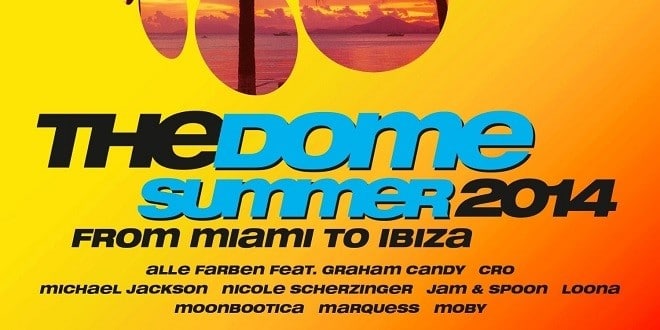 Die The Dome Summer 2014 ist draußen und wir haben für euch die Tracklist. Seit nun mehr als 1,5 Jahren findet die seit 1997 laufende Musikshow nicht mehr statt, trotzdem kommen noch regelmäßig die gleichnamigen CDs auf den Markt.
Früher fand The Dome 4-mal Jährlich statt doch Ende 2012 wurde das Ende bekannt gegeben. Die CD kommen jedoch weiterhin regelmäßig raus. Auf der Compilation findet man die besten Sommer Songs des Jahrs.
Mit unter anderem Clean Bandit, Route 94 und sogar The Chainsmokers mit ihrem Hit #Selfie. Auch unser WM-Song von Andreas Bourani, der sogar nach dem Finale im Stadion Rios lief ist mit dabei, sowie der Hit des norwegischen Newcomers Martin Tungevaang 'Wicked Wonderland'.
Mit dieser CD hast du dir die Sommer Stimmung trotz des miesen Wetters garantiert. Die Tracklist der The Dome Summer 2014 haben wir unten angefügt. Die CD ist erhältlich bei Amazon und iTunes.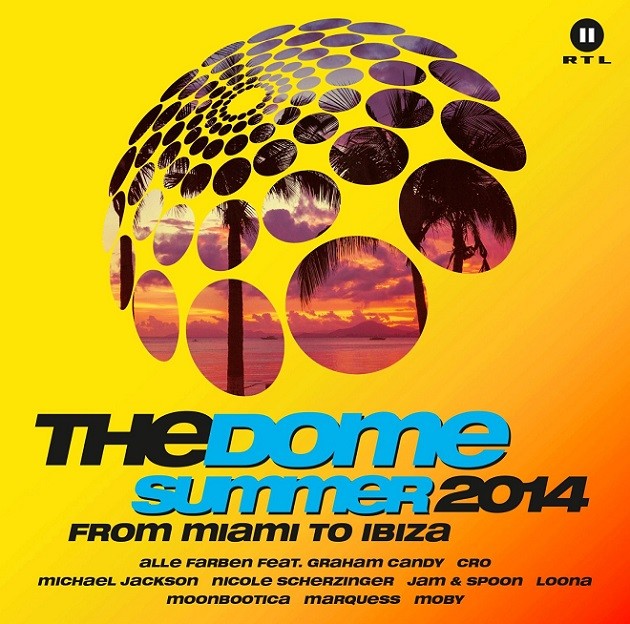 Disk 1:
1.Andreas Bourani Auf Uns
2.Clean Bandit Rather Be
3.Kiesza Hideaway
4.Nico & Vinz Am I Wrong
5.Duke Dumont feat Jax Jones I Got U
6.Route 94 My Love
7.Alle Farben She Moves (Goldfish Remix Radio Edit)
8.Michael Jackson Love Never Felt So Good (Fedde Le Grand Remix)
9.Justice Crew Que Sera
10.Aneta Sablik The One
11.Nicole Scherzinger Your Love
12.Little Mix Salute
13.Loona Brazil
14.Mr Da-Nos & The Product G&B ft. Maury Summer Nights
15.Marquess El Porompompero
16.Oceana Everybody
17.Inna Cola Song
18.Mister Santos Das Dicke dicke Ding
19.Prince Kay One & Patrick Miller United
20.Cro feat Dajuan Meine Gang (Bang Bang)
21.Chapeau Claque Schöner Moment (Pretty Pink Rmx)
Disk 2:
1.Martin Tungevaag Wicked Wonderland 2014
2.Jam & Spoon feat Rea Be.Angeled 2014
3.Sasha Lopez Kiss You
4.Darius & Finlay Misfit
5.Marco Petralia Coming Home (Hyberbits US Remix)
6.RIO One In A Million
7.DJ Antoine Light It Up (Bodybangers Remix)
8.Bodybangers Are You Ready
9.Moonbootica These Days Are Gone
10.Krydz vs Dirty Dasmo Save the night (Holi festival of colours anthem 2014)
11.Steve Angello, Dimitri Vangelis, Wyman X Payback
12.Chassio Love You Louder
13.Go Freek We Can Ride (Dom Dolla remix)
14.Ataycaro feat. Bia Chasing The Sun (Original Mix Edit)
15.Moby Almost Home (Sebastien Remix)
16.Kygo & Kyla La Grange Cut Your Teeth (Kygo Remix Radio Edit)
17.Eelke Kleijn Ein Tag am Strand
18.Ostblockschlampen Fairyland
19.The Chainsmokers #Selfie
20.Michael Mind Project Ignite
21.Benny Benassi ft. Gary Go Let This Last Forever