Zur neuen The Dome Summer 2016 und ihrere Tracklist gibt es eine Sensation. Vielleicht ist es das Comeback des Jahres, denn damit haben wir nicht mehr gerechnet und das haben wir in vielen Artikeln darüber auch deutlich gemacht, doch es ist tatsächlich nun soweit.
Mit The Dome Summer 2016 kehrt die Musiksendung zurück ins deutsche Fernsehen. Die Sendezeit für die Sommer Ausgabe ist vielleicht nicht die beste, denn das ganze wird am 19 Juli um 22.15 Uhr ausgestrahlt aber immerhin ist die Marke zurück im deutschen Fernsehen und dürfte dadurch wieder einen Schub erhalten.
Von 1997 bis 2012 wurde The Dome regelmäßig auf RTL 2 ausgestrahlt, insgesamt gab es 64 Folgen, mit denen man teilweise die größten Hallen in Deutschland fühlte. Das Interesse an dem Mega Event nahm jedoch mehr und mehr ab, so das die Bühnen immer kleiner wurden und zum Schluss dann eingestellt wurde.
Die gleichnamige Compilation verkaufte sich seitdem jedoch weiterhin Prima. Ab dem 8. Juli 2016 steht dann die The Dome Summer 2016 im Handel für euch bereit und selbstverständlich haben wir auch bei der Sonderausgabe die Tracklist und das passende Cover für euch parat, damit ihr wisst was euch hier erwartet.
Wir sind gespannt, wie The Dome Summer 2016 auf RTL 2 ankommen wird, denn etwas abgewandelt wird das ganze schon, da sich Collien Ulmen-Fernandes von den angesagtesten Partystränden Europas melden wird und so durch die Sendung führt.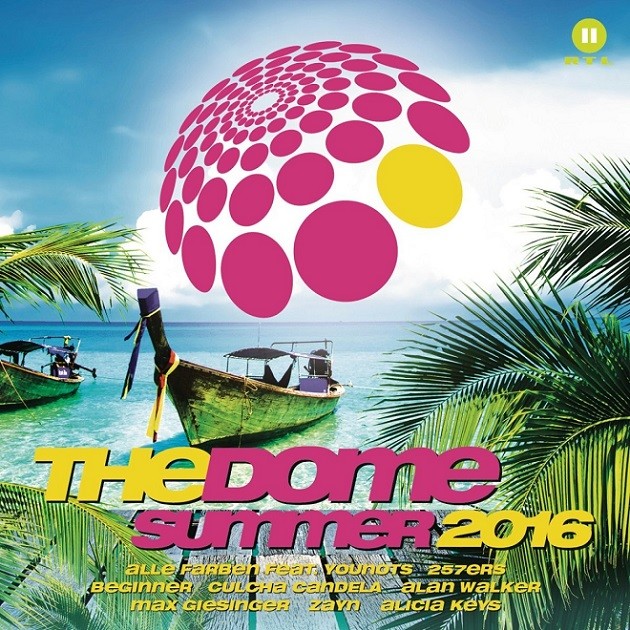 Disk 1:
01.Justin Timberlake – Can't Stop The Feeling! (original Song From Dreamworks Animation 'trolls') 3:56
02.Alle Farben Feat. Younotus – Please Tell Rosie 2:53
03.Alan Walker – Sing Me To Sleep 3:10
04.Frans – If I Were Sorry 3:04
05.257ers – Holland 3:09
06.Martin Feat. Tkay Maidza Solveig – Do It Right 3:33
07.Charming Horses Feat. Grace Grundy – Higher Love – Original Mix 2:28
08.Marcus Feat. Jrdn Layton – Cold In California 3:31
09.Timeflies – Once In A While 3:35
10.Lions Head – When I Wake Up 2:54
11.Fais Feat. Afrojack – Hey 3:36
12.Spada Feat. Richard Judge – You & I – Radio Edit 3:23
13.Elvis Crespo , Deorro Feat. Elvis Crespo – Bailar – Radio Edit 2:17
14.Sigala Feat. Imani & Dj Fresh – Say You Do – Radio Edit 3:23
15.Bearson Feat. Cal – Want You 3:02
16.Flex – Läuft Bei Dir 3:13
17.Stereoact – Der Himmel Reißt Auf – Radio Edit 2:55
18.Gestört Aber Geil & Two Magics – Glücklich Wie Die Kinder 3:21
19.Philipp Dittberner – In Deiner Kleinen Welt – Marv Edit 3:13
20.Arash Feat. Snoop Dogg – Omg 3:01
21.Will.i.am Feat. Pia Mia – Boys & Girls 4:02
22.Patrice – Burning Bridges 4:21
Disk 2:
01.Beginner Feat. Gzuz & Gentleman – Ahnma 4:13
02.Max Giesinger – 80 Millionen (em Version) – Ohne Live Kommentar 3:36
03.Culcha Candela – Wann Dann?!? – Vip Mix 3:26
04.Adam Messinger , Magic! , Magic! Feat. Sean Paul – Lay You Down Easy 2:43
05.Dj Rasimcan Feat. David Jay – Dancefloor Murda 3:15
06.Alvaro Soler – Sofia 3:30
07.Marquess – Toda La Noche (all Night Long) 3:41
08.Delle Feat. Gentleman – Tic Toc 2:51
09.The BossHoss – I Like It Like That 3:44
10.Tom Odell – Magnetised 3:57
11.Meghan Trainor – Me Too 3:01
12.Nick Feat. Tove Lo Jonas – Close 3:54
13.Onerepublic – Wherever I Go 2:50
14.Justin Bieber – Company 3:28
15.Prinz Pi – Die Füllung Vom Kissen 3:24
16.Sara Hartman – Satellite 3:41
17.Sean Paul , Little Mix Feat. Sean Paul – Hair 3:53
18.Daya – Hide Away 3:11
19.Selena Gomez – Kill Em With Kindness 3:38
20.Chvrches – Bury It 3:08
21.Zayn – Like I Would 3:12
22.Alicia Keys – In Common 3:29