In dieser Woche kommt André Rieu – Falling In Love auf den Markt, höchste Zeit die Tracklist anzuschauen. "Falling In Love" ist ein Album des niederländischen Violinisten, Dirigenten und Entertainers André Rieu. Die 17 Stücke seines 2016er Werks widmet er der schönsten Emotion der Welt: der Liebe.
Gemeinsam mit seinem 70-köpfigen Johann Strauss Orchester interpretiert er klassische Liebeslieder und emotionale Melodien. Wie berührend das vorallem live auf der Bühne ist, könnt ihr auf der zugehörigen DVD sehen, die Lieder des Albums "Falling In Love" in Rieus Heimatstadt Maastricht zeigt.
"Falling In Love" beinhaltet 17 weltbekannte Melodien, zu denen neben dem Namensgebenden Elvis-Presley-Hit "Can't Stop Falling In Love" zahlreiche Stücke aus Filmklassikern vertreten sind.
Hierzu zählen die "Love Story"-Titelmelodie von Francis Lai, das Lied "True Love" aus dem Filmmusical "Die oberen Zehntausend", Celine Dions "My Heart Will Go On" aus "Titanic", das "Love Theme" aus "Romeo And Juliet" sowie "Over The Rainbow" aus "Der Zauberer von Oz". Mit "Sleepy Shores" gelangte aber auch eine Serienmelodie in die Tracklist.
Neben "Cavatina" aus dem Antikriegsfilm "Die durch die Hölle gehen" und "The Lonely Shepherd" aus "Kill Bill Vol. 1" haben auch einige Lieder aus Musicals ihren Platz auf "Falling In Love" gefunden: Freut euch auf "Memory" aus "Cats" und "Wishing You Were Somehow Here Again" aus "Das Phantom der Oper". Beide Stücke stammen aus der Feder von Andrew Lloyd Webber. Der Leonard Cohen-Klassiker "Hallelujah" und "Time To Say Goodbye (Con te partiró)" runden "Falling In Love" ab.
Das neue Album André Rieu – Falling In Love steht ab dem 25. November 2016 für euch im Handel bereit. Wir haben wie immer an dieser Stelle die Tracklist und das passende Cover für euch am Start.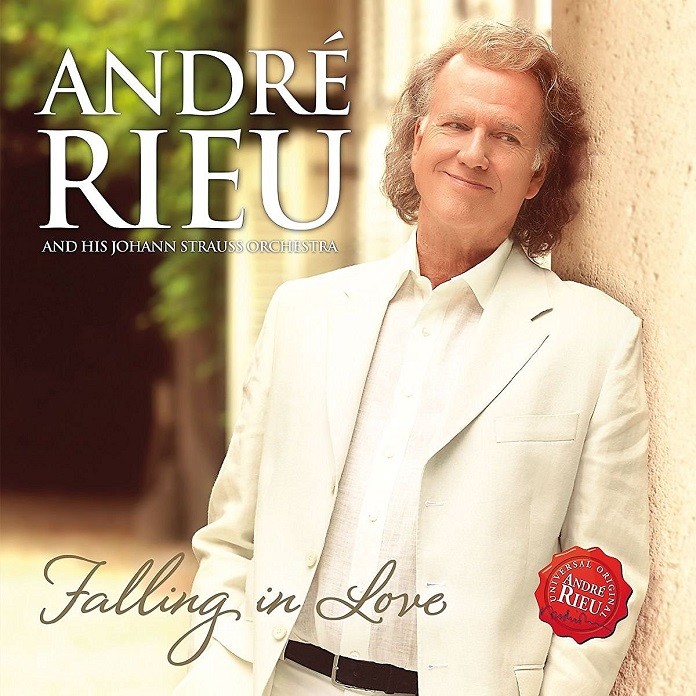 1. Love Story (From "Love Story") – André Rieu
2. True Love (From "High Society") – André Rieu
3. Sleepy Shores – André Rieu
4. Can't Help Falling In Love – André Rieu
5. My Heart Will Go On (From "Titanic") – André Rieu
6. Hallelujah – André Rieu
7. Scarborough Fair – André Rieu
8. Love Theme (From "Romeo and Juliet") – André Rieu
9. The Lonely Shepherd – André Rieu
10. Cavatina (From "The Deer Hunter") – André Rieu
11. Memory (From "Cats") – André Rieu
12. Morgens um Sieben (ist die Welt noch in Ordnung) – André Rieu
13. Feelings – André Rieu
14. Wishing You Were Somehow Here Again (From "Phantom of the Opera") – André Rieu
15. Over The Rainbow (From "The Wizard Of Oz") – André Rieu
16. She – André Rieu
17. Time To Say Goodbye (Con te partirò) – André Rieu