Das neue Album The Kelly Family – 25 Years Later mit dazugehöriger Zeitreise, passt zur Vox Doku The Kelly Family – 25 Over the Hump, welche am Samstag den 5. Oktober 2019 ausgestrahlt wurde. Die Reise der Kelly Family ist eigentlich viel Älter, doch mit Over the Hump vor 25 Jahren ging es so richtig los.
Wer hätte, nach dem aus der Kelly Family damals gedacht, dass diese großartige Familie nochmal zusammen auf der Bühne stehen wird. Als die Comeback Tour angekündigt wurde und der Vorverkauf begann, wurde die Familie förmlich überrand, so war das erste gemeinsame Konzert des Comeback binnen Minuten ausverkauft.
Darauf folgte ein unglaublich erfolgreiches Comeback Album und direkt im Anschluss eine Mega Tour. Man könnte also sagen, The Kelly Family ist wieder zurück. Das Album The Kelly Family – 25 Years Later nimmt euch mit auf eine musikalische Zeitreise der letzten 25 Jahre.
Bis zum Release dauert es allerdings noch ein paar Tage, denn das Album The Kelly Family – 25 Years Later steht erst ab dem 25. Oktober 2019 im Handel für euch parat. Neben der Tracklist und dem dazugehörigen Cover, haben wir euch die Neuauflage von Over The Hump eingebunden.
Für alle Fans der Kelly Family heißt es nun also, fleißig das neue Album vorbestellen, denn dies sollte in keiner CD Sammlung fehlen.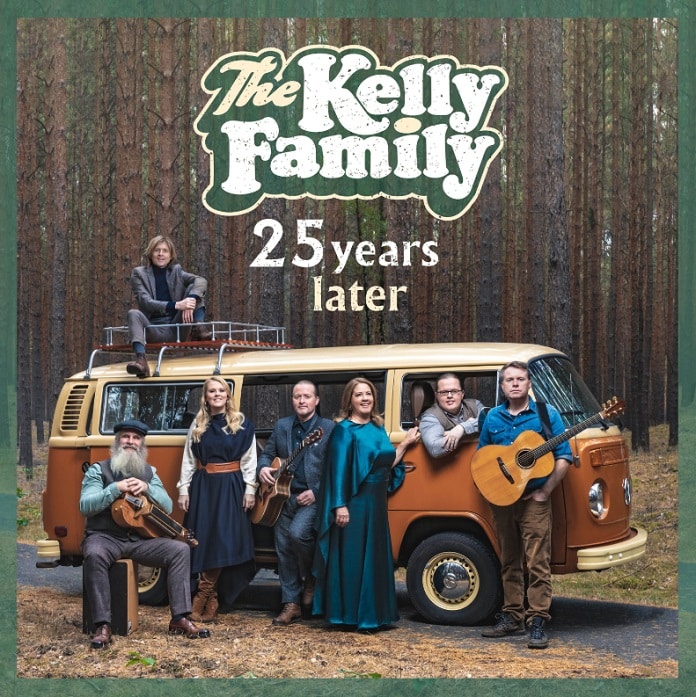 01.The Kelly Family- Over The Hump 3:50
02.The Kelly Family – Fire 3:11
03.The Kelly Family – El Camino 3:42
04.The Kelly Family – Once In A While 3:35
05.The Kelly Family – We Had A Dream 3:35
06.The Kelly Family – Star Of The County Down 3:07
07.The Kelly Family – Baila Mi Corazon 3:20
08.The Kelly Family – Sweet Freedom 3:57
09.The Kelly Family – Never Gonna Break Me Down 4:42
10.The Kelly Family – Tears 4:26
11.The Kelly Family – If You Love Me 3:17
12.The Kelly Family – Father's Nose 3:10
13.The Kelly Family – Take My Heart 3:20
14.The Kelly Family – Break Free 3:00
15.The Kelly Family – Made Of Gold 4:11
16.The Kelly Family – Santa Maria 3:53