Bei der Best of 2019 – Hits des Jahres wird mit einem Blick auf die Tracklist schnell klar, der Name ist hier absolut Programm. Zu Ende des Jahres kommen jedes Jahr zahlreiche "Best of" Compilation, so dass der Käufer sich die Tracklisten genau anschauen sollte, welche den eigenen Geschmack am besten trifft.
Wer sich also zum Ende des Jahres mit den Top Tracks der letzten Monate noch einmal eindecken möchte, darf auch im Fall der Best of 2019 – Hits des Jahres gerne zugreifen. Hier findet ihr zahlreiche Top Tracks, die sich in den letzten Wochen und Monaten in den Charts getummelt haben.
Gemeint sind hier Tracks von z.B. Felix Jaehn, Adil Tawil, Sarah Connor, Pietro Lombardi, Shawn Mendes, Lena, Sam Smith, Ariana Grande, Calvin Harris und viele weitere. Gerade für die größte Party des Jahres, nämlich Silvester, sollte man selbstverständlich die richtige Musik parat haben.
Bis zum Release der Best of 2019 – Hits des Jahres dauert es nicht mehr ganz so lange, denn bereits ab dem 25. Oktober 2019 steht das gute Stück für euch im Handel bereit. Wie immer an dieser Stelle, darf auch in diesem Fall die Tracklist und das dazugehörige Cover nicht fehlen.
Sollte euch die Best of 2019 – Hits des Jahres überzeugen können, so könnt ihr sie natürlich schon jetzt bei Amazon oder anderen Shops vorbestellen, damit ihr den Release nicht verpasst.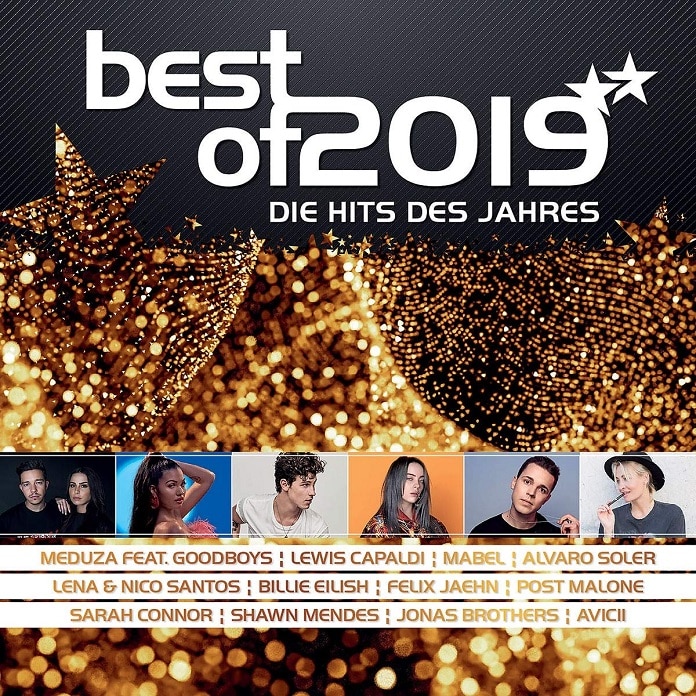 Disk: 1
1. bad guy – Eilish, Billie
2. Piece Of Your Heart – Meduza
3. Don't Call Me Up – Mabel
4. Better – Lena
5. Circles – Post Malone
6. Ransom – Lil Tecca
7. Loco Contigo – Snake, DJ
8. Never Alone – Jaehn, Felix
9. Tu m'appelles – Tawil, Adel
10. Hoch – Bendzko, Tim
11. Vincent – Connor, Sarah
12. Nur mit Dir – David, Shirin
13. Vermissen – Juju
14. High – Sido
15. Kein Plan – Loredana
16. Macarena – Lombardi, Pietro
17. La Libertad – Soler, Alvaro
18. Narcotic – YOUNOTUS
19. Small Steps – Gregory, Tom
20. If I Can't Have You – Mendes, Shawn
21. Teeth – Summer, 5 Seconds of
Disk: 2
1. Old Town Road (Remix) – Lil Nas X
2. boyfriend – Grande, Ariana
3. Only Human – Jonas Brothers
4. Power Over Me – Kennedy, Dermot
5. Someone You Loved – Capaldi, Lewis
6. How Do You Sleep? – Smith, Sam
7. Love On Myself – Jaehn, Felix
8. God Is A Dancer – Tiësto
9. Giant – Harris, Calvin
10. Higher Love – Kygo
11. SOS – Avicii
12. All Day And Night (Jax Jones & Martin Solveig Present Europa) – Jones, Jax
13. All Around The World (La La La) – R3HAB
14. Stars – VIZE
15. Later Bitches – The Prince Karma
16. G€LD – Seeed
17. Recognise – Lost Frequencies
18. Little Help – The BossHoss
19. Castles – Ridings, Freya
20. Doin' Time – Del Rey, Lana
21. Unforgettable – Santos, Nico
22. Rescue Me – OneRepublic