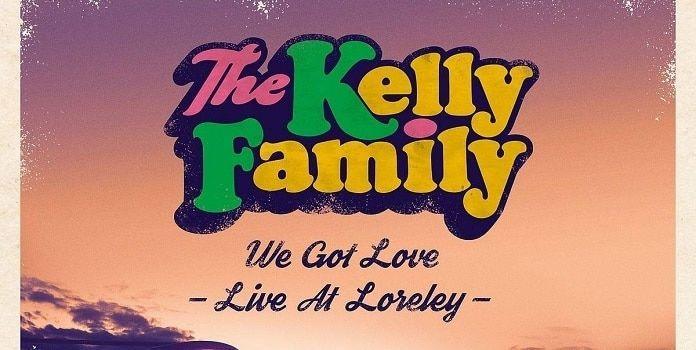 Mit dem neuen Album The Kelly Family – We Got Love Live at Loreley und einer großartigen Tracklist, holt die Familie die Erinnerungen ihrer Mega Tour zu euch nach Hause. Das die Kelly Family noch einmal ganz oben in den Charts mitspielen würde, hätte bei ihrem Ende damals, wohl niemand vermutet.
Mit ihrem Comeback im letzten Jahr, fühlte es sich für viele Fans jedoch so an, als wären die Kellys nie Weg gewesen. Ihr neues Album verkaufte sich über 500.000 mal und die darauf folgende Tournee war mit über 400.000 Fans absolut ausverkauft und das in kürzester Zeit.
Am Ende ihrer Tour begab sich die Kelly Family an den Ort zurück, der für sie bereits 1995 Legendär war. Gemeint ist hier natürlich die Freilichtbühne Loreley, hier feierten die Kellys Ende August 2018 mit über 30.000 Fans zusammen das Ende der Mega Tour und ließen es so richtig krachen.
Mit der dazugehörigen CD The Kelly Family – We Got Love Live at Loreley, bekommt ihr nun zahlreiche Live Songs geboten, einige neue Hits und auch die eine oder andere Überraschung. Für jeden Kelly Fan, ist das neue Album ein absolutes Must Have.
Im Handel steht The Kelly Family – We Got Love Live at Loreley für euch ab dem 16. November 2018 bereit und natürlich haben wir auch hier die Tracklist und das passende Cover parat, damit ihr schon vor dem Kauf wisst, was euch hier erwartet. Die Promotion für das neue Album, läuft bereits auf hoch Touren, so dass sicherlich die Chart Spitze angepeilt werden wird.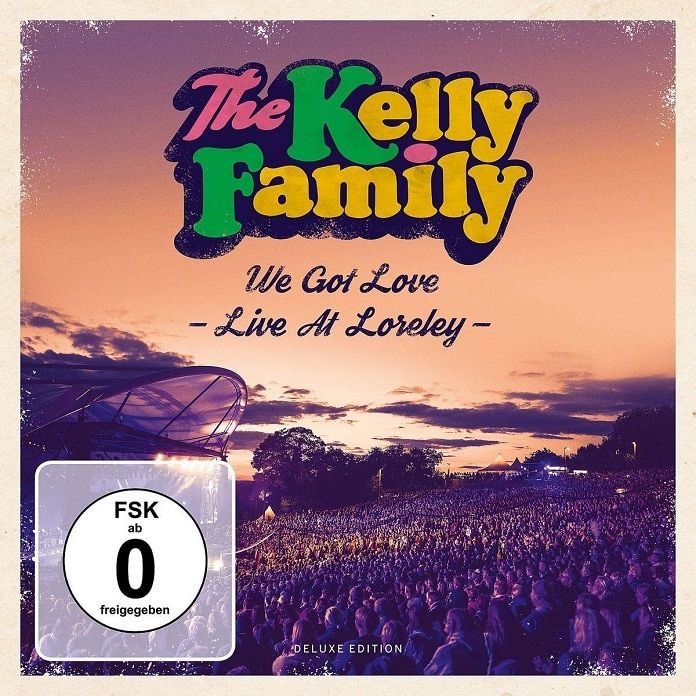 Disk 1:
01.The Kelly Family – Thunder (Live At Loreley / 2018) 5:57
02.The Kelly Family – No Lies (Live At Loreley / 2018) 2:59
03.The Kelly Family – I Can't Help Myself (Live At Loreley / 2018) 3:23
04.The Kelly Family – Come Back To Me (Live At Loreley / 2018) 4:05
05.The Kelly Family – Why Why Why (Live At Loreley / 2018) 5:28
06.The Kelly Family – Imagine (Live At Loreley / 2018) 2:46
07.The Kelly Family – First Time (Live At Loreley / 2018) 4:28
08.The Kelly Family – Key To My Heart (Live At Loreley / 2018) 3:02
09.The Kelly Family – Fell In Love With An Alien (Live At Loreley / 2018) 4:37
10.The Kelly Family – Fathers Nose (Live At Loreley / 2018) 3:00
11.The Kelly Family – Red Shoes (Live At Loreley / 2018) 4:04
12.The Kelly Family – We Got Love (Live At Loreley / 2018) 3:48
13.The Kelly Family – Loch Lomond (Live At Loreley / 2018) 3:21
14.The Kelly Family – The Rose (Live At Loreley / 2018) 3:39
15.The Kelly Family – Let My People Go (Live At Loreley / 2018) 4:06
16.The Kelly Family – Let It Be (Live At Loreley / 2018) 4:04
Disk 2:
01.The Kelly Family – When The Boys Come Into Town (Live At Loreley / 2018) 3:20
02.The Kelly Family – Keep On Singing (Live At Loreley / 2018) 3:45
03.The Kelly Family – Sick Man (Live At Loreley / 2018) 4:31
04.The Kelly Family – Drum Solo (Live At Loreley / 2018) 4:51
05.The Kelly Family – Please Don't Go (Live At Loreley / 2018) 4:44
06.The Kelly Family – The Wolf (Live At Loreley / 2018) 7:14
07.The Kelly Family – Madre Tan Hermosa (Live At Loreley / 2018) 4:11
08.The Kelly Family – An Angel (Live At Loreley / 2018) 4:27
09.The Kelly Family – Only Our Rivers Run Free (Live At Loreley / 2018) 4:47
10.The Kelly Family – Dan O'Feefes (Irish Jig) (Live At Loreley / 2018) 2:13
11.The Kelly Family – Wearing Of The Green (Live At Loreley / 2018) 1:58
12.The Kelly Family – Good Neighbor (Live At Loreley / 2018) 3:09
13.The Kelly Family – Nanana (Live At Loreley / 2018) 6:09
14.The Kelly Family – Take My Hand (Live At Loreley / 2018) 2:43
15.The Kelly Family – Who'll Come With Me (David's Song) (Live At Loreley / 2018) 3:15
16.The Kelly Family – Brothers And Sisters (Live At Loreley / 2018) 7:22