Der Hochsommer ist da und die Bravo Hits 106 rückt mit ihrer Tracklist immer näher. Kaum eine Compilation wird im Vorfeld so heiß erwartet, wie die neuen Ausgaben der Bravo Hits Reihe. Kein Wunder das sich zahlreiche Musikportale sich bemühen, stets als erstes an Infos zu kommen.
Leider lassen sich die Labels immer mehr Zeit mit den Infos zu den neuen Ausgaben. So findet man z.B. auf Amazon nicht selten, bei vielen Compilations gar keine Infos mehr zum Inhalt. Dies liegt jedoch weniger an Amazon, sondern an den Labels, die sich mittlerweile mehr auf Single und Alben konzentrieren.
Doch was erwartet uns bei der Bravo Hits 106 ? Die Frage ist relativ einfach zu beantworten, denn wie immer werden die neusten Tracks aus den Charts hier zu finden sein und das Konkurrenzlos, denn die letzte Ausgabe der The Dome Reihe liegt ebenfalls bereits viele Wochen zurück.
Die Bravo Hits 106 ist bereits dir vorletzte reguläre Bravo Hits Ausgabe in diesem Jahr, denn nach der Bravo Hits 108, dürfte dann nur noch die Best of 2019 folgen, ehe es dann mit der Bravo Hits 109 Anfang 2020 weiter geht.
Der Release der Bravo Hits 106 ist für den 26 Juli 2019 angesetzt. Sobald die Tracklist verfügbar ist, werden wir diese euch natürlich nachreichen. Gleiches gilt natürlich auch für das finale Cover, sobald dieses freigegeben wurde, werden wir das vorläufige Cover natürlich ersetzen.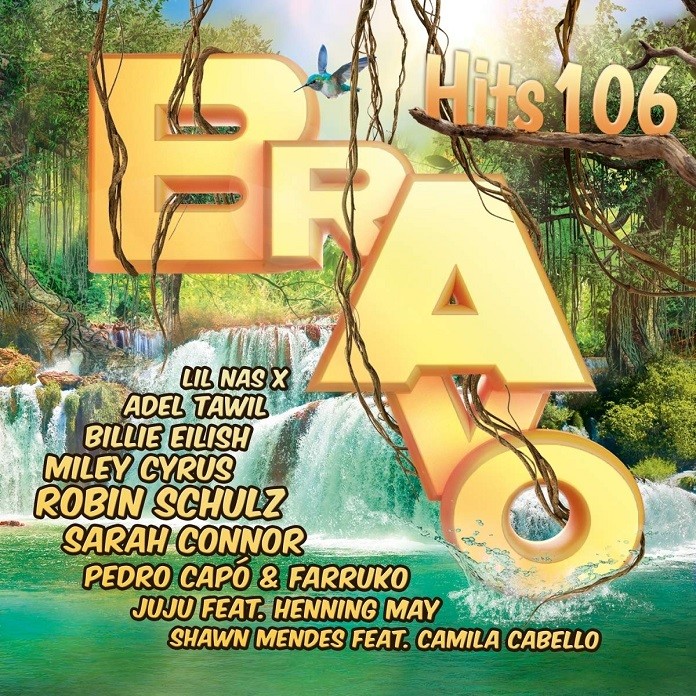 Disk 1:
01.Shawn Mendes, Camila Cabello, Shawn Mendes & Camila Cabello – Señorita 3:11
02.Sarah Connor – Vincent 4:43
03.Pedro & Farruko Capo – Calma – Remix 4:00
04.Alvaro Soler – La Libertad 3:16
05.Ava Max – So Am I 3:04
06.Lil Nas X – Old Town Road 1:53
07.Adel Tawil feat. PEACHY – Tu m'appelles (feat. PEACHY) 3:24
08.Alec Benjamin – Let Me Down Slowly 2:49
09.Max Giesinger – Die Reise 3:50
10.Zara Larsson – All the Time 3:48
11.Mabel – Mad Love 2:50
12.Dermot Kennedy – Outnumbered 4:05
13.Malik Harris – Like That Again 3:45
14.Mark Forster – 747 – Radio Version 3:23
15.The feat. Mimi & Josy BossHoss – Little Help 3:51
16.Onerepublic – Rescue Me 2:44
17.DJ Khaled, Sza, DJ Khaled feat. SZA – Just Us 3:41
18.David Guetta, Daddy Yankee feat. Afro Bros, Natti Natasha, Dimitri Vega Dimitri Vegas & Like Mike – Instagram 3:06
19.Justin & Nina Nesbitt Jesso – Let it Be Me 3:39
20.Kaan feat. Snoop Dogg & Eleni Foureira – Sirens (Sweet Dreams) – Radio Edit 3:20
21.Leon & Kay One feat. Tilly Machere – Portofino 2:55
22.Juju feat. Henning May – Vermissen 2:42
Disk 2:
01.Whitney Houston, Kygo – Higher Love 3:48
02.Billie Eilish – bad guy 3:14
03.YouNotUs & Janieck & Senex – Narcotic 3:11
04.Meduza feat. Goodboys – Piece of Your Heart 2:33
05.Robin feat. Harloe Schulz – All This Love 2:44
06.Miley Cyrus – Mother's Daughter 3:39
07.Avicii – Heaven 4:37
08.P!nk & Cash Cash, P!nk feat. Cash Cash – Can We Pretend 3:44
09.VIZE feat. Laniia – Stars 2:45
10.Gabry Ponte LUM!X – Monster 2:34
11.Felix feat. Calum Scott Jaehn – Love on Myself 2:49
12.Patrick Stump, Macklemore, Jaramye Daniels, Macklemore, Fall Out Boy Martin Garrix – Summer Days (feat. Macklemore & Patrick Stump of Fall Out Boy) 2:46
13.R3HAB x A Touch Of Class – All Around The World (La La La) 2:27
14.David Guetta feat. Raye – Stay (Don't Go Away) 3:06
15.Aloe Blacc, Lost Frequencies feat. Aloe Blacc – Truth Never Lies 3:11
16.The Chainsmokers & Bebe Rexha – Call You Mine 3:37
17.Tom Gregory – Small Steps 2:47
18.Jaden feat. Jake Reese Bojsen – Fall for Love 3:23
19.Jordan Powers, Alle Farben & Jordan Powers – Different for Us 3:04
20.Alma – Lonely Night 2:57
21.Bastille – Another Place 3:31
22.Shirin feat. Maitre Gims David – On Off 3:11