Bei der neuen Compilation Nature One 2019 – The Twenty Five und ihrer Tracklist ist der Name Programm. Das Mega Festival Nature One feiert in diesem Jahr das 25. Jubiläum und ist bis heute kein bisschen leise geworden, auch wenn es hier und da auch mal lautere Kritik am Festival gab.
Wer bei dieser Compilation nun allerdings die große Zeitreise erwartet, den müssen wir an dieser Stelle direkt einmal enttäuschen. Für alle Fans der guten alten Zeit, empfehlen wir die Compilation Nature One – The History, denn bekommt ihr eine musikalische Zeitreise durch 25 Jahre Nature One.
Anders ist dies jedoch bei der Nature One 2019 – The Twenty Five, denn hier finden wir zahlreiche Top Tracks von z.B. Neelix, W&W, Fedde Le grand, ARTY, Le Shuuk, Calvin Harris, ATB, Yolanda Be Cool, Afrojack, Duke Dumont und unfassbar viele mehr.
Im Handel steht das gute Stück für euch ab dem 12. Juli 2019 als normale Edition und als Limited Festival Edition mit einer Nature One Fahne. Wie immer an dieser Stelle, haben wir auch hier die Tracklist und das passende Cover für euch am Start. Sobald der MiniMix online geht, werden wir diesen natürlich auch nachreichen.
Nun heißt es fleißig vorbestellen, um euch musikalisch auf die am ersten August-Wochenende stattfindende Nature One ordentlich vorzubereiten, denn mehr Nature One bekommt ihr im Vorfeld auf keiner Compilation.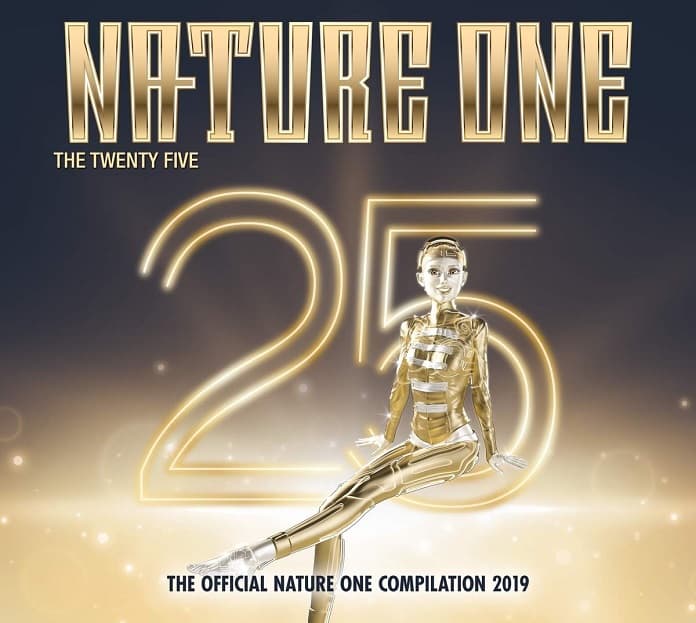 Disk: 1
1. Neelix – Twenty Five (Official Nature One Anthem 2019)
2. Armin van Buuren – Turn It Up
3. W&W & Maurice West – Matrix
4. Vini Vici & Reality Test feat. Shanti People – Karma
5. Neelix – Cherokee (Omiki Remix)
6. Lost Frequencies feat. Flynn – Recognise (Kryder Remix)
7. Sunnery James & Ryan Marciano – Yeke Yeke
8. Hardwell feat. Trevor Guthrie – Summer Air
9. Fedde Le Grand – Like We Do
10. ATB & Markus Schulz – Heartbeat
11. ARTY – Save Me Tonight
12. Jewelz & Sparks – Bring It Back (Afrojack x Sunnery James & Ryan Marciano Edit)
13. Mike Candys – Like That
14. Tujamo – Candy On The Dancefloor
15. Thomas Newson – The Worker
16. Mr. Belt & Wezol – Mind Control
17. Keanu Silva – Fine Day
18. Dave202 – Nebula
19. Jerome – Light
20. Le Shuuk & Dr. Rude feat. Jesse Lyons – Rise
Disk: 2
1. Calvin Harris – I'm Not Alone (CamelPhat Remix)
2. Purple Disco Machine – Body Funk (Dom Dolla Remix)
3. Jack Back – Survivor
4. The Prince Karma – Later Bitches (Benny Benassi vs. MazZz & Constantin Remix)
5. EDX & Amba Shepherd – Off The Grid
6. Duke Dumont feat. Shaun Ross – Red Light Green Light
7. Afrojack & Brohug feat. Titus – Let It Rip (DES3ETT Remix)
8. Yolanda Be Cool – Dance and Chant (Generik Remix)
9. Touché (UK) – Now We're Talking
10. Davide Mazzilli – Phenomena
11. Sevenn – Lollipop
12. Detlef Feat. Dajae – Get Got
13. Rebuke – Along Came Polly
14. Funkin Matt – Ultraviolet
15. Pretty Pink – Overrated
16. Tom Novy – I.O.U.
17. Adam K & Soha – Need to Feel Loved
18. LOVRA feat. Lo – Sky Falls
19. Nora En Pure feat. Ashibah – We Found Love
20. Three Drives On A Vinyl – Greece 2000 (Moscoman Remix)
Disk: 3
1. Yotto – Walls (Joris Voorn Remix)
2. Audiojack – Inside My Head
3. Jan Blomqvist – Maybe Not (Rodriguez Jr. Remix)
4. Joris Voorn – Genova
5. ARTBAT – Atlas
6. Sven Tasnadi – String Rebirth (Dirty Doering Remix)
7. Eelke Kleijn – Mojo's Tale (Animal Trainer Remix)
8. Maxim Lany – Renaissance
9. Glowal – Cries
10. Monolink – Frozen (Rodriguez Jr. Remix)
11. Kenneth Bager feat. Jez Phunk – Farmacia (Homage to Frankfurt)
12. Franky Rizardo – Cart Wheel
13. Gorge – Don't Stop
14. Matthias Tanzmann – The Treat
15. Teenage Mutants & Moonwalk – Urania
16. Aneesh Gera – Solace (Paul Thomas & White-Akre Remix)
17. ARTBAT – Orbital
18. Guy J – Cicada
19. Nick Curly – Zero Love
20. Gui Boratto & Robert Babicz – Human