Die neue Bravo Hits 114 steht mit ihrer grandiosen Tracklist in den Startlöchern, höchste Zeit sich das gute Stück einmal genauer anzuschauen. Wer sich mit aktueller Chart Musik eindecken möchte, sollte sich die Bravo Hits 114 sichern, denn es ist die letzte reguläre Bravo Hits Ausgabe in diesem Jahr.
Solltet ihr euch nun wundern, da es ja noch so früh im Jahr ist, dem sei gesagt, dass im Herbst dann immer die Best of Ausgabe der Bravo Hits erscheint. Sicherlich folgt in den nächsten Wochen noch eine Ausgabe der ebenfalls erfolgreichen The Dome Reihe, denn hier kam vor kurzem erst die The Dome Summer 2021 auf den Markt.
Der große Erfolg der Bravo Hits Compilation ist recht einfach zu erklären, denn kann man sich immer sicher sein, dass sich in der Tracklist nur die besten Hits aus den Charts befinden. So ist es natürlich auch bei der Bravo Hits 114, denn auch hier finden wir zahlreiche Top Tracks der deutschen Single Charts.
Gemeint sind an dieser Stelle unter anderem Songs von z.B. Eh Sheeran, Martin Garrix, Justin Wellington, Alvaro Soler, Coldplay, Wincent Weiss, Clueso, Michael Patrick Kelly, Bruno Mars, Sarah Connor, Robin Schulz, Pietro Lombardi, Wes Nelson und unheimlich viele weitere.
Bis zum Release dauert es zum Glück nicht mehr lange, denn bereits ab dem 30. Juli 2021 steht die neue Bravo Hits 114 für euch im Handel parat. Wie gewohnt, gibt es natürlich auch in diesem Fall die Tracklist und das passende Cover für euch, damit ihr schon vor dem Kauf wisst, was euch alles erwartet.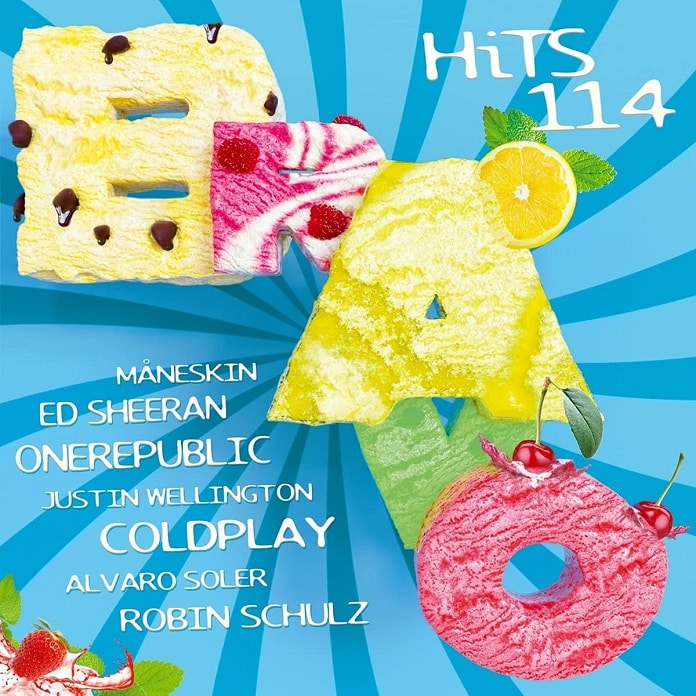 Disk 1:
1. Ed Sheeran – Bad Habits
2. Robin Schulz, Alle Farben & Israel Kamakawiwo'ole – Somewhere Over the Rainbow / What a Wonderful World
3. Wes Nelson & Yxng Bane – Nice To Meet Ya
4. Justin Wellington feat. Small Jam – Iko Iko
5. Martin Garrix feat. Bono & The Edge – We Are The People (Official UEFA EURO 2020 Song)
6. Coldplay – Higher Power
7. OneRepublic – Run
8. Alvaro Soler feat. Cali Y El Dandee – Mañana
9. Dua Lipa feat. DaBaby – Levitating
10. P!nk – All I Know So Far
11. Ava Max – EveryTime I Cry
12. Joris x Gentleman x Jugglerz – Immer noch hier
13. Wincent Weiss & Johannes Oerding – Die guten Zeiten
14. Nathan Evans – Told You So
15. Majestic x Boney M. – Rasputin
16. Pietro Lombardi – Ti Amo
17. Doja Cat & The Weeknd – You Right
18. twenty one pilots – Saturday
19. Lena – Strip
20. YOUNOTUS x Mi Casa – Chucks
21. Goodboys – Bongo Cha Cha Cha
22. Calvin Harris feat. Tom Grennan – By Your Side
23. Pascal Letoublon feat. Leony – Friendships (Lost My Love)
24. Zoe Wees – Hold Me Like You Used To
Disk 2:
1. Måneskin – I Wanna Be Your Slave
2. Michael Patrick Kelly – Throwback
3. Clueso feat. Andreas Bourani – Willkommemn zurück
4. Bruno Mars, Anderson .Paak & Silk Sonic – Leave The Door Open
5. Sarah Connor – Alles in mir will zu dir
6. LEA x Casper – Schwarz
7. Vegedream – Ramanez La Coupe À La Maison
8. Tesher & Jason Derulo – Jalebi Baby
9. B-Case & Robin Schulz feat. Baby E – Can't Buy Love
10. Griff – Black Hole
11. Trinidad Cardona – Dinero
12. Bella Poarch – Build A Bitch
13. Tones & I – Cloudy Day
14. Milky Chance – Colorado
15. James Arthur – September
16. Kelvin Jones – Pillow
17. Papa Zeus – Can't Stop (Oh No)
18. Fred Again.. x The Blessed Madonna – Marea (We've Lost Dancing)
19. Jonas Blue & LÉON – Hear Me Say
20. Dynoro & 24k Goldn – Monsters
21. Topic & Bebe Rexha – Chain My Heart
22. Galantis, David Guetta & Little Mix – Heartbreak Anthem
23. Beatzarre & Djorkaeff, LEA x Capital Bra – Sommer
24. Shirin David – Lieben wir