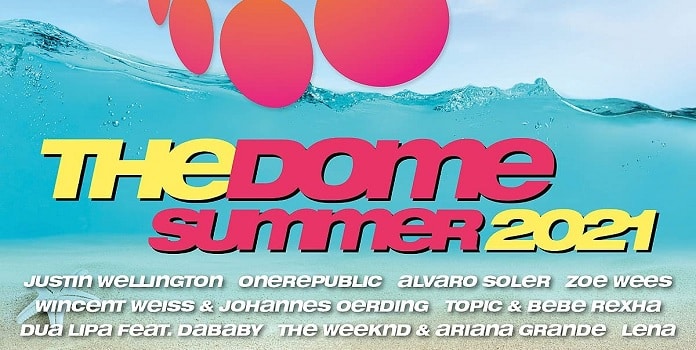 Wer auf Chart Musik nicht verzichten möchte, kommt an der neuen The Dome Summer 2021 und ihrer Tracklist nicht vorbei. Neben der seit Jahrzehnten erfolgreiche Bravo Hits Reihe, kommt man an der gesamten The Dome Collection nicht vorbei, denn auch hier findet ihr die Top Tracks aus den Single Charts.
Zwar ist die The Dome Summer 2021 bereits seit einigen Tagen auf den Markt, jedoch sollte man diese nicht außeracht lassen. Wenn wir mal einen Blick auf die Tracklist werfen, finden wir zahlreiche Top Tracks, die in den letzten Wochen die Single Charts in Deutschland dominiert haben.
Gemeint sind hier natürlich Songs von unter anderem OneRepublic, Gentleman, Pietro Lombardi, Johannes Oerding, Lena, Martin Garrix, Miley Cyrus, Moby, Purple Disco Machine, Clueso, Alvaro Soler und unzählige weitere. So sollte auch dem letzten aufgefallen, dass auf der The Dome Summer 2021 ein wahres Hitfeuerwerk gezündet wird.
Wie bereits oben erwähnt, ist das gute Stück bereits im Handel erhältlich, denn der Release war am 9. Juli 2021. Auch wenn wir in diesem Fall etwas spät dran sind, haben wir natürlich dennoch die Tracklist und das dazu passende Cover für euch am Start, damit ihr wisst was euch alles erwartet.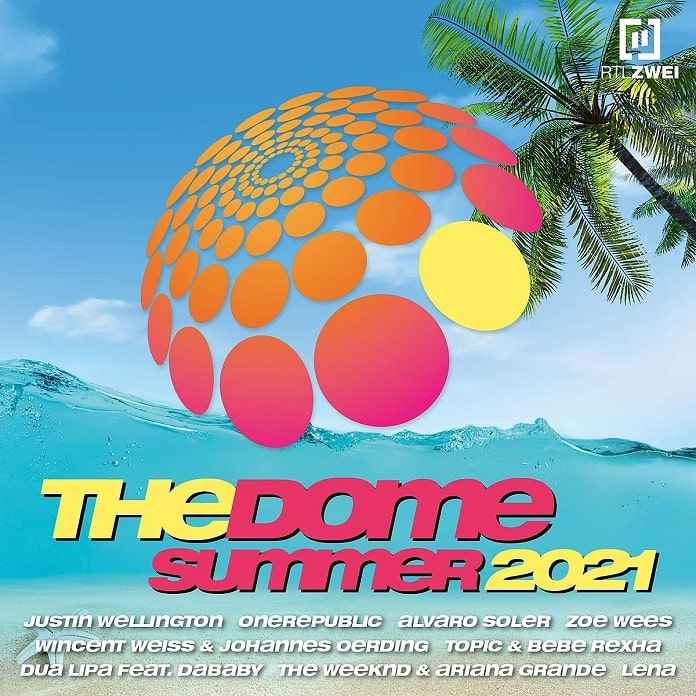 Disk 1:
01.Justin Wellington feat. Small Jam – Iko Iko (My Bestie) 2:56
02.Yxng Bane, Wes Nelson – Nice To Meet Ya 3:02
03.OneRepublic – Run 3:00
04.Riton, Nightcrawlers – Friday (Dopamine Re-Edit) 2:50
05.Bebe Rexha, Topic – Chain My Heart 2:28
06.Dua Lipa, DaBaby – Levitating 3:24
07.The Weeknd & Ariana Grande – Save Your Tears (Remix) 3:11
08.Pink, Willow Sage Hart – Cover Me In Sunshine 2:22
09.Maluma – Hawái 3:22
10.Justin Bieber – Peaches 3:18
11.Khalid, J. Balvin – Otra Noche Sin Ti 3:49
12.Pietro Lombardi – Ti-Amo 2:53
13.Zoe Wees – Girls Like Us (Felix Jaehn Remix) 3:25
14.Alvaro Soler – Magia 3:13
15.Neeka, SUPER-Hi – Following The Sun 3:28
16.Clueso – Flugmodus 2:58
17.Gentleman, Sido, Jugglerz – Schöner Tag 3:00
18.Laurell – Habit 3:02
19.Mabel, Clean Bandit – Tick Tock 2:59
20.24kGoldn – Mood 2:20
21.Lil Nas X – MONTERO (Call Me By Your Name) 2:19
22.R3hab, Kelvin Jones – Downtown 2:12
23.Jonas Brothers, Marshmello – Leave Before You Love Me 2:35
24.Purple Disco Machine, Sophie and the Giants – Hypnotized 3:18
25.Moby, Topic – Natural Blues (Topic Remix) 2:41
Disk 2:
01.Lena – Strip 2:49
02.Martin Garrix – We Are The People (Official UEFA EURO 2020 Song) 3:38
03.Troye Sivan, Regard, Tate McRae – You 3:50
04.Zoe Wees – Hold Me Like You Used To 3:07
05.Johannes Oerding, Wincent Weiss – Die guten Zeiten 2:53
06.Miley Cyrus – Midnight Sky 3:43
07.Michael Patrick Kelly – Throwback 2:29
08.Ava Max – My Head & My Heart 2:54
09.Pascal Letoublon – Friendships (Lost My Love) 3:03
10.Atb, Topic, A7s – Your Love (9PM) 2:32
11.Michael Schulte, Younotus – Bye Bye Bye 2:43
12.Meduza – Paradise 2:50
13.Ofenbach – Wasted Love 2:18
14.Gigi D'Agostino, LA Vision – In & Out 3:21
15.David Guetta, Afrojack – Hero 2:53
16.Tiësto – The Business 2:46
17.Dynoro – Monsters 2:55
18.Loud Luxury, Ali Gatie, Issam Alnajjar – Turning Me Up (Hadal Ahbek) 2:24
19.Shirin David – Ich darf das 2:33
20.Sarah Connor – Alles in mir will zu Dir 3:25
21.Jeje Lopes – Qué Harías 2:07
22.El Profesor – Bongo Cha Cha Cha (Summer Anthem) 2:45
23.Master Kg – Jerusalema (Edit) 3:11
24.Billen Ted, Nathan Evans, 220 Kid – Wellerman (Sea Shanty / 220 KID x Billen Ted Remix) 1:58