Am Ende des Jahres schickt die Bravo The Hits 2016 ihre Tracklist ins Rennen und wird ganz sicher die Download und Compilation Charts wieder einmal von hinten aufräumen. Dies ist auch bereits die letzte Bravo Hits Ausgabe in diesem Jahr, bevor es dann Anfang 2017 weiter geht.
Zum Jahresende kommen Jahr für Jahr zahlreiche Best of CDs auf den Markt, doch für welche soll man sich dort entscheiden ? Das ist eine Frage, die eigentlich nur der eigene Geschmack entscheiden kann, denn da es sich meist um die Top Hits des aktuellen Jahres handelt, sind die alle sehr gut.
Im Fall der Bravo The Hits 2016, findet sich das Who is Who der deutschen Charts wieder, somit bekommt ihr hier nur die Top Hits der letzten Monate, eben die besten Hits der letzten Ausgaben der herkömmlichen Bravo Hits Reihe vereint auf nur einer Doppel CD.
Das wir mit dem Zusatz " Die Besten Hits " nicht übertrieben habe, sieht man schnell, wenn man sich die Tracklist einmal anschaut. In eben dieser Tracklist findet ihr Top Tracks von unter anderem Felix Jaehn, ALMA, David Guetta, The Chainsmokers, Kungs, Mike Posner, Justin Timberlake, Alan Walker und reichlich weitere.
Wir haben euch unten einmal das vorläufige Cover eingebunden, dieses wird in den kommenden Tagen wohl nur noch durch Künstlernamen erweitert, ansonsten bleiben die Cover eigentlich immer gleich. Die dazugehörige Tracklist, liefern wir euch wie immer nach, sobald das Label diese freigegeben hat.
Wer solange nicht mehr warten möchte, kann sich natürlich auch die aktuelle Bravo Hits 95 sichern, denn diese ist selbstverständlich längst auf dem Markt und weiß wie immer, mit ihrer Tracklist zu überzeugen. Update.. Wir haben die nun vollständige Tracklist wie versprochen nachgeliefert, so könnt ihr euch schon vor dem Kauf von ihrer Qualität überzeugen.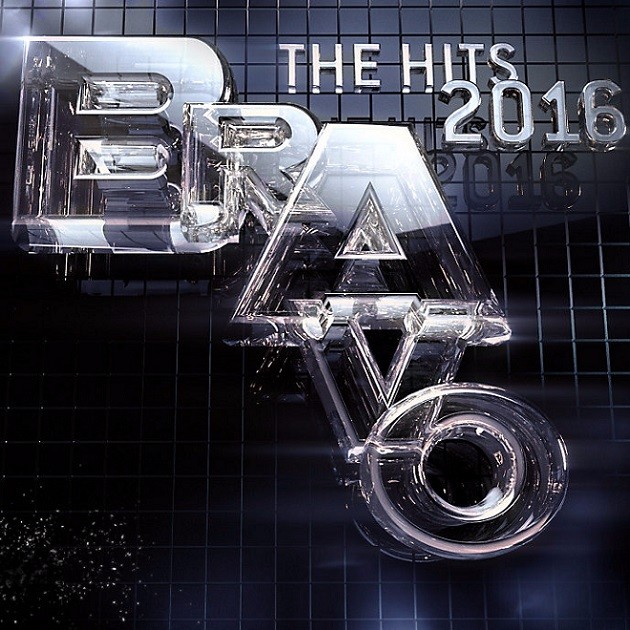 Disk 1:
1. Human – Rag N Bone Man
2. Closer – Chainsmokers, The
3. Let Me Love You – Snake, DJ
4. My Way – Harris, Calvin
5. Would I Lie To You (Radio Edit) – Guetta, David
6. Dye My Hair – ALMA
7. Can't Stop the Feeling! (Original Song From DreamWorks Animation "TROLLS") – Timberlake, Justin
8. Don't Be So Shy (Filatov & Karas Remix) – Imany
9. Bonfire – Jaehn, Felix
10. This Girl (Kungs Vs. Cookin' On 3 Burners) – Kungs
11. Faded – Walker, Alan
12. I Took A Pill In Ibiza (Seeb Remix) – Posner, Mike
13. Light It Up (Remix) – Major Lazer
14. Cheap Thrills – Sia
15. Sexual – NEIKED
16. Love On Me – Galantis
17. Ain't Your Mama – Lopez, Jennifer
18. Cake By The Ocean – DNCE
19. Still Falling For You (From "Bridget Jones's Baby" Original Motion Picture Soundtrack) – Goulding, Ellie
20. Hymn For The Weekend – Coldplay
21. Spirits – The Strumbellas
22. Renegades – X Ambassadors
23. Lost On You (Radio Edit) – LP
Disk: 2
1. The Sound Of Silence – Disturbed
2. Bonnie & Clyde – Connor, Sarah
3. Love Yourself – Bieber, Justin
4. i hate you, i love you – gnash
5. Scars To Your Beautiful – Cara, Alessia
6. Mercy – Mendes, Shawn
7. Side To Side – Grande, Ariana
8. Work From Home – Fifth Harmony
9. Ahnma – Beginner
10. Me, Myself & I – G-Eazy
11. The Ocean – Perry, Mike
12. Fast Car (Radio Edit) – Blue, Jonas
13. Please Tell Rosie – Alle Farben
14. Catch & Release (Deepend Remix) – Simons, Matt
15. If I Were Sorry (Eurovision 2016 – Sweden) – Frans
16. Stimme – EFF
17. Die immer lacht (Radio 2016 Mix) – Stereoact
18. 80 Millionen – Giesinger, Max
19. Wir sind groß – Forster, Mark
20. Erkläre mir die Liebe – Poisel, Philipp
21. Das Geschenk – Sportfreunde Stiller
22. Party Like A Russian – Williams, Robbie