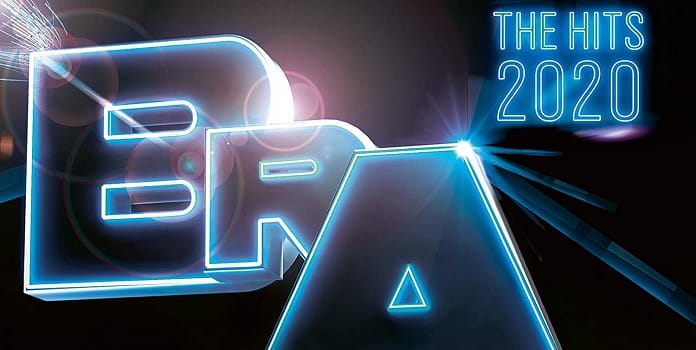 Mit der neuen Bravo the Hits 2020 und der dazugehörigen Tracklist, läutet Polystar ( Universal Music ) das Ende des Jahres ein. Sicherlich findet ihr in der Tracklist dieser Compilation Songs, die ihr bislang noch gar nicht gehört habt und euch dennoch durchaus gefallen könnten.
Der Grund dafür sollte allen klar sein, denn aufgrund der aktuellen Lage in der Corona-Krise, sind bekanntlich nahezu alle größeren bzw. öffentlichen Partys in diesem Jahr ausgefallen. Wer nun nicht unbedingt Radio hört oder die neusten Playlisten bei Spotify und Co im Auge hat, dem sollten zahlreiche Hits entfallen sein.
Werfen wir an dieser Stelle mal einen Blick auf die Tracklist, denn hier findet ihr zahlreiche Top Tracks. Gemeint sind hier Hits von z.B. Ava Max, Jason Derulo, David Guetta, Vize, Kygo, Mark Forster, Billie Eilish, Lewis Capaldi, Justin Bieber, Clean Bandit und viele weitere.
Wer auf den Sound der Bravo the Hits 2020 nicht verzichten möchte, sollte sich den 13. November 2020 vormerken, damit ihr das gute Stück nicht verpasst. In den folgenden Wochen, werden noch zahlreiche weitere Best of CDs auf den Markt kommen, jedoch keine kann mit der Bravo the Hits 2020 mithalten.
Wie auch schon bei der Bravo Hits 111, darf auch im Fall der neuen Bravo the Hits 2020, die Tracklist und das dazugehörige Cover nicht fehlen, damit ihr schon vor dem Kauf wisst, was euch hier alles erwartet.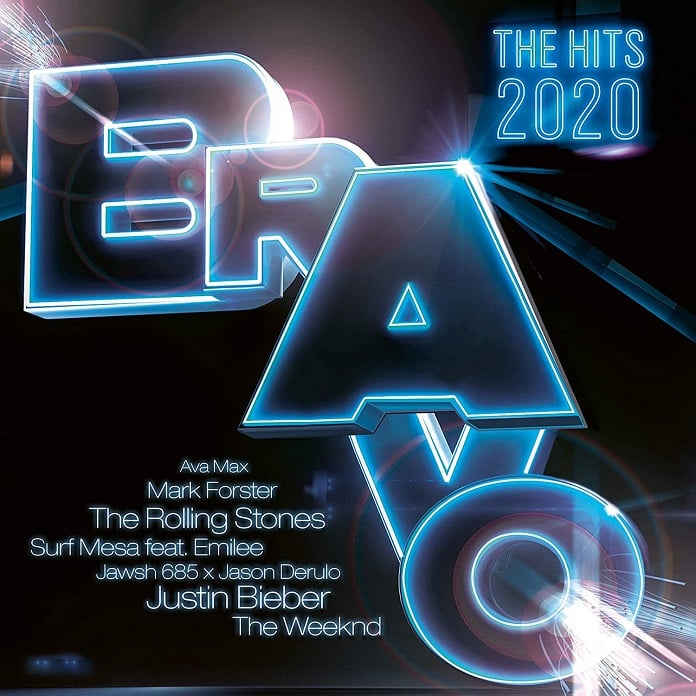 Disk 1:
1.The Weeknd – Blinding Lights
2.David Guetta & Sia – Let´s Love
3.Jason Derulo – Take You Dancing
4.Mark Forster X Vize – Bist du Okay
5.Sam Smith – Diamonds
6.Purple Disco Machine & Sophie and the Giants – Hypnotized
7.Ava Max – Salt
8.Joel Corry feat. Mnek – Head & Heart
9.Meduza feat. Dermont Kennedy – Paradise
10.Dua Lipa – Don´t Start Now
11.Kygo & Tina Turner – What´s Love Go to Do With it
12.Surf Mesa feat. Emilee – ily (I love you Baby)
13.La Vision & Gigi D`Agostino – Hollywood
14.Topic & A7S – Breaking ME
15.Saint JHN – Roses (Imanbek Remix)
16.Ofenbach & Quarterhead feat. Norma Jean Martine – Head Shoulders Knees & Toes
17.Martin Jensen, Alle Farben & Nico Santos – Running Back to You
18.Vize & Tom Gregory – Never Let Me Down
19.Twocolors – Lovefool
20.HVME – Goosebumps
21.Nea – Some Say (Felix Jaehn Remix)
22.Clean Bandit & Mabel feat. 24KGOLDN – Tick Tock
23.Lady Gaga & Ariana Grande – Rain One Me
24.Master KG feat. Nomcebo – Zikode – Jerusalema
Disk 2:
1.Jawsh 685 X Jason Derulo – Savage Love (Laxed – Siren Beat)
2.24KGOLDN feat. Iann Dior – Mood
3.Justin Bieber feat. Chance the Rapper – Holy
4.Mark Forster – Übermorgen
5.Zoe Wees – Control
6.Shawn Mendes – Wonder
7.Billie Eilish – Everything i Wanted
8.Lewis Capaldi – Beforce You Go
9.Leo & Capital Bra – 7 Stunden
10.Ali Gatie – What If I Told You That I Love You
11.Internet Money, Gunna & Don Toliver feat. Nav – Lemonade
12.Pop Smoke – What You Know Bout Love
13.Apache 207 – Roller
14.Capital Bra X Clueso X KC Rebell – Andere Welt
15.Dermot Kennedy – Giants
16.Benee feat. Gus Dapperton – Supalonely
17.Felix Jaehn & Vize Feat. Miss Li – Close Your Eyes
18.Jax Jones & Au/Ra – I miss U
19.Robin Schulz feat. Alida – In Your Eyes
20.Rea Garvey – Talk To Your Body
21.Bosse – Der letzte Tanz
22.Michael Schulte – For A Second
23.Michael Patrick Kelly – Beautiful Madness
24.The Rolling Stones – Living In a Ghost Town