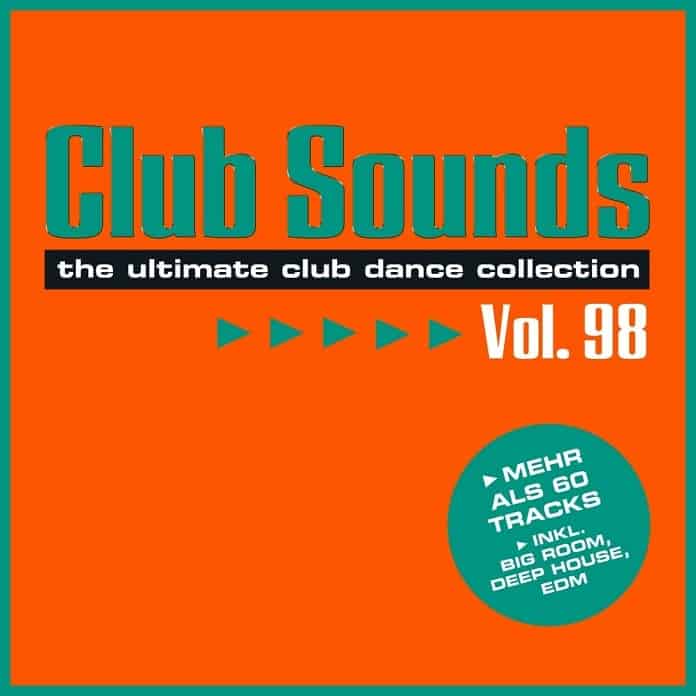 Die brandneue Club Sounds 98 hat mit ihrer Tracklist vor einigen Tagen endlich den Weg in den Handel gefunden. Nähert sich jedoch auch hier das Ende dieser Compilation? Die Anzeichen deuten darauf hin, dass man sich auch hier langsam von dieser Reihe verabschiedet.
So wird seit einiger Zeit auch diese Compilation nicht mehr direkt von Sony Music vertrieben sondern von Nitron Music, was bei den Major Labels meist nichts gutes heißt. Darüber hinaus, ist es selbst für uns als Online-Magazin mittlerweile schwer an ausreichende und brauchbare Informationen zu den Compilations zu kommen.
Auch in den sozialen Netzwerken, werden die Kanäle der Clubs Sounds nur noch mäßig mit neuen Inhalt gefüttert, was natürlich kein gutes Zeichen ist. Immerhin gibt es noch einen Werbespot, der allerdings wird dieser sicherlich eher im Online-Bereich zu sehen sein, statt im TV.
Konzentrieren wir uns allerdings erst einmal auf die neue Ausgabe der Club Sounds. Hier bekommt ihr insgesamt 3 CDs mit den derzeit angesagtesten Tracks aus den House & Dance Charts. Allerdings müssen wir hier gestehen, dass hier die Kontor Top of the Clubs 92 dann doch die Nase vorn hat.
Seit dem 18. Februar 2022 steht die gute Club Sounds 98 für euch im Handel bereit. Neben der Tracklist und dem dazugehörigen Cover, haben wir euch auch den besagten Werbespot eingebunden. So könnt ihr euch bereits vor dem Kauf ein Bild von der Club Sounds 98 machen.
Sie sehen gerade einen Platzhalterinhalt von Standard. Um auf den eigentlichen Inhalt zuzugreifen, klicken Sie auf die Schaltfläche unten. Bitte beachten Sie, dass dabei Daten an Drittanbieter weitergegeben werden.
Mehr Informationen
Disk 1:
01.Robin Schulz & Dennis Lloyd – Young Right Now 3:06
02.Farruko & Tiesto – Pepas – Tiesto Remix 3:43
03.Jason Derulo – Acapulco – MOTi Remix 2:14
04.Tiesto & Ava Max – The Motto 2:44
05.Joel Corry feat. Mabel – I Wish 3:01
06.LIZOT x Boney M. – Daddy Cool 2:34
07.Becky Hill feat. Topic – My Heart Goes (La Di Da) 2:28
08.Alok feat. John Martin – Wherever You Go 3:20
09.Sam Feldt feat. Georgia Ku – Call On Me – Justus Remix 3:27
10.Vize – Dancing Alone 2:52
11.Gabry Ponte feat. Aloe Blacc – Can't Get Over You 2:39
12.Little Mix, Jade Thirlwall, Leigh-Anne Pinnock, Perrie Edwards – No – Galantis Remix 3:06
13.A7s – Nirvana – LUM!X & Gabry Ponte Remix 2:24
14.Dynoro, Emilie Adams – Swimming In Your Eyes 3:16
15.VINAI & Paradigm – Tension 2:39
16.Kelvin Jones, Hvme – Money On My Mind 2:06
17.Drenchill feat. Indiiana – What You Say 2:17
18.The Disco Boys – Around The World – DAZZ Remix 2:38
19.Tiscore x FR!ES – Getting Closer 2:32
20.Lil Xan, KDDK & Imanbek – Go Crazy 2:40
21.Sofi de la Torre x Bodybangers x Lotus feat. blackbear – Flex Your Way Out 2:26
22.Jonas Wallin, Timmy Trumpet feat. loafers & The High – How To Save A Life 3:17
Disk 2:
01.Swedish House Mafia & The Weeknd – Moth To A Flame 3:53
02.Purple Disco Machine & Sophie and the Giants – In The Dark 3:05
03.VIZE, Leony, AVAION – Pieces 2:52
04.MEDUZA feat. Hozie – Tell It To My Heart 2:46
05.Kwabs, Regard x Kwabs – Signals 2:47
06.Dynoro – Wildfire 2:30
07.ArCo, Don Diablo – Hot Air Balloon 2:53
08.Lucky Luke feat. Delaney Jane & Angelino – With Or Without Me 2:50
09.Vion Konger feat. Nethy Aber – Eat Sleep Repeat 2:37
10.HBz & Anna Grey & Agent Zed – Aloha Hey 2:34
11.Seb Mont x Deepend x Phil The Beat – Count to 10 2:21
12.Kylie Minogue – Magic – Purple Disco Machine Remix 3:35
13.Charming Horses & Lotus – 7 Years 3:10
14.Bodybangers & John Linhart – Lies 2:40
15.KSHMR feat. Lovespeake – Over You – Radio Edit 2:53
16.Emilija Jokubaityte, Faul & Wad x Marcus Layton x Emie – Disturbia 2:48
17.YouNotUs x Nea – All My Life 2:36
18.Jude & Frank x Lucky Vegas x Redeem – Disco Inferno 2:24
19.James Hype – Dancing – Radio Edit 4:00
20.Claptone feat. lau.ra – Beautiful 2:40
21.Fred again.. – Faisal (Envelops Me) 4:10
22.Cosmic Gate – Vertigo 3:53
Disk 3:
01.Faithless vs David Guetta – God is A DJ 2:35
02.Timmy Trumpet x Azteck x Darren Styles – Dance Tonight – Radio Edit 2:57
03.LIZOT x Harris & Ford – Neon Lights 2:11
04.Aidan Bullimore, Armin van Buuren x The Stickmen Project – No Fun 2:10
05.W&W x Blasterjaxx – Dynamite (Bigroom Nation) – Radio 2:50
06.OBS feat. Mika Setzer – Dirt Road 3:14
07.Blasterjaxx feat. Melissa Bonny – The Crown – Radio Edit 3:30
08.OBS x Max + Johann – The Ritz 2:36
09.Armin van Buuren & Vini Vici feat. Tribal Dance & Natalie Wamba – Yama 3:16
10.Amfree & We Do Voodoo – I Watch You In the Dark 2:53
11.Harris & Ford – Survivors 2:44
12.Mike Candys – Flexin 2:15
13.LIZOT x Max + Johann x Paradigm feat. Sarah de Warren – Invisible Friend 2:06
14.LANNE x LUNAX – Numb 2:08
15.BATEZ, Amfree, Naava – Stay – Edit 2:03
16.MAXAM x LIZOT – Skippin 2:37
17.Mannymore, Amfree feat. Bunny Beatz GREYMA – Lovestruck – Radio Mix 2:35
18.Klaas – Dead Or Alive 2:14
19.Rocco – Generation Of Love – Perfect Pitch Edit 2:29
20.Timmy Trumpet x Cascada x Harris & Ford – Never Let Me Go – Radio Edit 3:30
21.Martin Garrix, Julian Jordan, Tinie Tempah – Diamonds 3:25
22.Le Shuuk – kunterbunt 3:48