Sony Music läutet mit der Club Sounds Best of 2015 und ihrer Tracklist das Ende des Jahres ein. Immer wenn wir uns dem Weihnachtsgeschäft nähern und das Jahr sich langsam dem Ende zuneigt, kommen von so ziemlich allen Labels zahlreiche Best of CDs auf den Markt, so eben auch die Club Sounds Best of 2015.
Auf einer der größten Best of CDs im deutschen Dance Music Bereich, finden sich jede Menge Top Tracks aus den letzten Monaten. So werden euch hier Tracks von Robin Schulz, Felix Jaehn, Paul Kalkbrenner, Gestört aber Geil, Alle Farbe, Lost Frequencies, Pretty Pink, Shaun Bate und unzählige weitere geboten.
Langsam aber sicher hat die Dance Szene die Qual der Wahl, ob man sich für die Kontor Top of the Clubs Best of 2015, die Bravo Dance 2015 oder die Club Sounds Best of 2015 entscheidet. Am Ende muss hier sicherlich der eigene Geschmack entscheiden, denn gut sind alle 3 Compilation.
Die Club Sounds Best of 2015 erscheint auf jeden Fall am 20. November 2015, bis dahin habt ihr noch reichlich Zeit, euch für eine Compilation zu entscheiden. Damit ihr wisst was euch in diesem Fall erwartet, gibt es wie immer an dieser Stelle, die Tracklist und das passende Cover zur Club Sounds Best of 2015, viel Spaß damit.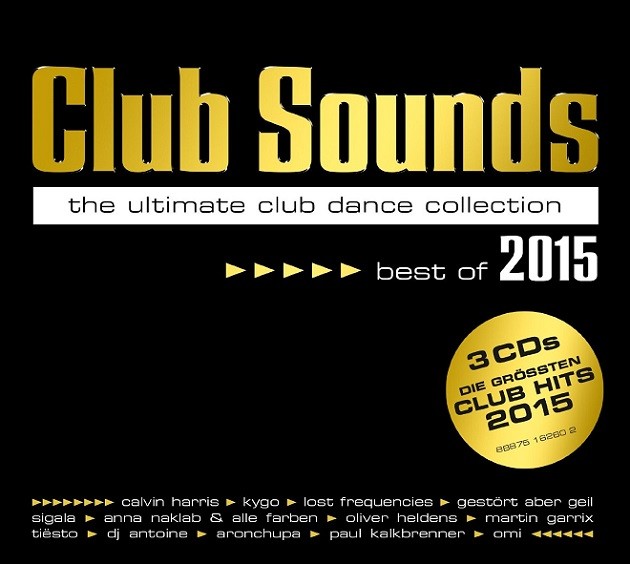 Disk: 1
1. Firestone – Radio Edit – Kygo Feat. Conrad Sewell
2. Are You With Me – Radio Edit – Lost Frequencies
3. Cheerleader – Felix Jaehn Remix Radio Edit – Omi
4. Supergirl – Radio Edit – Naklab, Anna Feat. Alle Farben & Younotus
5. Headlights – Schulz, Robin Feat. Ilsey
6. Unter Meiner Haut – Radio Mix – Gestört Aber Geil & Koby Funk Feat. Wincent Weiss
7. Goodbye – Feder Feat. Lyse
8. Show Me Love – Edx Indian Remix [Radio Edit] – Feldt, Sam / Feldt, Sam Feat. Kimberly Anne
9. Good To Be Loved – Radio Edit – M-22
10. Bullit (So Real) – Watermät / Connell, Gerry / Byrne, Paddy
11. Cloud Rider – Radio Edit – Kalkbrenner, Paul
12. Teach Me – Radio Edit – Bakermat
13. One Of These Days – Radio Edit – Kalkbrenner, Fritz
14. The Sweetest Symphony – Radio Edit – Amfree
15. The Way It Is – Radio Edit – Cabriolet Paris
16. Godspeed You – Charming Horses Edit – Rossi, Francesco Feat. Ozark Henry
17. How Hard I Try – Filous Feat. James Hersey
18. Don't You Worry – Radio Edit – Bate, Shaun Feat. Sirona
19. Sonnenmädchen – Lizot Radio Edit – Lizot & Charming Horses Feat. Jason Anousheh
20. Blütenstaubromanze – Pretty Pink Radio Edit – Mai, Emma & Pretty Pink
21. Lieblingsmensch – Übernice Remix – Namika
22. Wolke 4 – Dittberner, Philipp & Marv
Disk: 2
1. How Deep Is Your Love – Harris, Calvin & Disciples / Wrolsden, Ina
2. Waiting For Love – Avicii
3. Stole The Show – Kygo Feat. Parson James
4. Easy Love – Radio Edit – Sigala
5. Hey Mama – Guetta, David Feat. Nicki Minaj, Bebe Rexha & Afrojack
6. Intoxicated – New Radio Mix – Solveig, Martin & Gta
7. Don't Worry – Calvo Remix – Madcon Feat. Ray Dalton
8. I'm An Albatraoz – Aronchupa
9. Holiday – Dj Antoine Vs Mad Mark 2k15 Radio Edit – Dj Antoine Feat. Akon
10. Five More Hours – Deorro X Chris Brown – Deorro X Chris Brown
11. Another You – Radio Edit – Van Buuren, Armin Feat. Mr. Probz
12. Straight Outta Line – Radio Edit – Both
13. Break The Rules – Charli Xcx
14. Wrapped Up – Westfunk Radio Mix – Murs, Olly Feat. Travie Mccoy
15. Bills – Lewis, Lunchmoney / Lewis, Lunchmoney / Reed, Ricky
16. Fun – Noodles Remix – Pitbull Feat. Chris Brown
17. For You – Radio Edit – Bodybangers & Ph Electro
18. Make Me Feel Better – Don Diablo & Cid Remix Radio Edit – Adair, Alex
19. I Gotta Let You Go – Rio's Club Edit – Dj Tonka & Stefan Rio
20. Dangerous – Original Mix Edit – K., Max Feat. Jace
21. 38 Degrees – Radio Version – Djane Housekat & Rameez
22. Samsara – Tungevaag & Raaban / Staalasen Larsen, Karoline
Disk: 3
1. Don't Look Down – Garrix, Martin Feat. Usher
2. Secrets – Tiesto & Kshmr Feat. Vassy
3. Can't Stop Playing (Makes Me High) – Oliver Heldens & Gregor Salto Vocal Mix Edit – Dr. Kucho! & Gregor Salto Feat. Ane Brun
4. Last All Night (Koala) – Radio Edit – Heldens, Oliver Feat. Kstewart / Hill, Becky
5. The Hum – Short Edit – Vegas, Dimitri & Like Mike Vs Ummet Ozcan
6. L'amour Toujours – Tiesto Edit – Dzeko & Torres Feat. Delaney Jane
7. Insomnia 2.0 – Avicii Remix [Radio Edit] – Faithless
8. 90s By Nature – Us Radio Mix – Showtek Feat. Mc Ambush
9. Rimshot – Radio Edit – Ostblockschlampen / Brünken, Caroline Von
10. Rumors – Radio Edit – Pep & Rash
11. Can You Feel It – Original Radio Edit – Finn, Sean
12. Nothing Really Matters – Afrojack Remix Radio Edit – Mr. Probz
13. Home – Single Edit – Dj Shog Feat. Far Away
14. The One – Radio Edit – W&W
15. Can You Feel It – Radio Edit – Kleinenberg, Sander Feat. Gwen Mccrae
16. Tiger – R3hab Vs. Skytech & Fafaq
17. Memories – Radio Edit – Kshmr And Bassjackers Feat. Sirah
18. Keep Rollin' – Original Edit – Adrima / Ultimate Mc, The
19. How Ya Feelin – Original Mix – Tjr
20. The Biz – Radio Edit – Twoloud
21. Booty Bounce – Radio Edit – Tujamo