Mit der neuen Club Sounds – Best of 2019 wird die nächste Tracklist ins Rennen geschickt, welche euch die besten Tracks des Jahres nach Hause holt. Auch im Dance Music Sektor kommen vor der Weihnachtszeit noch zahlreiche Compiltions, Singles und Alben auf den Markt, so dass die Auswahl deutlich größer wird.
Hier ist es dann natürlich wichtig, die Tracklisten jeglicher Compilation auch zu vergleichen, damit man hinterher nicht auf einen seiner lieblings Tracks verzichten muss. Die Club Sounds – Best of 2019 kommt wie gewohnt, als 3er CD Box um die Ecke und bietet euch so über 60 Tracks für eure Partys.
Wenn wir uns an dieser Stelle mal die besagte Tracklist anschauen, finden wir zahlreiche Mega Tracks. Mit dabei sind unter anderem Songs von Avicii, Kygo, Anstandslos & Durchgeknallt, R3HAB, Oliver Heldens, VIZE, Bodybangers, Kaskade, Don Diablo, Martin Garrix, Calvin Harris und unfassbar viele weitere.
Bis zum Release der neuen Club Sounds – Best of 2019 dauert es noch ein wenig, denn erst ab dem 22. November 2019 steht das gute Stück für euch parat. So sollte sie sich allerdings ausgezeichnet als kleines Geschenk zu Nikolaus eignen, denn bis dahin ist es ja ebenfalls nicht mehr so lange.
Wir haben an dieser Stelle natürlich wie gewohnt die Tracklist und das passende Cover für euch am Start, damit ihr schon vor dem Kauf wisst was euch hier alles erwartet. Sollte euch die Club Sounds – Best of 2019 überzeugen können, so könnt ihr sie natürlich schon jetzt in allen großen Shops vorbestellen.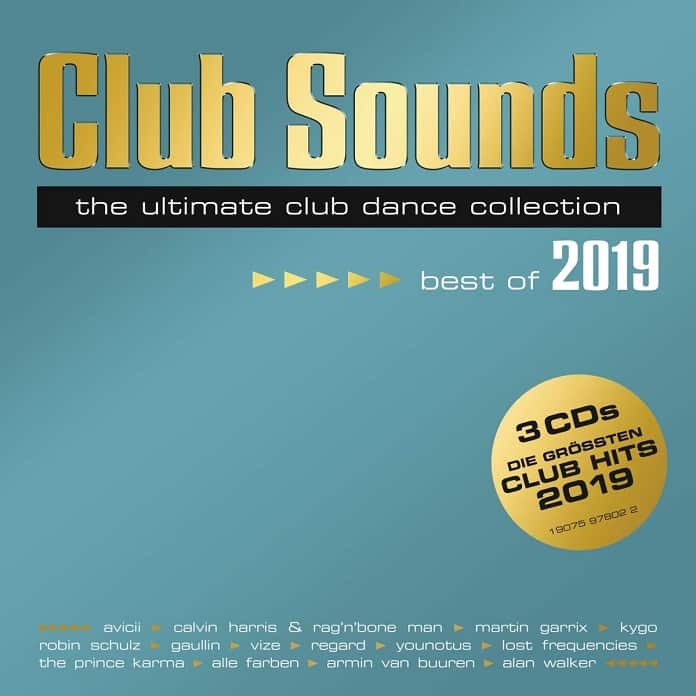 Disk: 1
1. Giant – Calvin Harris, Rag'n'Bone Man / Rag'n'Bone Man
2. Heaven – Avicii
3. No Sleep – Garrix, Martin feat. Bonn
4. Higher Love – Kygo & Whitney Houston / Houston, Whitney
5. Speechless – Schulz, Robin feat. Erika Sirola
6. Moonlight – Gaullin / Maamri, Youcef
7. Monster – LUM!X, Gabry Ponte
8. All Day and Night – Jax Jones & Martin Solveig Present Europa – Jones, Jax, Martin Solveig & Madison Beer
9. Freed from Desire – Drenchill feat. Indiiana
10. Turn Me On – Riton x Oliver Heldens feat. Vula / Malinga, Vula / Ritson, Hal
11. Holterdiepolter – Anstandslos & Durchgeknallt & Georg Stengel
12. Matame – Charming Horses Remix – Antonia feat. Erik Frank
13. Waking up Alive – Club Mix Edit – LIZOT & Charming Horses
14. Again – Bodybangers
15. See You in Space – Adaptiv & Mingue
16. Bad Look – Club Mix – Charming Horses x byMIA
17. Dance – Freischwimmer feat. HYM & Jona Selle
18. Herzlos – Mila
19. Nothing Breaks Like a Heart – Don Diablo Remix – Ronson, Mark feat. Miley Cyrus
20. With You – Loris Cimino Remix – Kaskade & Meghan Trainor
21. All Around The World (La La La) – R3HAB x A Touch Of Class
Disk: 2
1. Piece of Your Heart – Meduza feat. Goodboys
2. Stars – VIZE feat. Laniia
3. Ride It – Regard / Pearce, Daniel
4. Narcotic – YouNotUs & Janieck & Senex
5. Later Bitches – The Prince Karma
6. Roses – Imanbek Remix – SAINt JHN
7. Recognise – Lost Frequencies feat. Flynn / Flynn, Darren
8. Obsessed – Dynoro & Ina Wroldsen / Wroldsen, Ina
9. Walk Away – Alle Farben & James Blunt / Blunt, James
10. Kings & Queens – Kalkbrenner, Fritz
11. Body Funk – Edit – Purple Disco Machine
12. No Goodbye – Kalkbrenner, Paul / Hunter, Chiara
13. Love No More – Loud Luxury x anders / Lee Ly, Anders
14. Sad – Aivarask / Maamri, Youcef
15. Sweet Dreams – Winati feat. Louise CS
16. Rockstar – Sencan, Ilkay & Dynoro / Gustafsson Schönborg, Joel
17. Cooler Than Me – Lucky Luke
18. Finally – Joel Corry Remix – Parx / Costi, Michaela
19. Off the Grid – EDX & Amba Shepherd
20. Heart Beating – Nora En Pure
21. Take It – Dolla, Dom
Disk: 3
1. Turn It Up – van Buuren, Armin
2. Instagram – Bassjackers Remix – Dimitri Vegas & Like Mike, David Guetta, Daddy Yankee feat. Afro Bros, Natti Natasha, Dimitri Vega
3. Summer Days (feat. Macklemore & Patrick Stump of Fall Out Boy) – Tiesto Remix – Martin Garrix, Macklemore, Fall Out Boy / Macklemore / Stump, Patrick / Daniels, Jaramye
4. On My Way – Da Tweekaz Remix – Alan Walker, Sabrina Carpenter, Farruko
5. I'm Not Sorry – Hardwell & Mike Williams / Pols, Britt
6. King Of My Castle (Don Diablo Edit) – Silva, Keanu
7. Wait Another Day – Williams, Mike x Mesto
8. The Rhythm – Diablo, Don
9. Freitag, Samstag – Harris & Ford feat. Finch Asozial
10. Candy on the Dancefloor – Tujamo
11. Light – Jerome
12. Long Way Home – Lucas & Steve x Deepend
13. Ok Without You – Klaas
14. Nobody Like You – RetroVision Flip – Landis
15. The Rhythm of the Night – Finn, Sean & Corona
16. I Won't Let You Down – Nash, Matt
17. Get Get Down – Tom & Jame
18. Club Bizarre – Christian, John & Juliette Claire
19. All In – Mark Bale Remix – Eastblock Bitches
20. All Over The World – Le Grand, Fedde
21. Rave Teacher (Somebody Like Me) – Scooter & Xillions