Mit der Club Sounds – Best Of 2021, kommt eine CD mit Top Tracklist nach Hause, die euch alle Mega Hits des Jahres vereint. Gerade für die bald schon anstehende Silvester Party sollte man musikalisch auf jeden Fall gerüstet sein. Wenn zur Später Stunde die Mega Hits des Jahres nicht vorhanden sind, ist die Party förmlich gelaufen.
Mit der Club Sounds – Best Of 2021 kann euch das im Dance Musik Sektor nicht passieren, denn hier warten über 60 Tracks auf euch. Wer sich einmal die Tracklist dieser Best-Of Ausgabe anschaut, wird schnell sehen, dass wir damit nicht übertrieben haben.
Mit zahlreichen Top Tracks sind Songs von z.B. Calvin Harris, Justin Wellington, Dimitri Vegas & Like Mike, Felix Jaehn, Martin Garrix, David Guetta, Robin Schulz, VIZE, Gabry Ponte, VINAI, Showtek, Neptunica und sehr viele weitere gemeint. Sie alle sind auf der Club Sounds – Best of 2021 vereint.
Bis zum Release ist es auch gar nicht mehr so lange hin, denn bereits ab dem 19. November 2021 steht das gute Stück für euch im Handel bereit. Damit ihr schon vor dem Kauf wisst, was euch hier alles erwartet, haben wir wie gewohnt, die Tracklist und das passende Cover für euch parat.
So könnt ihr die Zeit bis zum Release schon einmal nutzen, um euch ein Exemplar beim Fachhändler eures Vertrauen zu erwerben.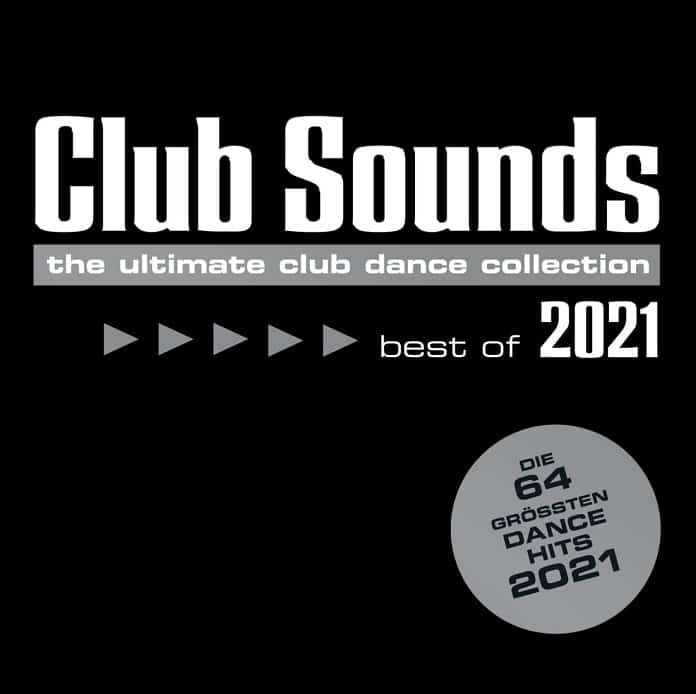 Disk 1:
01.Riton x Nightcrawlers feat. Mufasa & Hypeman – Friday – Dopamine Re-Edit 2:49
02.Majestic x Boney M. – Rasputin 3:06
03.Tiesto – The Business 2:44
04.ATB x Topic x A7S – Your Love (9PM) 2:30
05.Ofenbach feat. Lagique – Wasted Love 2:19
06.Calvin Harris feat. Tom Grennan – By Your Side 3:09
07.RAYE, David Guetta & Joel Corry – Bed 2:58
08.Sea Shanty – Wellerman 2:25
09.Vize & Ilira – Dynamite 2:06
10.Leony – Faded Love – NOON Remix 2:29
11.Dynoro feat. 24kGoldn – Monsters 2:54
12.Sigala x Rita Ora – You for Me 2:55
13.Imanbek & Sean Paul feat. Sofia Reyes – Dancing On Dangerous 2:03
14.Justin Wellington feat. Small Jam – Iko Iko (My Bestie) – Imanbek Remix 2:54
15.Drenchill feat. Indiiana – Paradise 2:28
16.Laidback Luke x Tribbs feat. Bertie Scott – Whistle 2:20
17.Anstandslos & Durchgeknallt & Laurenz – Dein ist mein ganzes Herz 2:28
18.LUNAX & Mia Amare – Sweet Harmony 2:16
19.VIZE, EMOTIK & Gigi D'Agostino – Never Be Lonely 2:45
20.Felix Jaehn feat. Dimitri Vegas & Like Mike – Heard About Me 2:14
21.Imanbek & Alan Walker – Sweet Dreams 2:19
22.VINAI x Paolo Pellegrino feat. Shibui – Superman 2:16
Disk 2:
01.MEDUZA & Dermot Kennedy – Paradise 2:47
02.Calum Scott & Lost Frequencies – Where Are You Now 2:28
03.Purple Disco Machine feat. Moss Kena & The Knocks – Fireworks 3:20
04.Kygo feat. Zoe Wees – Love Me Now 3:15
05.Alok feat. Alida – Love Again 2:27
06.Neeka & SUPER-Hi – Following The Sun 3:26
07.David Guetta & Little Mix & Galantis – Heartbreak Anthem 3:03
08.Regard x Troye Sivan x Tate McRae – You 3:53
09.Robin Schulz & Alle Farben & Israel Kamakawiwo'ole – Somewhere Over the Rainbow / What a Wonderful World 3:29
10.Martin Garrix feat. Bono & The Edge – We Are The People – Official UEFA EURO 2020 Song 3:37
11.El Profesor – Bongo Cha Cha Cha (Summer Anthem) 2:44
12.YouNotUs x Mi Casa – Chucks 2:49
13.Alle Farben & Fools Garden – Lemon Tree 3:16
14.YouNotUs x LIZOT – Elevator 2:25
15.Charming Horses & Lotus & Felix Schorn – It Wasn't Me 2:12
16.Michael Patrick Kelly – Throwback – LIZOT Remix 2:33
17.Alok & John Legend – In My Mind 2:56
18.Imanbek & KDDK & Ya Rick – Bam 2:17
19.Max + Johann & Project 98 – Dakiti 3:01
20.Minelli – Rampampam 3:20
21.Tinlicker & Helsloot – Because You Move Me 3:16
22.Fred again.. x The Blessed Madonna – Marea (We've Lost Dancing) 4:45
Disk 3:
01.Gabry Ponte x LUM!X x Prezioso – Thunder 2:40
02.VINAI feat. Vamero – Rise Up – Radio Edit 3:02
03.Timmy x Gabry Ponte & Trumpet – Mad World – Radio Edit 2:33
04.Phil The Beat x ILIRA – Anytime 2:28
05.LIZOT x Jerome – Sober 2:00
06.Tamara Olorga, Beachbag – We Are Young 2:12
07.Lunax – Drunk in Love 2:45
08.Gaullin & Julian Perretta – Seven Nation Army 2:53
09.Eastblock Bitches vs. OBS – Hope 2:20
10.Basstrologe – Somebody To Love – LIZOT Remix 2:04
11.VINAI x Le Pedre – I Was Made – Radio Edit 2:35
12.Neptunica feat. Matthew Clanton – Love Is Gone 2:37
13.Showtek & Sevenn – Pum Pum 2:57
14.Jerome feat. Sarah de Warren – Home 2:46
15.Lucky Luke Gaullin – What's Up 2:27
16.Klaas & Mister Ruiz – Feel Only Love 2:31
17.Nora & Chris x Drenchill – Remedy 2:29
18.Bodybangers & Lotus – Pony 2:27
19.Quintino – Switch Back – Radio Edit 2:45
20.Harris & Ford & Outsiders – Irrenhaus 3:21