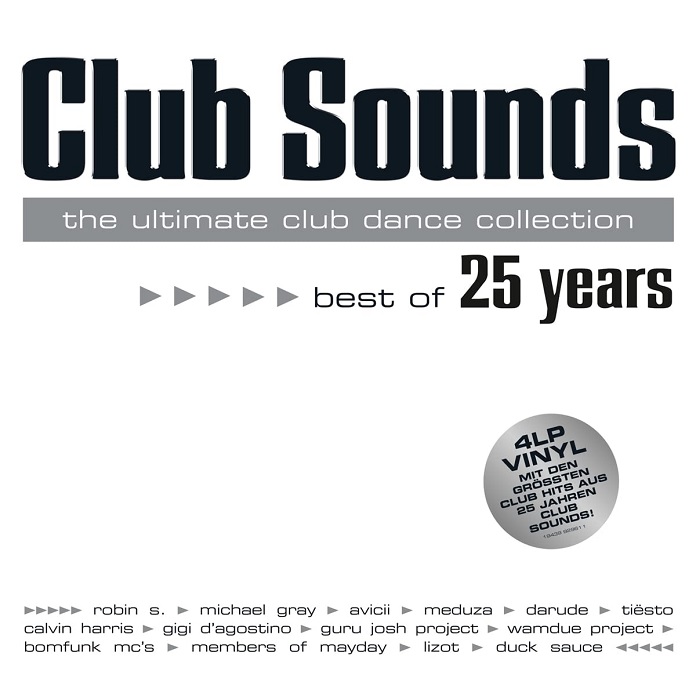 Mit der neuen Club Sounds – Best Of 25 Years, begibt sich Sony Music durch die umfangreiche Tracklist auf eine weitere musikalische Zeitreise. Wir hatten euch in den letzten Monaten schon mehrere "Best of" vorgestellt. Auf nahezu jeder "Best of" Compilation findet ihr Songs, die euch direkt einen Ohrwurm verpassen.
Anders ist dies natürlich auch nicht im Fall der Club Sounds – Best Of 25 Years, denn auch hier bekommt ihr eine fast schon gigantisch große Tracklist geboten. Sobald man sich die Tracklist anschaut, wird man schnell feststellen, das kaum noch Wünsche übrig bleiben, denn viele Top Tracks der guten Alten Zeit sind hier zu finden.
Gemeint sind Top Tracks von z.B. Avicii, Safri Duo, ATB, Jam & Spoon, Darude, Robin Schulz, Wamdue Project, Fragma, The Disco Boys, Guru Josh Project, Culture Beat, Groove Coverage und unfassbar viele mehr. Damit die musikalische Zeitreise der Club Sounds – Best Of 25 Years nicht so schnell vorbei ist, hat Sony Music dieser Ausgabe eine 5er CD-Box gewidmet.
Der Release der neuen Club Sounds – Best Of 25 Years ist für den 28. Janaur 2022 angesetzt. Wie ihr es von uns gewohnt seid, haben wir natürlich auch in diesem Fall die Tracklist und das passende Cover für euch am Start. Als kleinen Vorgeschmack hat sich unsere Redaktion die Single "Jan Wayne feat. Meets Lena – Total Eclipse of the Heart" rausgesucht, die wir direkt mit eingebunden haben.
Disk 1:
01.Avicii – Levels 3:20
02.Pharrell Williams, Swedish House Mafia Feat. Pharrell – One (Your Name) – Radio Edit 2:43
03.Dynoro & Gigi D'Agostino, Emilija Jokubaityte – In My Mind 2:59
04.Darude – Sandstorm – Radio Edit 3:45
05.Zombie Nation – Kernkraft 400 3:29
06.Faithless – Insomnia – Radio Edit 3:35
07.Jordan & Baker – Explode – Marc Van Linden [V-Cut] 3:24
08.Safri Duo – Played-A-Live (The Bongo Song) – Radio Cut 3:17
09.Benny Presents The Biz Benassi – Satisfaction – Isak Radio Edit 3:10
10.Eiffel 65 – Blue (Da Ba Dee) – DJ Ponte Radio Edit 4:43
11.A Touch Of Class – Around the World (La La La La La) – Radio Version 3:35
12.Ann Lee – 2 Times – Edit Mix 3:46
13.Gigi D'Agostino – The Riddle – Single Cut 3:20
14.Atb – 9 PM (Till I Come) – Radio Edit 3:14
15.Dj Sammy & Yanou Feat. Do – Heaven – S'n'Y Mix Radio Edit 3:55
16.Sylver – Turn the Tide – Radio Edit 4:03
17.Mauro Picotto – Komodo – Radio Edit 3:26
18.Sash! – Ecuador 3:26
19.Alexandra Stan – Mr. Saxobeat – Radio Edit 3:17
20.Jam & Spoon – Right in the Night 3:46
Disk 2:
01.Gala – Freed from Desire 3:34
02.Robin S. – Show Me Love – Radio Mix 3:13
03.Eric Prydz – Call on Me – Radio Mix 2:51
04.Wamdue Project – King of My Castle – Roy Malone's King Radio Edit 3:27
05.The Disco Boys Feat. Manfred Mann's Earth Band – For You – Radio Edit 3:38
06.Michael Gray – The Weekend – Radio Edit 3:12
07.Bob Feat. Steve Edwards Sinclar – World Hold On 4:39
08.Roger Sanchez – Another Chance – Radio Edit 3:27
09.Dj Tonka – She Knows You – Radio Edit 4:19
10.Fragma – Toca Me – Radio Cut 3:33
11.Kylie Minogue – Can't Get You Out of My Head 3:50
12.Duck Sauce – Barbra Streisand – Radio Edit 3:14
13.The Shapeshifters – Lola's Theme 3:27
14.Bellini – Samba de Janeiro 2:50
15.Alcazar – Crying at the Discoteque – Radio Edit 3:50
16.French Affair – My Heart Goes Boom (LaDiDaDa) – Radio Version 3:39
17.Run Dmc Vs. Jason Nevins – It's Like That 4:09
18.The Chemical Brothers – Galvanize – Edit 4:26
19.Bomfunk Mc's Freestyler – Radio Edit 2:52
20.Members Of Mayday – Sonic Empire – Short Mix 3:53
Disk 3:
01.Cascada – Everytime We Touch – Radio Edit 3:17
02.Scooter – The Logical Song 3:53
03.Dj Antoine Vs. Timati Feat. Kalenna – Welcome to St. Tropez – DJ Antoine vs Mad Mark Radio Edit 3:15
04.Guru Josh Project – Infinity 2008 – Klaas Vocal Edit 3:12
05.Ida Corr Vs. Fedde Le Grand – Let Me Think About It – Radio Edit 2:34
06.Groove Coverage – Moonlight Shadow 2:54
07.Culture Beat – Mr. Vain Recall – Radio Edit 3:33
08.Die Atzen – Das geht ab (Wir feiern die ganze Nacht) – Atzen Musik Mix 3:29
09.Taio Cruz – Dynamite 3:24
10.Usher Feat. Pitbull – DJ Got Us Fallin' In Love 3:40
11.David Feat. Moises Modesto May – Superstar – Radio Edit 3:20
12.Basshunter – Boten Anna – Radio Edit 3:26
13.Barthezz – On the Move – Radio Edit 3:33
14.Starsplash – Free – Radio Edit 3:21
15.Aquagen – Hard to Say I'm Sorry – Radio Edit 3:21
16.Jan Wayne feat. Meets Lena – Total Eclipse of the Heart – Radio Edit 3:30
17.Rocco – Everybody – Single Edit 3:22
18.Master Blaster – Hypnotic Tango – Radio Mix 2:55
19.Topmodelz – Your Love – Single Mix 3:10
20.Kai Tracid – 4 Just 1 Day – Video Cut 3:43
21.Brooklyn Bounce – Get Ready to Bounce – Radio Attack 3:34
22.Hypetraxx – The Darkside 2:57
Disk 4:
01.Robin Schulz Feat. Jasmine Thompson – Sun Goes Down – Radio Mix 2:57
02.Felix Jaehn Feat. Jasmine Thompson – Ain't Nobody (Loves Me Better) 4:01
03.Lilly Wood and The Prick & Robin Schulz – Prayer in C – (Robin Schulz Remix) [Radio Edit] 3:09
04.Omi – Cheerleader (Felix Jaehn Remix) – Radio Edit 3:00
05.Lost Frequencies Feat. Janieck Devy – Reality – Radio Edit 2:38
06.Kygo & Parson James – Stole the Show 3:43
07.Meduza feat. Goodboys – Piece of Your Heart 2:33
08.Tiesto – The Business 2:44
09.Daniel Pearce, Regard – Ride It 2:37
10.Hypeman, John Reid, Mufasa, Riton x Nightcrawlers feat. Mufasa & Hypeman, Samantha Harper – Friday – Dopamine Re-Edit 2:49
11.Alle Farben & ILIRA – Fading 3:26
12.Gestört Aber Geil & Koby Funk Feat. Wincent Weiss – Unter meiner Haut – Radio Mix 3:29
13.Majestic x Boney M. – Rasputin 3:06
14.Philip George – Wish You Were Mine – Radio Edit 2:58
15.Mk feat. Carla Monroe – 17 3:16
16.Marlon Mcclain, Loud Luxury Feat. Brando – Body 2:43
17.Mike Skinner, Yolanda Be Cool Vs. Dcup – We No Speak Americano – Radio Edit 2:28
18.The Prince Karma – Later Bitches 4:07
19.Stereoact feat. Kerstin Ott – Die immer lacht – Radio 2016 Mix 3:30
20.Laserkraft 3d – Nein, Mann! – Radio Edit 3:49
Disk 5:
01.Chris Martin, The Chainsmokers & Coldplay – Something Just Like This 4:07
02.Iselin Solheim, Alan Walker, Ingrid Helgor – Faded 3:32
03.Martin & Bebe Rexha Garrix In the Name of Love 3:18
04.Flume & Disclosure feat. Eliza Doolittle – You & Me – Flume Remix 4:42
05.Dua Lipa, Calvin Harris – One Kiss 3:34
06.David Guetta feat. Kiiara Dimitri Vegas & Like Mike – Complicated 3:04
07.Sigala – Easy Love – Radio Edit 2:38
08.Martin Feat. Alma Solveig – All Stars 2:50
09.YouNotUs & Janieck & Senex – Narcotic 3:11
10.ItaloBrothers – Summer Air 3:03
11.VIZE & Tom Gregory – Never Let Me Down 2:33
12.Lizot Feat. Emelie Cyreus – Weekend 2:12
13.Gaullin, Youcef Maamri – Moonlight 2:53
14.El Profesor & HUGEL – Bella ciao – Hugel Remix 2:45
15.Tim Berg – Seek Bromance – Avicii Vocal Edit 3:22
16.Alesso Vs. Onerepublic – If I Lose Myself 6:45
17.Deorro X Chris Brown – Five More Hours 3:31
18.DVBBS & Borgeous – Tsunami 3:58
19.Hardwell Feat. Mitch Crown – Call Me A Spaceman – Radio Edit 3:09
20.Armin van Buuren – Blah Blah Blah 3:03