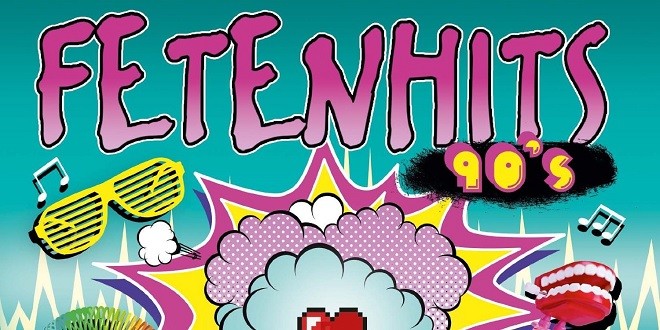 90er Fans unter euch ? Ihr werdet die Fetenhits 90s Best Of mit ihrer Tracklist garantiert lieben. Meistens bekommt man bei Compilation zum Thema 90er nur die Euro Dance Kracher geboten, die zwar die Zeit tatsächlich prägten aber eben nicht alles waren, was die 90er zu bieten hatten.
Die Fetenhits holt hier doch deutlich weiter aus und so findet ihr neben den Euro Dance Hits von Haddaway, Snap!, La Bounce oder Dr. Alban auch zahlreiche Top Tracks von S Club 7, Los Del Rio, Bloodhound Gang, Backstreet Boys, N Sync, Inner Circle, UB 40, Scorpions, Lou Bega und vielen weiteren.
Wer es zum also so richtig krachen lassen möchte, vielleicht auch schon in Hinblick zum Jahreswechsel, ist mit der Fetenhits 90s Best Of gut bedient, denn hier findet ihr zahlreiche Klassiker, die es auch heute noch regelmäßig auf jede ordentliche Party schaffen.
Der Release der Fetenhits 90s Best Of ist für den 20. November 2015 angesetzt. Bis dahin könnt ihr euch mit der passenden Tracklist und dem dazugehörigen Cover schon einmal einen ersten Eindruck von dem guten Stück machen. Sollte euch die neue Fetenhits überzeugen, dürft ihr sie bereits jetzt fleißig bei Amazon oder anderen Shops vorbestellen.
Disk: 1
1. Living On My Own – Mercury, Freddie
2. Rhythm Is A Dancer – Snap!
3. Ice Ice Baby (Radio Edit) – Vanilla Ice
4. U Can't Touch This – M.C. Hammer
5. The Bad Touch (Album Version (Explicit)) – Bloodhound Gang
6. Be My Lover (Radio Edit) – La Bouche
7. It's My Life (Radio Edit) – Alban, Dr.
8. Mr. Vain – Culture Beat
9. More And More – Captain Hollywood, Captain Hollywood Project
10. What Is Love (7″ Mix) – Haddaway
11. Where Do You Go (Radio Mix) – No Mercy
12. Please Don't Go – Double You
13. Don't Talk Just Kiss – Right Said Fred
14. All That She Wants (Remastered Version) – Ace Of Base
15. I Love Your Smile (Album Version) – Shanice
16. All I Wanna Do (Album Version) – Crow, Sheryl
17. High (7″ Edit) – Lighthouse Family
18. Bring It All Back – S Club 7
19. Everybody – Bobo, Dj
20. Macarena – Los Del Rio
Disk: 2
1. Everybody (Backstreet's Back) (Radio Edit) – Backstreet Boys
2. Tearin' Up My Heart (Radio Edit) – 'N Sync
3. Step By Step – New Kids On The Block
4. Barbie Girl – Aqua
5. Blue (Da Ba Dee) (Radio Edit) – Eiffel 65
6. Herz An Herz (Herz In Der Luft Radio Mix) – Blümchen
7. Freedom – Bobo, Dj
8. Coco Jamboo (Radio Edit) – Mr. President
9. Let's Talk About Sex – Salt-N-Pepa
10. It's Like That [Run-Dmc Vs. Jason Nevins] – Run D.M.C., Nevins, Jason
11. Connected – Stereo Mc's
12. Sweat (A La La La La Long) – Inner Circle
13. The Sign (Remastered Version) – Ace Of Base
14. House Of Love – East 17
15. Somewhere Over The Rainbow (Short) – Marusha
16. How Much Is The Fish? – Scooter
17. Cotton Eye Joe – Rednex
18. Save Tonight – Cherry, Eagle-Eye
19. How Bizarre (Album Version) – Omc
20. Verdammt, Ich Lieb Dich (Original Version) – Reim, Matthias
Disk: 3
1. What's Up? (Album Version) – 4 Non Blondes
2. That Don't Impress Me Much (Album Version) – Twain, Shania
3. Gypsy Woman (She's Homeless) (Strip To The Bone Radio Edit) – Waters, Crystal
4. Tom's Diner (7″ Version) – Dna
5. Finally (7″ Choice Mix) – Peniston, Cece
6. Killer – Adamski, Seal
7. I Promised Myself – Kamen, Nick
8. Saturday Night (Radio Mix) – Whigfield
9. Lay All Your Love On Me – Erasure
10. Lovefool (Radio Edit) – Cardigans, The
11. Summer Son – Texas
12. Narcotic (Radio Edit) – Liquido
13. Breakfast At Tiffany's – Deep Blue Something
14. Zombie (Album Version) – Cranberries, The
15. Mmmbop (Album Version) – Hanson
16. Mambo No.5 – Bega, Lou
17. Twist And Shout – Chaka Demus & Pliers
18. (I Can't Help) Falling In Love With You – Ub40
19. Wind Of Change (Album Version) – Scorpions