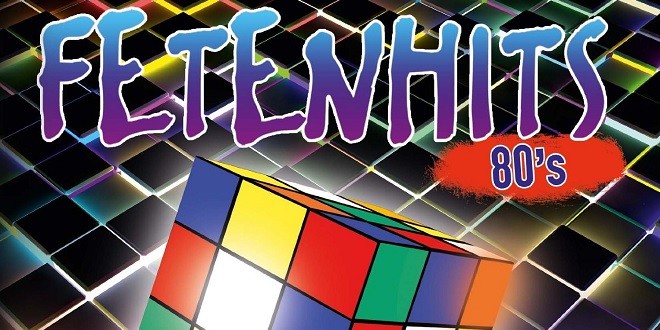 Hier geht es Schlag auf Schlag. Mit der Fetenhits 80s Best Of kommt bereits die nächste Top Tracklist auf euch zu, dieses mal mit dem Thema 80s. Hier dürfen natürlich die großen Hits der neuen deutschen Welle nicht Fehlen, denn diese gehörten zu den 80s einfach dazu.
Das die 80er noch ein musikalisch ziemlich buntes Jahrzehnt waren, kann man auch beim Blick auf die Tracklist der Fetenhits 80s Best Of deutlich sehen. Hier findet ihr neben Hits der neuen deutschen Welle auch reichlich Rock & Pop, sowie erste House Music Sounds.
So befinden sich auch die Mega Hits von Queen, Alphaville, Billy Idol, Mike Oldfield, Abba, Paul Young, Simple Minds, Visage, Kim Wilde, Soft Cell, Blondie, Mondern Talking und reichlich weitere Künstler, in der Tracklist der Fetenhits 80s Best Of.
Auch diese Ausgabe der Fetenhits Reihe steht ab dem 20. November 2015 im Handel bereit, so habt ihr also noch einige Tage Zeit euch das Werk mit einer Vorbestellung bereits zu sichern. Das wir euch nicht ohne Tracklist und dem passenden Cover gehen lassen, sollten unsere Stammleser mittlerweile wissen und so gibt es die Infos natürlich auch in diesem Fall wieder.
Gerne könnt ihr die Fetenhits 80s Best Of mit einem Klick auf die Like Button am Ende des Artikels supporten.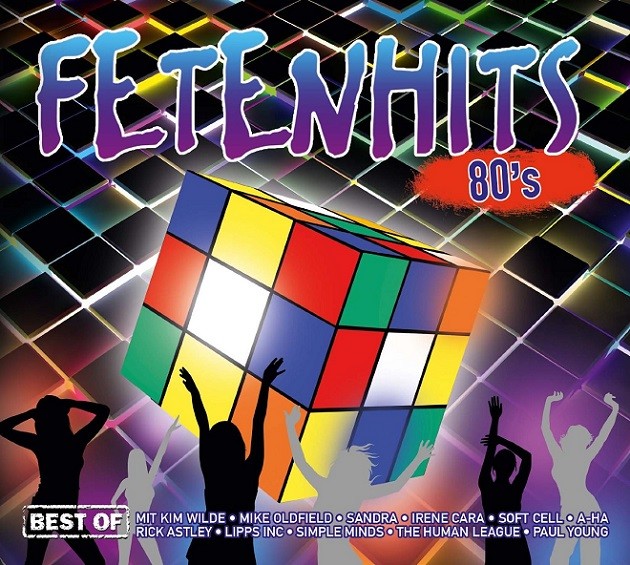 Disk: 1
1. Radio Ga Ga – Queen
2. Big In Japan – Alphaville
3. Rebel Yell – Idol, Billy
4. Tainted Love – Soft Cell
5. You Keep Me Hangin' On – Wilde, Kim
6. Don't You Want Me – Human League, The
7. Shout (U.S. Single Version) – Tears For Fears
8. Sunglasses At Night – Hart, Corey
9. Fade To Grey – Visage
10. (I Just) Died In Your Arms – Cutting Crew
11. Don't You (Forget About Me) – Simple Minds
12. The Look Of Love (Pt. 1) – Abc
13. Come Back And Stay – Young, Paul
14. The Riddle – Kershaw, Nik
15. Somebody's Watching Me (Single Version) – Rockwell
16. Walking On Sunshine – Katrina & The Waves
17. Come On Eileen (Album Edit) – Kevin Rowland & Dexys Midnight Runners
18. Stars On 45 (Original Single Version) – Stars On 45
19. Super Trouper – Abba
Disk: 2
1. Moonlight Shadow – Oldfield, Mike
2. Everlasting Love (Remastered 2009) – Sandra
3. Flashdance … What A Feeling (Radio Edit) – Cara, Irene
4. She Works Hard For The Money (Single Version) – Summer, Donna
5. Kids In America – Wilde, Kim
6. Major Tom (Völlig Losgelöst) (Album Version) – Schilling, Peter
7. 99 Luftballons – Nena
8. Da Da Da Ich Lieb Dich Nicht Du Liebst Mich Nicht Aha Aha Aha – Trio
9. Sternenhimmel – Kah, Hubert
10. Funkytown (Single Version) – Lipps Inc.
11. Celebration (Single Version) – Kool & The Gang
12. Karma Chameleon – Culture Club
13. Love Is A Shield (Single Version) – Camouflage
14. Smalltown Boy – Bronski Beat
15. Word Up! (Single Version) – Cameo
16. Maneater – Daryl Hall & John Oates, Hall & Oates
17. Square Rooms – Corley, Al
18. Lessons In Love – Level 42
19. In The Army Now (Single Edit) – Status Quo
20. Maid Of Orleans – Orchestral Manoeuvres In The Dark
Disk: 3
1. Take On Me – A-Ha
2. Never Gonna Give You Up – Astley, Rick
3. Voyage Voyage – Desireless
4. You're My Heart, You're My Soul – Modern Talking
5. Words – David, F.R., F.R. David
6. Eyes Without A Face – Idol, Billy
7. Hey, Little Girl – Icehouse
8. Johnny And Mary (Album Version) – Palmer, Robert
9. Atomic – Blondie
10. Bette Davis Eyes – Carnes, Kim
11. Tarzan Boy (Original Version) – Baltimora
12. I Don't Like Mondays (Album Version) – Boomtown Rats, The
13. Luka (Album Version) – Vega, Suzanne
14. Teardrops (7″ Edit) – Womack & Womack
15. If Only I Could – Youngblood, Sydney, Youngblood, Sidney
16. Temptation (Edit) – Heaven 17
17. Weekend – Earth & Fire
18. Sun Of Jamaica – Goombay Dance Band
19. Santa Maria – Kaiser, Roland
20. The Winner Takes It All – Abba