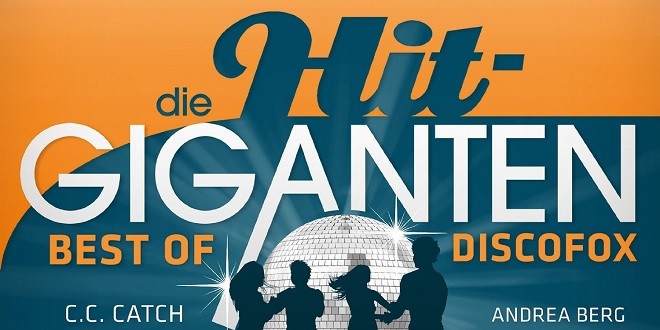 Die Hit Giganten Best of Discofox bitten zum Tanz, denn mit ihrer Tracklist dürfte sie auch den letzten Tanzmuffel zum bewegen animieren. Auch wenn Sat1 die gleichnamige Show längst aus dem TV und mittlerweile auch von der Webseite verbannt hat, die Compilation wird weiter vom TV Sender präsentieren.
Das man vom bevorstehenden Weihnachtsgeschäft ein Stückchen abhaben will, liegt da natürlich auf der Hand und kommen gleich mehrere Ausgaben dieser Compilation, in den nächsten Wochen, auf den Markt. Als erstes möchten wir euch jedoch die Hit Giganten Best of Discofox vorstellen, die durchaus für Jung und Alt geeignet ist.
So befinden sich hier Tracks von Whitney Houston, C.C. Catch, No Mercy, Boney M. Barry White, Modern Talking, Villiage People, Rex Gildo, Ibo, Olaf Henning, Anna-Maria Zimmermann, Wolke 7, Andrea Berg, Die Prinzen, DJ Ötzi und viele weitere auf der " Die Hit Giganten Best of Discofox ".
Ab dem 6. November 2015 steht die " Die Hit Giganten Best of Discofox " für euch im Handel parat, so ist es also höchste Zeit sich ein ersten Eindruck zu verschaffen. Wie immer haben wir dafür, an dieser Stelle, die passende Tracklist und das Cover parat.
Wenn euch die Tracklist überzeugen kann, wovon wir nun einfach einmal ausgehen, dann könnt ihr das gute Stück natürlich wie gewohnt bei Amazon oder anderen Shops vorbestellen
Disk: 1
1. I Wanna Dance With Somebody (Who Loves Me) – Houston, Whitney
2. Together Forever – Astley, Rick / Astley, Rick
3. You're My Heart, You're My Soul – Modern Talking Mix '98 – Modern Talking Feat. Eric Singleton
4. Copacabana (At The Copa) – 1993 Remix – Manilow, Barry / Manilow, Barry
5. Yes Sir, I Can Boogie – Baccara
6. Crying At The Discoteque – Radio Edit – Alcazar
7. I Will Survive – Gaynor, Gloria
8. What Is Love – Original 7′ Mix – Haddaway
9. Please Don't Go – No Mercy
10. I Feel The Earth Move – Martika
11. Heartbreak Hotel – Catch, C. C.
12. I Can't Get Enough – 7′ Version – Chyp-Notic
13. Save Me – Sos-Fox-Mix – Partyvision Feat. Myra
14. Flames Of Love '98 – Mc's Radio Mix – Fancy
15. Precious Little Diamond – Fox The Fox
16. Feels Like I'm In Love – Marie, Kelly
17. Rivers Of Babylon – Boney M.
18. Sun Of Jamaica – Goombay Dance Band
19. Square Rooms – Corley, Al
20. You To Me Are Everything – Real Thing, The
21. You're The First, The Last, My Everything – White, Barry
Disk: 2
1. Cheri Cheri Lady – New Version – Modern Talking
2. You're A Woman – Original Remix 1998 – Bad Boys Blue
3. Daddy Cool – Boney M.
4. Lunatic – Gazebo
5. I Promised Myself – Album Version – Kamen, Nick
6. Smalltown Boy – Bronski Beat
7. Voyage Voyage – Desireless
8. Kalimba De Luna – Esposito, Tony
9. Jump (For My Love) – Pointer Sisters, The
10. Boogie Wonderland – White, Maurice / Bailey, Philip / Earth, Wind & Fire With The Emotions
11. Kung Fu Fighting – Douglas, Carl
12. Y.M.C.A. – Village People
13. Moviestar – Harpo
14. Oh No No – Paul, Bernie
15. Cold Days, Hot Nights – Moti Special
16. Dolce Vita – Paris, Ryan
17. Touch By Touch '98 – Radio – Version – Joyn
18. My Bed Is Too Big – Blue System
19. It's A Real Good Feeling – Kent, Peter
20. I've Been Thinking About You – Londonbeat
21. Words – David, F.R.
Disk: 3
1. Wolke 7 – Radio Edit – Wolkenfrei
2. Du Hast Mich Tausendmal Belogen – Berg, Andrea
3. Warum Hast Du Nicht Nein Gesagt – Club Mix – Kaiser, Roland & Maite Kelly
4. Ich Fang Dir Den Mond – Single Version – Martin, Andreas
5. Die Tanzfläche Brennt – Zimmermann, Anna-Maria
6. Ein Stern, Der Deinen Namen Trägt – Remix 2011 – Nik P.
7. Amsterdam – Rosen-Mix – Fischer, Axel
8. Du Bist Es – Single Version – Dj Ötzi
9. Sie Liebt Den Dj – Radio-Fox – Wendler, Michael
10. Verlieben, Verloren, Vergessen, Verzeih'n – Petry, Wolfgang
11. Wir Sind Alle über 40 – Brunner & Brunner
12. Himbeereis Zum Frühstück – Almklausi
13. Ich Vermiss' Dich… (Wie Die Hölle) – Radio Mix – Zlatko
14. Ein Weißes Boot – Radio Mix – Fantasy
15. Er Gehört Zu Mir – Dance Mix 127 Bpm [Remake '88] – Rosenberg, Marianne
16. (Du Mußt Ein) Schwein Sein – Prinzen, Die
17. Ibiza – Henning, Olaf Feat. Ibo
18. Fiesta Mexicana – Gildo, Rex
19. Wer Weiß… – Clüver, Bernd
20. Ich Weiß, Was Ich Will – Extended Version 2006 – Jürgens, Udo
21. Tausendmal Du – Münchener Freiheit