Bei der neuen Fetenhits Reloaded ist der Name Programm, denn in der Tracklist findet ihr jede Menge alte Tracks, die Neu aufgelegt und oft zum Hit wurden. An dieser Ausgabe der Fetenhits werden sicherlich gleich mehrere Generationen gefallen finden.
Der Grund dafür ist simple und zwar die Texte der Lieder kann fast jeder, die Älteren noch von den Originalen Versionen und die jüngeren von den erfolgreichen Neuauflagen. Das beste Beispiel dafür ist der Track "Ain't Nobody " der in der Version von Felix Jaehn derzeit weltweit durch die Decke geht.
Die Älteren Leser von uns, werden sicherlich "Ain't Nobody " noch in der Version von Chaka Khan kennen. Nicht anders sollte es auch mit Tracks wie "Blinded By The Light","Moonlight Shadow", "Sunglasses At Night", "Show Me Love", "What Is Love", "Gypsy Woman" oder "Sound Of San Francisco" sein.
Viele erfolgreiche Songs von z.B. ennifer Lopez, The Black Eyed Peas, Eric Prydz, BossHoss, Sigala, Global Deejays, Kiesza, Kygo und einigen anderen, sind nicht das erste mal unheimlich Erfolgreich, sondern haben schon eine lange Geschichte auf dem Buckel.
Ab dem 30. Oktober 2015 steht die Fetenhits Reloaded für euch im Handel bereit, höchste Zeit sich mit der Tracklist und dem dazu passenden Cover einen ersten Eindruck zu verschaffen. So könnt ihr Ende Oktober eure Halloween Party direkt mit jede Menge Coverversionen auf Schwung bringen.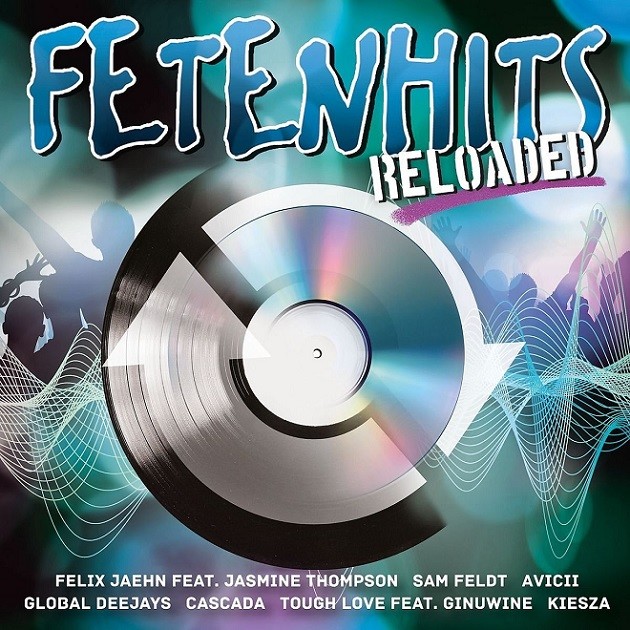 Disk: 1
1. Easy Love (Radio Edit) – Sigala
2. Ain't Nobody (Loves Me Better) (Original Version) – Felix Jaehn
3. Supergirl (Radio Edit) – Anna Naklab
4. Show Me Love – Sam Feldt
5. Wicked Games (Radio Edit) – Parra For Cuva
6. Where The Streets Have No Name (I Can't Take My Eyes Off You) (Remastered 2003) – Pet Shop Boys
7. My Feelings For You (Radio Edit) – Avicii
8. Sun Is Shining (Extended) – Bob Marley
9. Hey (Nah Neh Nah) (Radio Version) – Milk & Sugar
10. The Sound Of San Francisco (Progressive Short Mix) – Global Deejays
11. Heaven – DJ Sammy
12. You Keep Me Hangin' On (Original Edit) – Andrew Spencer
13. Because The Night – Cascada
14. Moonlight Shadow (Radio Version) – Groove Coverage
15. Personal Jesus (Radio Edit) – G&G
16. Sunglasses At Night (Radio Edit) – Vodoo & Serano
17. Runaway (Smalltown Boy) – Kate Ryan
18. Tell It To My Heart (Loona Edit) – Loona
19. Eye Of The Tiger (Future House Edit) – Crew 7
20. Seven Nation Army (EM Edit) – Punk Division
21. Blinded By The Light (Radio Cut) – Michael Mind
22. For You (Original Radio Edit) – The Disco Boys
Disk: 2
1. The Party (This Is How We Do It) (Radio Edit) – Joe Stone
2. Pony (Jump On It) (Radio Mix) – Tough Love
3. The Time (Dirty Bit) (Radio Edit) – The Black Eyed Peas
4. Say Say Say (Waiting 4 U) (Radio Mix) – Hi_Tack
5. Proper Education (Radio Edit) – Eric Prydz
6. Gypsy Woman – Caroline D'Amore
7. Like A Prayer – Mad'House
8. Englishman In New – York
9. Just Be Good To Me (Radio Cut) – Karmah
10. I Wanna Dance With Somebody (Who Loves Me) (Boys Like It Short Edit) – Cassey Doreen
11. What A Feeling (Clubhouse Radio Version) – Global Deejays
12. The Rhythm Of The Night (Video Edit) – Cascada
13. It's My Life (Don't Worry) (Radio Edit) – Chawki
14. Hi – a Ma (Pata Pata) (Radio Version)
15. On The Floor (Radio Edit; No Rap) – Jennifer Lopez
16. A Walk In The Park (Radio Edit) – Conways
17. Barbra Streisand (Radio Edit) – Duck Sauce
18. What Is Love (Album Version) – Kiesza
19. California Dreamin (Radio Edit) – Freischwimmer
20. Taxi nach Paris (Fabelwelt Radio Edit) – The Disco Boys
21. 25 – Die Fantastischen Vier
22. Hey Ya! (Radio Version) – The BossHoss