Der Soundtrack des neuen Kinofilm James Bond: Spectre wird mit seiner Tracklist sicherlich die Download Charts stürmen. Bereits im Vorfeld liest man in Sachen Film und Musik fast nichts anderes mehr als James Bond: Spectre, doch ist das auch wirklich gerechtfertigt ?
Leider hat aus unserer Redaktion keiner Zeit bei der Pressevorführung des neuen Bond-Film dabei zu sein, so müssen wir uns auf Urteile der Mitbewerber stützen. Bereits weit vor dem Kinostart ging eine Meldung durchs Netz, die echte Bond Fans schockierte und zwar hieß es da, dass Daniel Craig nicht weiter James Bond sein möchte.
Das schiebt sicherlich die Zuschauerzahlen des Films nochmal nach vorne treibe, denn es könnte in der Tat der letzte James Bond Film mit Daniel Craig werden. Nachdem Skyfall der erfolgreichste Bond-Film aller Zeiten wurde, könnte James Bond: Spectre diesen sogar noch toppen.
Der passende Soundtrack zur Film steht ab dem 23. Oktober 2015 für euch im Handel bereit. Etwas ungewöhlich ist der Release am 23.10 schon, denn erst am 5 November 2015 kommt James Bond: Spectre in die Kinos.
Wir bieten euch natürlich dennoch schon jetzt die Infos zum neuen Soundtrack. Neben dem Cover und der Tracklist (folgt), bieten wir euch natürlich auch den Final Trailer, damit ihr auch Lust auf den neuen Bond-Film bekommt.
Wir haben euch mit dem Song Sam Smith – Writing's On The Wall, den offiziellen Titelsong bereits vorgestellt und der CD-Box Best of Bond…James Bond ein echtes Highlight für jeden Bond Fan präsentiert.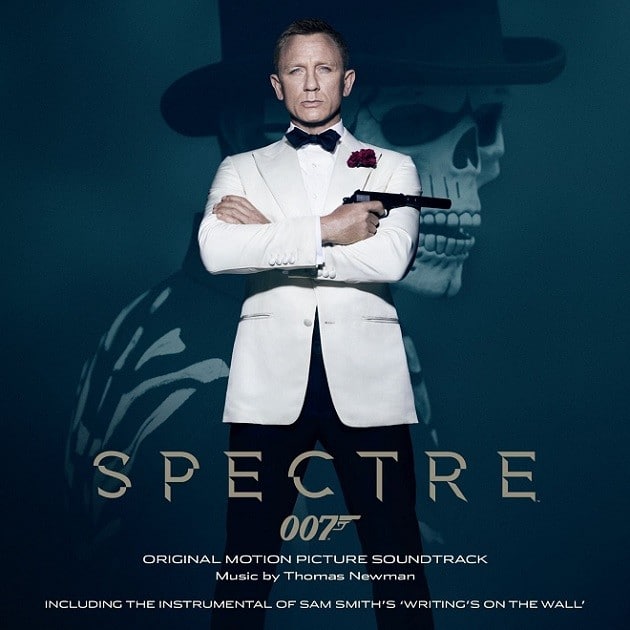 1. Los Muertos Vivos Estan (From "Spectre" Soundtrack)
2. Vauxhall Bridge (From "Spectre" Soundtrack)
3. The Eternal City (From "Spectre" Soundtrack)
4. Donna Lucia (From "Spectre" Soundtrack)
5. A Place Without Mercy (From "Spectre" Soundtrack)
6. Backfire (From "Spectre" Soundtrack)
7. Crows Klinik (From "Spectre" Soundtrack)
8. The Pale King (From "Spectre" Soundtrack)
9. Madeleine (From "Spectre" Soundtrack)
10. Kite In A Hurricane (From "Spectre" Soundtrack)
11. Snow Plane (From "Spectre" Soundtrack)
12. L' Americain (From "Spectre" Soundtrack)
13. Secret Room (From "Spectre" Soundtrack)
14. Hinx (From "Spectre" Soundtrack)
15. Writing's On The Wall (Instrumental / From "Spectre" Soundtrack)
16. Silver Wraith (From "Spectre" Soundtrack)
17. A Reunion (From "Spectre" Soundtrack)
18. Day Of The Dead (From "Spectre" Soundtrack)
19. Tempus Fugit (From "Spectre" Soundtrack)
20. Safe House (From "Spectre" Soundtrack)
21. Blindfold (From "Spectre" Soundtrack)
22. Careless (From "Spectre" Soundtrack)
23. Detonation (From "Spectre" Soundtrack)
24. Westminster Bridge (From "Spectre" Soundtrack)
25. Out Of Bullets (From "Spectre" Soundtrack)
26. Spectre (End Title / From "Spectre" Soundtrack)