Die CD Best of Bond…James Bond ist mit ihrer Tracklist so wohl einzigartig. Zumindest ist uns keine so vielversprechende Musiksammlung zu einer Kinofilm Reihe bekannt, wie es bei der Best of Bond…James Bond der Fall sein wird. Für alle Bond Fans ist dieser Soundtrack ein absolutes Must Have.
In den nächsten Wochen kommt der neue Bond Film "Spectre " in die Kinos, den neuen James Bong Spectre Titelsong hatten wir euch bereits vorgestellt, dieser ist übrigens nicht auf dieser Compilation zu finden, hier hat man bei Polystar (Universal Music) wohl gepennt oder man will dort einfach nur die Single Verkäufe weiter anschieben.
Dennoch gibt es hier reichlich Titelsongs von zahlreichen Bond Filmen, die es mittlerweile ja bereits seit mehreren Jahrzehnten gibt und deren Beliebtheit ungebrochen ist. Was nun kommt, wissen unsere Stammleser natürlich bereits, denn an dieser Stelle folgt wie immer die Tracklist und das passende Cover zur CD.
Wenn euch die Tracklist der Best of Bond…James Bond zusagt, könnt ihr sie natürlich bereits bei Amazon oder anderen Shops vorbestellen. Auf diesem Wege verpasst ihr den Release Termin des Samplers Best of Bond…James Bond auch nicht, dieser ist für den 23. Oktober 2015 angesetzt.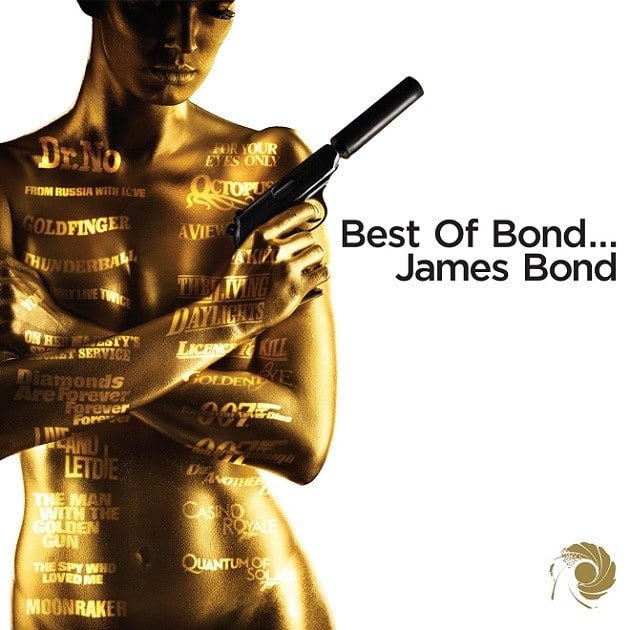 1. James Bond Theme (From "Dr. No" Soundtrack) – John Barry Orchestra
2. From Russia With Love (Mgm Version) – Monro, Matt
3. Goldfinger (Main Title) – Bassey, Shirley
4. Thunderball
5. You Only Live Twice (Main Title) – Sinatra, Nancy
6. On Her Majesty's Secret Service (Main Title) – John Barry Orchestra
7. We Have All The Time In The World (From "On Her Majesty's Secret Service" Soundtrack) – Armstrong, Louis
8. Diamonds Are Forever – Bassey, Shirley
9. Live And Let Die (Main Title) – Mccartney, Paul, Wings
10. The Man With The Golden Gun (Main Title) – Lulu
11. Nobody Does It Better (From "The Spy Who Loved Me" Soundtrack) – Simon, Carly
12. Moonraker (Main Title) (Remastered 2003) – Bassey, Shirley
13. For Your Eyes Only (Main Title) – Easton, Sheena
14. All Time High (From "Octopussy" Soundtrack) – Coolidge, Rita
15. A View To A Kill (Main Title) – Duran Duran
16. The Living Daylights (Main Title) – A-Ha
17. Licence To Kill (From "Licence To Kill" Soundtrack) – Knight, Gladys
18. Goldeneye (Single Version) – Turner, Tina
19. Tomorrow Never Dies (Full Length Version) – Crow, Sheryl
20. The World Is Not Enough (Album Version) – Garbage
21. Die Another Day – Madonna
22. You Know My Name (From "Casino Royale" Soundtrack) – Cornell, Chris
23. Another Way To Die (From "Quantum Of Solace" Soundtrack) – Jack White, Keys, Alicia