Die Hits des Jahres auf einer CD ? Die Best Of 2015 – Die Hits des Jahres ist mit ihrer Tracklist da genau das richtige, denn hier findet ihr wirklich alle großen Hits des Jahres. Wenn ein Jahr sich dem Ende zu neigt, kommen quer durch alle Labels, die Best Of CDs auf den Markt und so ist es auch in diesem Fall.
Während die einen sich lieber zahlreiche Compilations das Jahr über kaufen um immer am Puls der Zeit zu sein, reicht es andere die großen Hits am Ende des Jahres im CD Regal zu haben, denn man kann nicht behaupten, die Best of CDs wären nicht erfolgreich, im Gegenteil.
Wenn wir mal einen Blick auf die Tracklist werfen, finden wir Top Tracks von Martin Solveig, Ellie Goulding, Justin Bieber, The Bosshoss, Klingande, Sam Feldt, Cro, Lena, Sarah Connor, Martin Garrix und natürlich der Durchstarter des Jahres, Felix Jaehn.
Ihr seht also, wir haben an dieser Stelle nicht untertrieben, die Best Of 2015 – Die Hits des Jahres ist genau das richtige, wenn es darum geht die besten Tracks des Jahres in eure Musiksammlung aufzunehmen.
Da es bis zum Release der Best Of 2015 – Die Hits des Jahres noch ein paar Tage dauert, versorgen wir euch wie gewohnt bereits jetzt mit der Tracklist und dem passenden Cover. Am 23. Oktober könnt ihr dann gut informiert, die Elektro Märkte stürmen und euch die Best Of 2015 – Die Hits des Jahres sichern.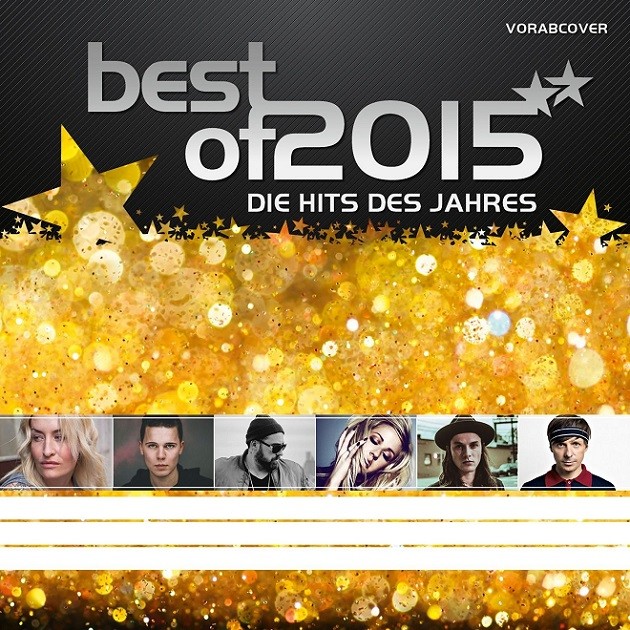 Disk: 1
1. Love Me Like You Do (From "Fifty Shades Of Grey") – Goulding, Ellie
2. Ain't Nobody (Loves Me Better) (Original Version) – Jaehn, Felix
3. Stole The Show – Kygo
4. Reality – Lost Frequencies
5. Cheerleader (Felix Jaehn Remix / Radio Edit) – Omi
6. For A Better Day – Avicii
7. Intoxicated (Radio Edit) – Solveig, Martin, Gta
8. I Really Like You – Jepsen, Carly Rae
9. Avenir (Radio Edit) – Louane
10. Dos Bros – The Bosshoss
11. El Mismo Sol – Soler, Alvaro
12. What Do You Mean? – Bieber, Justin
13. Shine – Years & Years
14. Show Me Love – Feldt, Sam
15. Good To Be Loved (Radio Edit) – M-22
16. Riva (Restart The Game) (Single Edit) – Klingande
17. Wish You Were Mine (Radio Edit) – George, Philip
18. Omen – Disclosure
19. You Know You Like It – Dj Snake & Alunageorge, Snake, Dj, Alunageorge
20. Dessert – Dawin
21. Here – Cara, Alessia
22. So Wie Du Bist (Radio Edit) – Motrip
Disk: 2
1. Astronaut – Sido
2. Wie Schön Du Bist – Connor, Sarah
3. Wild & Free – Lena
4. Bye Bye – Cro
5. Geiles Leben (Madizin Single Mix) – Glasperlenspiel
6. Wolke 4 – Dittberner, Philipp, Marv
7. Unter Meiner Haut (Radio Mix) – Gestört Aber Geil, Funk, Koby
8. Supergirl (Radio Edit) – Naklab, Anna
9. Waiting For Love – Avicii
10. Glitterball – Sigma
11. Lucifer – Xov
12. Stay With Me – Smith, Sam
13. Hold Back The River (Album Version) – Bay, James
14. Auf Anderen Wegen – Bourani, Andreas
15. Was Wirklich Bleibt – Stürmer, Christina
16. Ich Will Nur Dass Du Weißt (Radio Edit) – Sdp
17. Lieber So – Catterfeld, Yvonne
18. Unsere Lieder – Tawil, Adel
19. Everybody Feeling Something – Roudette, Marlon
20. California Dreamin (Radio Edit) – Freischwimmer
21. Demons – Morrison, James
22. Armour – Garvey, Rea