Endlich, die Future Trance – Rave Classics 2 steht mit ihrer Tracklist kurz vorm Release. Für alle Zeitzeugen der wilden Dance Music Zeit, ist diese Compilation ein absolutes MUSS. Hier findet ihr alle Top Tracks, die wir bei der ersten Ausgabe noch schrecklich vermisst haben.
Wir meinen hier wirklich auch Top Tracks, denn hier findet ihr Songs von Members of Mayday, Perplexer, Charly Lownoise & Mental Theo, RMB, DJ Panda, Smash, Hypetraxx, The Prodigy, Tomcraft, Derb, Blank & Jones, Mauro Picotto, Cosmic Gate und unfassbar viele mehr, eben alle Top Tracks von Damals.
Bis zum Release der neuen Future Trance – Rave Classics 2 ist es zum Glück nicht mehr ganz so lange hin, denn bereits ab dem 21. Juli 2017 steht sie für euch im Handel bereit. Wer sich schon einmal ein Bild von der Qualität der Future Trance – Rave Classics 2 verschaffen möchte, kann dies mit Hilfe der Tracklist und dem Cover natürlich schon einmal tun.
Eins ist sicher, auch unsere Redaktion wird sich diese Compilation sichern, denn alleine der Blick auf die Tracklist lässt die Erinnerungen an die schöne Zeit bereits sprudeln. So wünschen wir euch natürlich ebenfalls viel Spaß mit dem guten Stück.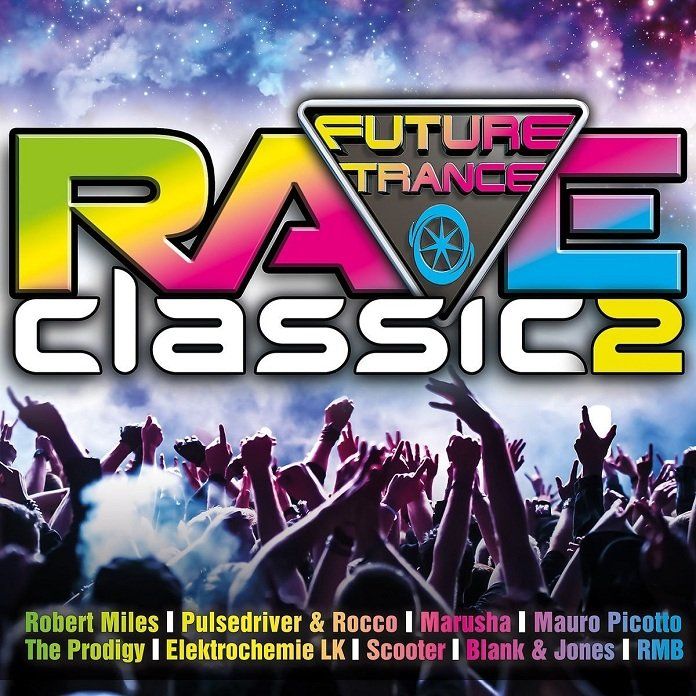 Disk: 1
1. Celebrate The Classics (Rave Edit) – Pulsedriver
2. Spring 1996 (Video Mix) – RMB
3. Million Miles From Home (Video Mix) – Dune
4. I Wanna Be A Hippy (Flamman & Abraxas Mix) – Technohead
5. Your Smile (Radio Edit) – Charly Lownoise & Mental Theo
6. Love Song (Original Short Mix) – Mark 'Oh
7. It Takes Me Away (Short Mix) – Marusha
8. Wizards of the Sonic (Short Mix) – Westbam
9. Annihilating Rhythm Parts 1 & 2 – Ultra-Sonic
10. Move Your Ass! (Video Edit) – Scooter
11. Church Of House (Video Mix) – Perplexer
12. Have You Ever Been Mellow (Flamman & Abraxas Radio Mix) – Party Animals
13. Herz an Herz (Herz in der Luft Radio Mix) – Blümchen
14. Love Waves – Suspicious
15. It's A Dream (Infused Mix) – DJ Panda
16. Hold Me Now (Bass – D & King Matthew Mix)
17. Strings Of Infinity – T-Marc
18. Enter The Arena – Members Of Mayday
19. Around the World (Radio Version) – Nightraver, The
20. Konstablerwache (Original Mix) – Smash
Disk: 2
1. Like This Like That (Radio Mix) – Picotto, Mauro
2. Operation Blade (Bass In The Place) (7″" Radio Edit) – Public Domain
3. derb (Edit) – Derb
4. Schall (Thomas Schumacher Radio Edit) – Elektrochemie Lk
5. DJs, Fans & Freaks (Radio Cut) – Blank & Jones
6. Loneliness (Radio Edit) – Tomcraft
7. Nightmare (Sinister Strings Edit) – Brainbug
8. Freak (Short) – Lexy & K-Paul
9. The Darkside (Video Cut) – Hypetraxx
10. No Good (Start The Dance) – The Prodigy
11. O (Overdrive) (Airplay Mix) – DJ Scot Project
12. Tricky Tricky (DJ Sequenza Radio Mix) – Busted
13. Twisted (Original Single Edit) – & Gielen, Svenson
14. Afflitto (Radio Edit '97) – Fiocco
15. Hardcore (Radio Mix) – Cosmic Gate
16. Kiss That Sound (Short Mix) – Pulsedriver
17. Pulverturm (Radio Edit 2) – van Gogh, Niels
18. Children (Dream Version Special Radio Edit) – Miles, Robert
19. Mystery In Space (Kick In Ya Face Short Cut) – Mellow Trax
20. FTS (Original Mix) – Showtek
Disk: 3
1. Are Am Eye? (Single Edit) – Commander Tom
2. Live At London (The Big Bang Mix) – Charly Lownoise & Mental Theo
3. The Mystic Culture – DJ Hooligan
4. Experience (Follow Me) (Short Mix) – RMB
5. Hand In Hand (Video Mix) – Dune
6. Airwalk (Short Walk) – Genlog
7. Raveland (Video Mix) – Marusha
8. I Need Your Love (Video Mix) – Microwave Prince
9. Fairytales (Charly Lownoise & Mental Theo Hardcore Mix) – 2 Brothers On the 4th Floor
10. Overwhelming Rain (Jones & Stephenson Remix) – Jones, Franky
11. A New Dimension (Radio Edit) – Hitch-Hiker
12. Living On Video (Short Cut) – D., Gary
13. Initialize (Short Cut) – The Paragod
14. Signs Of Life (Short Cut) – Meteor Seven
15. Space Harmony (Gary D Radio Edit) – DJ Jo
16. I Can't Stop The Motion (Radio Motion) – Komakino
17. Rhythm & Drums (Part 2) – General Base
18. No Hagas El Indio, Haz El Cherokee (Original Version) – Coke, Cherry
19. Technophobia (Power Mix) – Reaction, Bass