Habt ihr euch schon die The Dome Summer 2017 mit ihrer grandiosen Tracklist gesichert ? Wer z.B. die Ferien aktuell dazu nutzt, um die Freizeit richtig zu genießen, braucht dafür natürlich auch die richtige Musik, denn mit Musik geht alles einfacher, so natürlich auch die Freizeitaktivitäten.
In Sachen Charts Musik ist die The Dome Compilation fast schon in einer Reihe mit der großen Bravo Hits Compilation gleichzusetzen. Wenn wir hier mal einen Blick auf die Tracklist werfen, werdet ihr schnell sehen was wir damit meinen, denn an aktuelle Charts Musik ist hier wirklich einiges vertreten.
So findet ihr auf der The Dome Summer 2017 Tracks von z.B. Jason derulo, Alice Merton, Calvin Harris, Martin Garrix, Axwell & Ingrosso, Bakermat, Lena, Miley Cyrus, Shakira und viele weitere Acts, die sich derzeit in den aktuellen Single Charts in Deutschland befinden.
Warten müsst ihr auf die The Dome Summer 2017 jedoch nicht mehr, denn der Release war bereits am 7. Juli 2017. Dennoch haben wir auch in diesem Fall die Tracklist und passende Cover für euch am Start, damit ihr auch hier vor dem Kauf bereits wisst, was euch im Fall der The Dome Summer 2017 erwartet.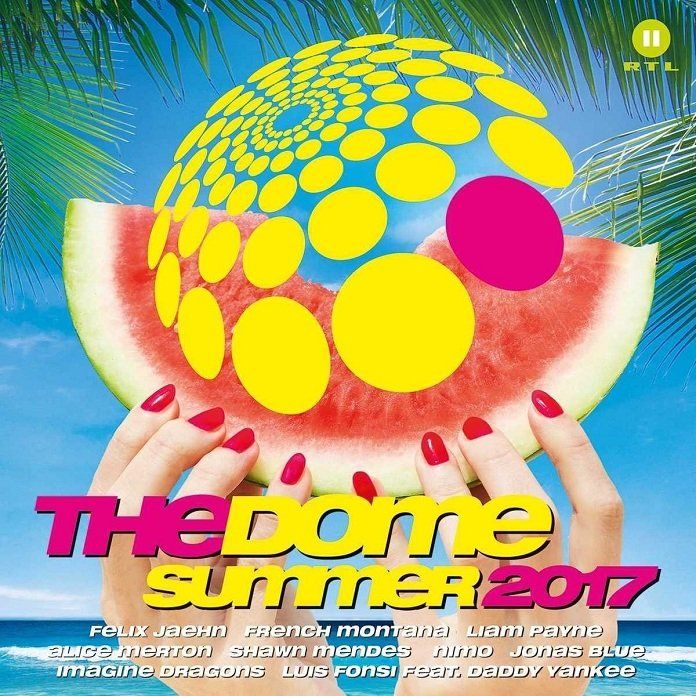 Disk 1:
01. Luis Fonsi & Daddy Yankee – Despacito
02. Jason Derulo – Swalla
03. Felix Jaehn & Alex Aiono & Hight – Hot2Touch
04. Alice Merton – No Roots
05. Shawn Mendes – There's Nothing Holdin' Me Back
06. Jonas Blue – Mama
07. Martin Solveig – All Stars
08. French Montana – Unforgettable
09. Liam Payne – Strip That Down
10. Selena Gomez – Bad Liar
11. The Weeknd – I Feel It Coming
12. Onerepublic – No Vacancy
13. Calvin Harris – Slide
14. The Chainsmokers – Paris
15. Martin Garrix & Troye Sivan – There For You
16. Hardwell & Austin Mahone – Creatures Of The Night
17. Axwell & Ingrosso – More Than You Know
18. Martin Jensen – Solo Dance
19. Jax Jones – You Don't Know Me
20. Alma – Chasing Highs
21. Gestört aber GeiL – Wohin willst du
22. Alle Farben & Janieck – Little Hollywood
23. Ellie Goulding & Kygo – First Time
Disk 2:
01. Lena – If I Wasn't Your Daughter
02. Miley Cyrus – Malibu
03. Camila Cabello – Crying In The Club
04. Imagine Dragons – Thunder
05. Fifth Harmony – Down
06. Hailee Steinfeld – Most Girls
07. Burak Yeter – Tuesday
08. Dua Lipa – Lost In Your Light
09. Bakermat – Don't Want You Back
10. Maître Gims – Loin (Pilule Violette)
11. Shakira – Me Enamoré
12. Maluma – Felices Los 4
13. Milow & Sebastián Yatra – Summer Days
14. Massari – Done Da Da
15. Lola Marsh – Wishing Girl
16. Marlon Roudette – Ultra Love
17. J. Balvin – Sigo Extrañándote (Solano Remix)
18. Halsey – Now Or Never
19. Cro – Unendlichkeit
20. Summer Cem & Adel Tawil & Kc Rebell – Bis hier und noch weiter
21. Nimo – Heute mit mir
22. Prince Kay One – Louis Louis
23. Helene Fischer – Herzbeben