Mit der neuen Future Trance – Return to the Millennium und ihrer grandiosen Tracklist, beginnt die musikalische Zeitreise in die 00er Jahre. Für manche gelten die Millennium Jahre, zu den besten Jahren im Dance bzw. Hands Up Bereich, als kein Club an diesem Sound drum herum kam.
Nachdem wir in den letzten Jahren einen ganzen Haufen an 90er Jahre CDs vorgestellt haben, folgen nun langsam die zahlreichen Compilations, die sich die 00er Jahre zur Brust nehmen. Wie bereits erwähnt, liegt der Haupt Fokus bei diesem Compilations auf dem Hands Up Bereich.
Mit dabei sind unter anderem Songs von Groove Coverage, Jan Wayne, Lasgo, Sylver, Cosmic Gate, Floorfilla, Brooklyn Bounce, Starsplash, Special D. Mark Oh, Basshunter, Mauro Picotto, Safri Dui, Cascada, Public Domain und unzählige weitere Top Acts aus den 00er Jahren.
Bis zum Release der Future Trance – Return to the Millennium ist es zum Glück nicht mehr ganz so lange hin, denn bereits ab dem 30. November 2018 steht das gute Stück für euch im Handel bereit. Wie immer an dieser Stelle, haben wir auch hier die Tracklist und das passende Cover für euch am Start.
Als kleine Preview, haben wir euch den Song Drunkenmunky – E eingebunden, der damals, wie eigentlich alle Songs auf der Future Trance – Return to the Millennium, durch die Decke ging.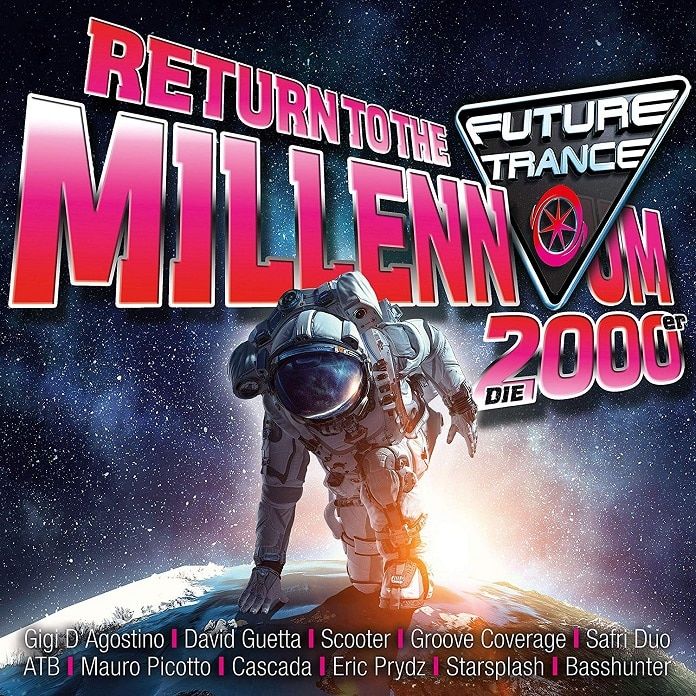 Disk 1:
1. L'Amour Toujours – Gigi D'Agostino
2. Weekend! – Scooter
3. Something – Lasgo
4. Total Eclipse Of The Heart – Jan Wayne meets Lena
5. Moonlight Shadow – Groove Coverage
6. Sunshine – Dance Nation
7. Fly With Me (To The Stars) – DJs@Work
8. Nothing I Won't Do – Special D.
9. Supa-Dupa-Fly – 666
10. Stuck On You – Mark 'Oh
11. Boten Anna – Basshunter
12. Wonderful Days – Starsplash
13. Born To Bounce (Music Is My Destiny) – Brooklyn Bounce
14. Turn The Tide – Sylver
15. Din Daa Daa – Pulsedriver vs. George Kranz
16. Damn! (Remember The Time) – Baracuda
17. Exploration Of Space – Cosmic Gate
18. Hardcore Vibes – Ravers On Dope
19. Sister Golden Hair – Floorfilla
20. Love Parade 2000 (One World One Love Parade) – Dr. Motte & WestBam
Disk 2:
1. Komodo – Mauro Picotto
2. Dragostea Din Tei (DJ Ross Radio RMX) – O-Zone
3. Everytime We Touch (Original Club Mix) – Cascada
4. On The Move – Barthezz
5. Played-A-Live (The Bongo Song) – Safri Duo
6. Drop The Bass – Rocco
7. Free – Starsplash
8. Operation Blade (Bass In The Place) – Public Domain
9. Turn Up The Bass – Klubbheads
10. E – Drunkenmunky
11. Super (Riscaldamento Mix) – Gigi D'Agostino & Albertino
12. Where Are You – Paffendorf
13. Pray – Lasgo
14. Walk On Water (H20 Radio Mix) – Milk Inc.
15. Rhythm Is A Dancer 2003 (SNAP! vs. CJ Stone) – Snap! & CJ Stone
16. Lost In Love (ATB Edit) – Trance Allstars
17. Blind (CJ Stone Meets Mr. Phillips Radio Cut) – Mario Lopez
18. Freak – Lexy & K-Paul
19. Loneliness – Tomcraft
20. Culture Flash – Members Of Mayday
Disk 3:
1. When Love Takes Over – David Guetta & Kelly Rowland
2. The Sound Of San Francisco (Progressive Short Mix) – Global Deejays
3. Call On Me – Eric Prydz
4. Alors On Danse – Stromae
5. For You – The Disco Boys feat. Manfred Mann's Earth Band
6. You're Not Alone – ATB
7. Come With Me – Special D.
8. Das geht ab (Wir feiern die ganze Nacht) [Atzen Musik Mix] – Frauenarzt & Manny Marc
9. Mr. Vain Recall – Culture Beat
10.Play It Hard – DJ Dean
11. Bass, Beats & Melody – Brooklyn Bounce
12. 4 Just 1 Day – Kai Tracid
13. Beyond Time – Blank & Jones
14. For An Angel 2009 (PvD Remix '09) – Paul van Dyk
15. Someday – DJs@Work
16. Hypnotic Tango – Master Blaster
17. Dance – Apollo
18. Sounds Like A Melody – Lichtenfels
19. Free – Ultra
20. Fuck The Millennium – Scooter