Mit der Kontor Festival Sounds 2015 – The Closing und ihrer Tracklist, rückt das Ende der diesjährigen Festival Saison ein Stückchen näher. Auch in diesem Jahr, haben wieder unzählige Party People auf den Festivals in Europa ausgelassen gefeiert.
Leider lief auch diese Festival nicht ohne Todesfälle ab aber im Vergleich zu den Besucherzahlen, sind solche tragischen Ereignisse zum Glück unheimlich selten. Auf unserem Festival Magazin (Eventplay.de), haben wir auch in dieser Saison wieder ausgiebig über zahlreiche Festivals berichtet.
Zum Glück findet noch das ein oder andere Festival statt und mittlerweile gibt es auch reichlich Indoor Festivals, so das man auch im Winter nicht mehr auf das grandiose Festival-Feeling verzichten muss, was kleine Clubs leider nicht bieten können.
Bis zum Release der Kontor Festival Sounds 2015 – The Closing müsst ihr euch noch eine Weile gedulden, denn erst am 28. August 2015 steht das gute Stück für euch im Handel bereit. Wer es nicht abwarten kann, sollte diesen Sampler bereits jetzt schon einmal vorbestellen.
Damit ihr nicht die Katze im Sack kaufen müsst, haben wir in diesem Fall neben der Tracklist und dem Cover, natürlich auch den MiniMix zur Kontor Festival Sounds 2015 – The Closing für euch am Start, einen besseren Eindruck könnt ihr euch von diesem Sampler vorab wohl nicht machen.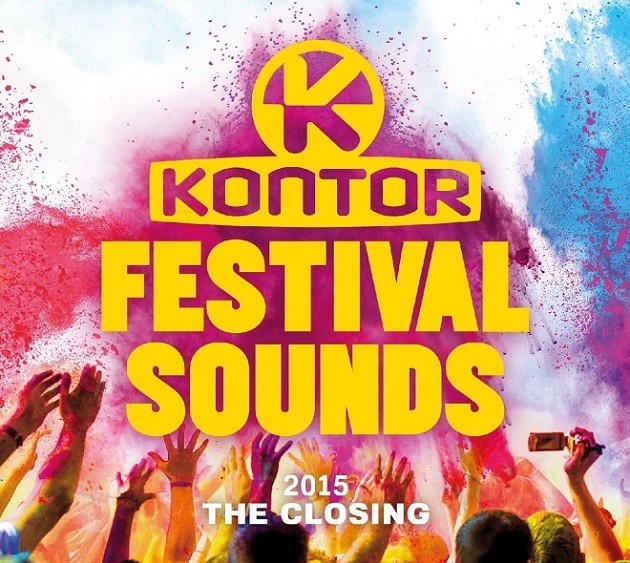 CD1
01. DIMITRI VEGAS & LIKE MIKE FEAT. NE-YO – HIGHER PLACE (BASSJACKERS REMIX)
02. HARDWELL & DANNIC FEAT. HARIS – SURVIVORS
03. DAVID GUETTA FEAT. EMELI SANDÉ – WHAT I DID FOR LOVE (VINAI REMIX)
04. MARTIN GARRIX – FORBIDDEN VOICES
05. AXWELL /\ INGROSSO – ON MY WAY
06. W&W – THE ONE
07. FEDDE LE GRAND & PATRIC LA FUNK – TAKE ME HOME
08. GALANTIS – RUNAWAY [U&I] (QUINTINO REMIX)
09. OTTO KNOWS – NEXT TO ME
10. HEADHUNTERZ & CRYSTAL LAKE – LIVE YOUR LIFE
11. THOMAS GOLD FEAT. BRIGHT LIGHTS – BELIEVE
12. SANDRO SILVA – FIRESTARTER
13. NATURE ONE INC. – STAY AS YOU ARE (JEROME'S OFFICIAL ANTHEM MIX)
14. DYRO & CONRO FEAT. ENVY MONROE – BITTERSWEET
15. JOHN DAHLBACK FEAT. OLIVERA – SHOOTING STAR
16. THIRD PARTY – ARRIVAL
17. 3LAU FEAT. EMMA HEWITT – ALIVE AGAIN
18. MICHAEL BRUN & RUNE RK FEAT. DENNY WHITE – SEE YOU SOON
19. BORGORE & ADDISON – SCHOOL DAZE
20. JETFIRE FEAT. AUTHENTIX – YALEM
CD2
01. AVICII – WAITING FOR LOVE
02. ARMIN VAN BUUREN FEAT. MR. PROBZ – ANOTHER YOU (HEADHUNTERZ REMIX)
03. R3HAB VS SKYTECH & FAFAQ – TIGER
04. DASH BERLIN & SYZZ – THIS IS WHO WE ARE
05. DIMITRI VEGAS & LIKE MIKE VS UMMET OZCAN – THE HUM
06. TOMMY TRASH FEAT. JHART – WAKE THE GIANT
07. PIERCE FULTON – KUAGA [LOST TIME]
08. JULIAN JORDAN – BLINDED BY THE LIGHT
09. RENE RODRIGEZZ & SANNY – JUMPIN BOOBS
10. BOUNCE INC FEAT. KITCH – PLAY IT LOUD
11. DENIZ KOYU & DON PALM – LIFT
12. MAGNIFICENCE & ALEC MAIRE FEAT. BROOKE FORMAN – HEARTBEAT (NICKY ROMERO EDIT)
13. YVES V & PROMISE LAND FEAT. MITCH THOMPSON – MEMORIES WILL FADE
14. FELIX – DON'T YOU WANT ME 2015 (DIMITRI VEGAS & LIKE MIKE REMIX)
15. SICK INDIVIDUALS – LOST & FOUND (MARCUS SANTORO REMIX)
16. PARIS & SIMO FEAT. RICO & MIELLA – GET BACK
17. ERIC CHASE – DUM DUM DA DA [BACK TO THE BASICS]
18. JESSE VOORN FEAT. CHRIS ARNOTT – THE LOVE (DIRTY DUCKS REMIX)
19. QULINEZ – HOOKAH
20. LUCA GIOSSI FEAT. JONNY ROSE – CROSSING BORDERS
CD3
01. NICKY ROMERO – LIGHTHOUSE
02. OLIVER HELDENS – MELODY
03. MARTIN GARRIX & MOTI – VIRUS [HOW ABOUT NOW]
04. W&W & BLASTERJAXX – BOWSER
05. SIDNEY SAMSON & GWISE – GUESS WHO'S BACK
06. DANNY AVILA – PLASTIK
07. DAVE TILL & HENRY JOHNSSON FEAT. JANE DELANEY – READY FOR THE WORLD
08. MICAR – THIS TIME IT'S MY LIFE (BODYBANGERS REMIX)
09. DJ ANTOINE FEAT. AKON – HOLIDAY (DIMARO REMIX)
10. JACK PERRY – DIME
11. RIGGI & PIROS – LOVE ME A LITTLE
12. THOMAS NEWSON & JOEY DALE – TIMECODE
13. NOM DE STRIP – ALIENS
14. MELLOW TRAX & TRASH GORDON – PHUTURE VIBES 2015
15. MAURICE WEST – MEDUSA
16. FRAGMA – TOCA ME (TWOLOUD REMIX)
17. ARNO COST FEAT. JAMES NEWMAN – COMING HOME
18. BASTO – HOLD YOU
19. ANDREW BENNETT FEAT. ANGELIKA VEE – FALL OUT [AIRBEAT ONE ANTHEM]
20. FEHRPLAY & DISFUNKTION – NOVA