Die Kontor Top of the Clubs 76 kommt mit einer gigantischen Tracklist um die Ecke, denn mehr bekommt ihr derzeit wohl bei keiner anderen Dance Music Compilation geboten. In Sachen Dance Music, kommt man in Deutschland seit Jahren nicht mehr an Kontor Records vorbei, doch mit der Kontor Top of the Clubs 76 hat sich Kontor selbst übertroffen.
Das es im Dance Music Sektor schon länger fast schon Standard ist, dass man eine 3er CD-Box bekommt, ist die Kontor Top of the Clubs 76 noch eine Ecke größer. Hier bekommt ihr wie gewohnt die 3 CDs voll mit Top Tracks und exklusiven Remixe aus dem House & Dance Music Sektor und zusätzlich noch eine 4 CD mit einem exklusiven DJ Mix.
Das auf der Kontor Top of the Clubs 76 so ziemlich alle Top Acts aus den aktuellen Charts vertreten sind, müssen wir euch wohl kaum erzählen. So findet man auf dieser Ausgabe, Top Tracks von z.B. Don Diablo, Armin van Buuren, Thomas Gold, Kygo, ATB, Afrojack, The Chainsmokers, Neptunica und viele weitere.
Bis zum Release der Kontor Top of the Clubs 76 dauert es noch eine Weile, denn erst ab dem 13. Oktober 2017 steht das gute Stück für euch im Handel bereit. Neben der Tracklist und dem passenden Cover, haben wir natürlich wie immer bei Compilations aus dem Hause Kontor, den MiniMix für euch am Start.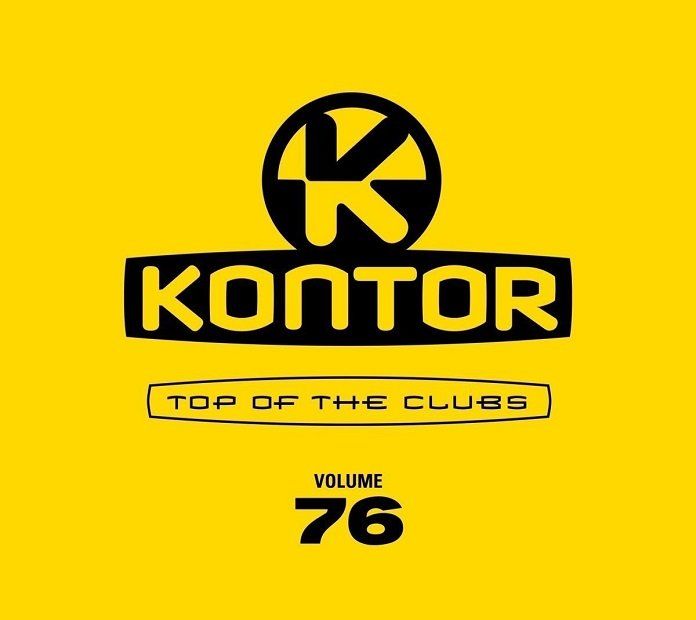 Disk: 1
1. Achtabahn feat. Matt Andersen : Ain't No Sunshine
2. Afrojack & David Guetta feat. Ester Dean : Another Life (The Him Remix)
3. The Chainsmokers : Honest (Gil Glaze Remix)
4. Jax Jones feat. Demi Lovato & Stefflon Don : Instruction
5. Neptunica feat. Lox Chatterbox : Break It Down
6. Jerome & Eric Chase feat. Michelle Hord : Crush
7. Alan Walker & Gavin James : Tired (Steerner & Tobu Remix)
8. ATB feat. Sean Ryan : Never Without You
9. Galantis – Hunter (Mike Williams Remix)
10. Don Diablo : Save A Little Love
11. Robin Schulz feat. James Blunt : OK (Heyder Remix)
12. Felix Jaehn, Hight & Alex Aiono : Hot2Touch (Nu Aspect Remix)
13. Rita Ora : Your Song (Disciples Remix)
14. Jonas Blue feat. William Singe : Mama (OFFAIAH Remix)
15. R.I.O. : When The Sun Comes Down (KAAZE Extended Remix)
16. Dave202 : Eternia
17. Armin van Buuren and Sunnery James & Ryan Marciano : You Are
18. Bombs Away feat. Elle Vee : Like You
19. Neelix : Cherokee
20. W&W x Vini Vici : Chakra
21. Holmes & Watson : Sonic Empire 2017
22. Thomas Gold feat. Mimoza : Dreamer
23. Kygo & Ellie Goulding : First Time (R3hab Remix)
Disk: 2
1. Eric Prydz : Opus
2. Martin Garrix & Troye Sivan : There For You (Goldhouse Remix)
3. Lauv : I Like Me Better (Tru Concept Remix)
4. OYADI : Time Again
5. Portugal. The Man : Feel It Still (Ofenbach Remix)
6. Purple Disco Machine feat. Joe Killington & Duane Harden : Devil In Me
7. EDX : We Can't Give Up
8. Duke Dumont & Gorgon City feat. Naations : Real Life
9. Moguai & AKA AKA : Satisfied (Me & My Toothbrush Remix)
10. Nora En Pure : Fever
11. De Hofnar & Elior feat. Joe Killington : Little Love (Redondo Extended Remix)
12. Calippo : The Flavor
13. Kronic feat. Evan Ross : Restricted (Glover Remix)
14. Leon Lour : Equilibrium
15. Oliver Heldens : Ibiza 77 (Can You Feel It)
16. MYNC & Rhythm Masters feat. Wynter Gordon : I Feel Love (Illyus & Barrientos Remix)
17. Lucky Charmes feat. Domzi : Ibiza Calling
18. Platinum Doug : Get High, Live Life
19. DJ Wady & Patrick M : Hulk (CamelPhat 2017 Re – Fix)
20. Julian Wassermann : Sol
21. Boris Dlugosch & Cassara : Traveller
22. Crooked Colours : Flow (Thomas Jack Remix)
23. Kyle Watson feat. Apple Gule : Solace
Disk: 3
1. Tom Gregory : Run To You (Marcapasos & Janosh Extended Remix)
2. Marcapasos : Jump (Giant Leap) (Janosh Club Remix)
3. Gestört aber GeiL feat. Benne : Repeat
4. Blondee & Roberto Mozza : My Heart Goes Boom
5. Sans Souci feat. Pearl Andersson : Safe In Your Arms
6. ItaloBrothers : Summer Air
7. Saltbread feat. Jakub Ondra : Wild Heartbeat (Janosh Extended Remix)
8. BANKEWITZ : Get Up
9. Odd Mob x Super Silly : No Pressure
10. Vijay & Sofia, ØNM feat. MANDY : Hello
11. Eric Chase feat. Ria : Can Get You Off
12. Sultan + Shepard feat. Nadia Ali & IRO : Almost Home
13. Freischwimmer feat. Polina : Waiting for You
14. DJ Antoine & Dizkodude feat. Sibbyl : I Love Your Smile (DJ Antoine vs Mad Mark 2k17 Extended Remix)
15. Sandy Dae : So Many Times
16. Janosh feat. Trashmonkeys : Attitudes In Stereo
17. Firebeatz feat. Vertel : Till The Sun Comes Up
18. Sean Finn vs. Terri B! & Peter Brown : Free (Sean Finn Edit)
19. Marcus Brodowski : Till The End
20. SKIY feat. Laura White : Lullaby (Badr Avsar Extended Remix)
21. LIZOT feat. Emelie Cyréus : Pretty Little White Lies
22. smiie feat. Albeneir : Goodbye
23. CliXX feat. I Am L pres. by Fcksht : Jekyll Or Hyde
Disk: 4
1. EDX – We Can't Give Up
2. Achtabahn feat. Matt Andersen : Ain't No Sunshine
3. Tom Gregory : Run To You (Marcapasos & Janosh Extended Remix)
4. Nora En Pure : Fever
5. Neptunica feat. Lox Chatterbox : Break It Down
6. Moguai & AKA AKA : Satisfied (Me & My Toothbrush Remix)
7. OYADI : Time Again
8. Blondee & Roberto Mozza : My Heart Goes Boom
9. Armin van Buuren and Sunnery James & Ryan Marciano : You Are
10. Neelix : Cherokee
11. Holmes & Watson : Sonic Empire 2017
12. MYNC & Rhythm Masters feat. Wynter Gordon : I Feel Love (Illyus & Barrientos Remix)
13. DJ Wady & Patrick M : Hulk (CamelPhat 2017 Re – Fix Edit)
14. De Hofnar & Elior feat. Joe Killington : Little Love (Redondo Extended Remix)
15. Sans Souci feat. Pearl Andersson : Safe In Your Arms
16. Sultan + Shepard feat. Nadia Ali & IRO : Almost Home
17. Platinum Doug : Get High, Live Life