Euch fehlt noch die richtige Musik zu Silvester ? Die Kontor Top of the Clubs 77 bringt mit ihrer Tracklist euch den Top Sound nach Hause. Als letzte Dance Music Compilation im Jahre 2017, bekommt die neue Kontor Top of the Clubs 77 eine Extraportion Aufmerksamkeit, denn im Werbezeitraum dürften kaum weitere Compilation stark beworben werden.
Wie man es von der Kontor Top of the Clubs Reihe bereits gewöhnt ist, kommt natürlich auch die 77. Ausgabe wieder als 3er CD-Box auf den Markt. So erwarten euch insgesamt 69 Top Tracks aus den Charts und wie immer bei Kontor Records auch wieder Tracks bzw. Remxie, die es auf keiner anderen Compilation gibt.
Mit dabei sind also Top Tracks von z.B. Lost Frequencies, Martin Garrix, Axwell Ingrosso, Rudimental, Picco, Stereoact, Avicii, EDX, Martin Solvgei, Sultan + Shepard, Marshmello und unfassbar viele mehr. Für eure Silvester Party mit Freunden, ist die Kontor Top of the Clubs 77 also genau das richtige für euch.
Im Handel steht die Kontor Top of the Clubs 77 für euch ab dem 29. Dezember 2017 bereit, also heißt es direkt erst einmal fleißig vorbestellen, damit ihr sie auch zu Silvester in der Hand halten dürft. Damit ihr wisst, was euch bei der 77. Ausgabe erwartet, haben wir natürlich auch die Tracklist und das passende Cover für euch am Start.
Den MiniMix zur neuen Kontor Top of the Clubs 77 liefern wir euch natürlich nach, sobald Kontor Records ihn auf dem hauseigenen Youtube Kanal online stellt.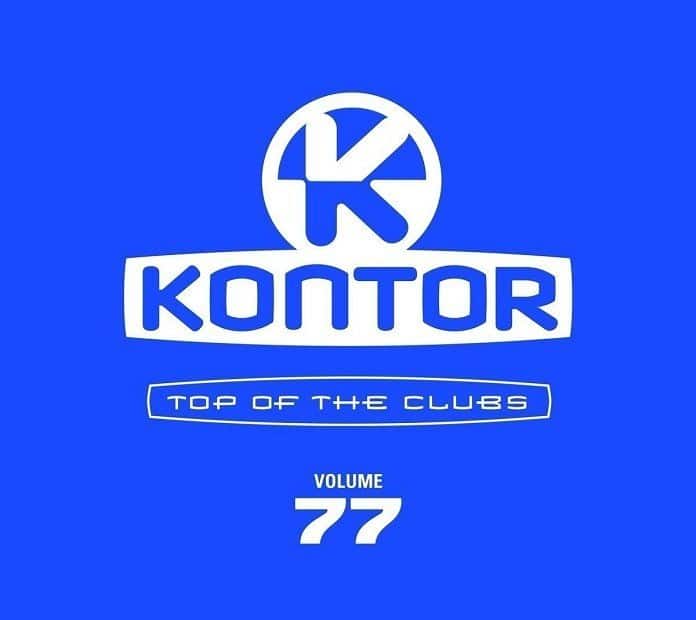 Disk: 1
1. Lost Frequencies & Zonderling : Crazy
2. Limao : Good Good Time
3. Picco feat. Lunascope : Broke
4. Stereoact feat. Laura Luppino : Ich will nur Tanzen
5. Loud Luxury feat. Brando : Body
6. Gestört aber GeiL feat. Benne : Repeat (DJ Antoine vs. Mad Mark Extended Remix)
7. P!nk : What About Us (Madison Mars Remix)
8. Axwell Ingrosso : More Than You Know
9. Martin Garrix & Matisse & Sadko : Forever
10. French Montana feat. Swae Lee : Unforgettable (Tiësto vs. Dzeko AFTR:HRS Remix)
11. J Balvin & Willy William : Mi Gente (Cedric Gervais Remix)
12. Marshmello x Khalid : Silence (Tiësto's Big Room Remix)
13. Robin Schulz & HUGEL : I Believe I'm Fine (Nervo Remix)
14. Rudimental ft. James Arthur : Sun Comes Up (OFFAIAH Remix)
15. Bobby Rock : You Make Me Feel
16. Sagan : Tempus
17. Krosses : Gold (RetroVision Remix)
18. The Holy Santa Barbara feat. Dawid : Vodi & Jacky
19. Brooks & GRX : Boomerang
20. DJ Licious : I Can't Stop
21. Consoul Trainin feat. Steven Aderinto & DuoViolins : Obsession
22. Hirschwell : 1000 Bilder
23. Stephen Oaks & JayKay feat. Pitbull : Ojos Q No Ven
Disk: 2
1. CamelPhat & Elderbrook : Cola
2. Martin Solveig feat. ALMA : All Stars
3. EDX : Runnin'
4. Starley : Been Meaning To Tell You (Odd Mob Remix)
5. Mihail : Who You Are (Eric Chase Extended Remix)
6. SKIY : Don't You (Forget About Me)
7. Avicii feat. Sandro Cavazza : Without You (Merk & Kremont Remix)
8. Jus Jack : Love Somebody (Frank Pole Extended Remix)
9. Sultan + Shepard : Bloom
10. Ben Delay feat. Alexandra Prince : Out Of My Life (Calippo Remix)
11. Just Us & Wolves By Night : Flirtatious (James Hype Remix)
12. Dave Winnel : The Kazoo
13. CID : Creepin'
14. Chris Lake & Chris Lorenzo : Nothing Better
15. Don Diablo : Momentum
16. Lucas & Steve x Firebeatz ft. Little Giants : Keep Your Head Up
17. twoloud : Flipflops
18. Greco (NYC) feat. Rowetta : Be (Klangkuenstler Remix)
19. BLR : Böda
20. Samuele Sartini feat. Amanda Wilson : Love U Seek
21. Bobby Puma feat. Zach Sorgen : Anything Is Possible (UNOMAS Extended Remix)
22. Lexer : It Will Be All Over Soon
23. Nora En Pure : Trailblazer
Disk: 3
1. Scooter & Dave202 : Kill The Cat
2. Dimitri Vegas & Like Mike vs. W&W : Crowd Control
3. ItaloBrothers : This Is Nightlife (MaxRiven Extended Remix)
4. DubVision & Afrojack : New Memories
5. Tiësto feat. StarGate & Aloe Blacc : Carry You Home
6. Pauls Paris feat. Moses York : Make Your Mind Up (Axwell & NEW_ID Extended Remode)
7. VASSY & Afrojack feat. Oliver Rosa : LOST
8. NERVO x Danny Avila feat. Reverie : LOCO
9. Dave202 : Impulse
10. Alesso : Falling (BROHUG Remix)
11. Dash Berlin feat. Arjay and Jonah – Love Out Loud
12. Cantaffa : Call Me
13. Dankann : How Deep Is Your Love
14. Barkley : Her Eyes
15. Tom Budin feat. Jack Wilby : On My Side
16. Mike Williams x Brooks : Jetlag
17. Fedde Le Grand and Ida Corr : Let Me Think About It (Celebration Mix)
18. Sem Thomasson : Icebear
19. DubVision : Paradise
20. ArtLec : Barcelona
21. Fred Pellichero : Iris
22. Daniel Portman & Passenger 10 : Galactica
23. Neelix : 1000 Sterne (Talla 2XLC Uplifting Rework)
Disk: 4
1. Gestört aber GeiL feat. Benne : Repeat (DJ Antoine vs Mad Mark Extended Remix)
2. Starley : Been Meaning To Tell You (Odd Mob Remix)
3. Lost Frequencies & Zonderling : Crazy
4. EDX : Runnin'
5. Nora En Pure : Trailblazer
6. Loud Luxury feat. Brando : Body
7. Consoul Trainin feat. Steven Aderinto & DuoViolins : Obsession
8. Sultan + Shepard : Bloom
9. Lexer : It Will Be All Over Soon
10. Limao : Good Good Time
11. Picco feat. Lunascope : Broke
12. Jus Jack : Love Somebody (Frank Pole Extended Remix)
13. Samuele Sartini feat. Amanda Wilson : Love U Seek
14. twoloud : Flipflops
15. ItaloBrothers : This Is Nightlife (MaxRiven Extended Remix)
16. Neelix : 1000 Sterne (Talla 2XLC Uplifting Rework)
17. Dave202 : Impulse