Bereit für die Pop Giganten – Black Hits ? Wir haben für euch die Tracklist der Pop Giganten – Black Hits rausgesucht, damit ihr wisst was euch bei dieser Compilation erwartet. Einige von euch mögen die TV Show "Pop Giganten" noch kennen, doch wie viele Musiksendungen im deutschen Fernsehen, gibt es auch diese Chartshow nicht mehr.
Aber auch im Fall der Pop Giganten, lebt die gleichnamige Compilation weiter und das im neuen frischen Gewand. Beworben wird die Pop Giganten – Black Hits jedoch nicht mehr im Umfeld von Sat 1, sondern auf RTL 2. Wie der Name schon sagt, findet ihr hier die besten Black Musik Hits der letzten Jahre.
Wer hier nun allerdings top aktuelle Songs aus den Charts erwartet, wird sich sicherlich über die Auswahl der Tracks wundern. Hier findet ihr nämlich die besten Black Hits überhaupt. So bekommt ihr mit der Pop Giganten – Black Hits Top Tracks von z.B. Nelly, 50 Cent, Usher, Wu-Tang Clan, Fugees, Sean Paul und viele mehr nach Hause.
Bis zum Release am 5. Januar 2018 dauert es zwar noch eine Weile aber das hält uns natürlich nicht davon ab, euch schon jetzt die Tracklist und das passende Cover der Pop Giganten – Black Hits für euch parat.
Wenn euch die neue Ausgabe der Pop Giganten zusagt, könnt ihr das gute Stück natürlich schon jetzt bei Amazon oder anderen Shops vorbestellen, um den Release dieser Compilation nicht zu verpassen.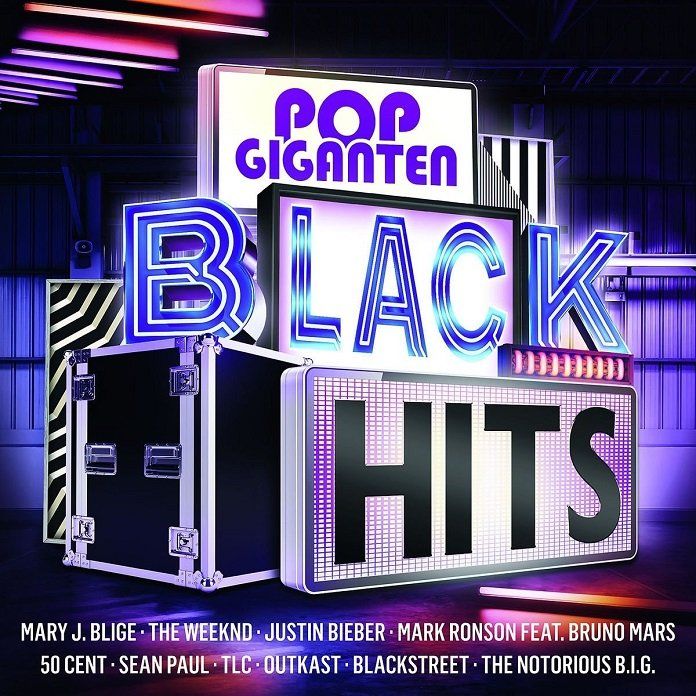 Disk: 1
1. In Da Club – 50 Cent
2. Hot In Herre – Nelly
3. The Way I Are (Album Version) – Timbaland
4. Promiscuous – Furtado, Nelly
5. Lose My Breath – Destiny's Child
6. DJ Got Us Fallin' In Love – Usher
7. Run It! (Main Version) – Brown, Chris
8. Buttons (Final Edit Version) – The Pussycat Dolls
9. Get Busy (Album Version) – Paul, Sean
10. Let Me Blow Ya Mind (Album Version) – Eve
11. Family Affair (Album Version) – Blige, Mary J.
12. Trick Me – Kelis
13. Work From Home – Fifth Harmony
14. What Do You Mean? – Bieber, Justin
15. My Humps (Single Version) – The Black Eyed Peas
16. Blurred Lines (No Rap Version) – Thicke, Robin
17. Uptown Funk – Ronson, Mark
18. Rapper's Delight (Single Version) – The Sugarhill Gang
19. This Is How We Do It – Jordan, Montell
20. The Message – Grandmaster Flash & The Furious Five
21. Hypnotize – Notorious B.I.G.
Disk: 2
1. Gravel Pit (Radio Version) – Wu-Tang Clan
2. Ms. Jackson (Radio Mix) – OutKast
3. No Diggity (Radio Version) – Blackstreet
4. Regulate – Warren G
5. Ready Or Not – Fugees
6. The Hills – The Weeknd
7. Unforgettable – French Montana
8. I Got 5 On It – Luniz
9. U Can't Touch This – M.C. Hammer
10. Thong Song (Album Version (Explicit)) – Sisqo
11. No Scrubs – TLC
12. Never Leave You (Uh Oooh, Uh Oooh) – Lumidee
13. Candy Shop – 50 Cent
14. Fight Music – D12
15. Panda – Desiigner
16. Mask Off – Future
17. Black Beatles – Rae Sremmurd
18. Me, Myself & I – G-Eazy
19. No One – Keys, Alicia
20. 1-800-273-8255 – Logic