Mitten in der Festival Saison, kommt mit der Kontor Top of the Clubs 79 und ihrer Tracklist ein echtes Sahnestück auf den Markt. Auf der neuen Ausgabe sind wieder reichlich Top Tracks vereint, die ihr derzeit auf so ziemlich allen großen Dance Music Festivals zu hören bekommt.
Wie man es von der Kontor Top of the Clubs Reihe kennt, gibt es natürlich auch dieses mal wieder einige Tracks und Remixe, die bislang Exklusiv sind. Damit ist gemeint, dass diese bislang auf noch keiner anderen Dance Music Compilation zu finden sind. Dies ist ein absoluter Pluspunkt für die neue Kontor Top of the Clubs 79.
In der Tracklist befinden sich unter anderem Tracks wie z.B. von Afrojack, Tujamo, VIZE, Kygo, Jasper Forks, Dave202, Blank & Jones, Armin van Buuren und viele weitere. Bis zum Release dauert es noch ein paar Tage, denn erst ab dem 13. Juli 2018 steht das gute Stück für euch im Handel bereit.
Natürlich haben wir wie immer an dieser Stelle die Tracklist und das passende Cover für euch am Start, damit ihr wisst was euch hier erwartet. Wem das nicht reicht, der kann sich natürlich noch mit Hilfe des MiniMix einen ersten Eindruck verschaffen, bevor ihr die Kontor Top of the Clubs 79 vorbestellt.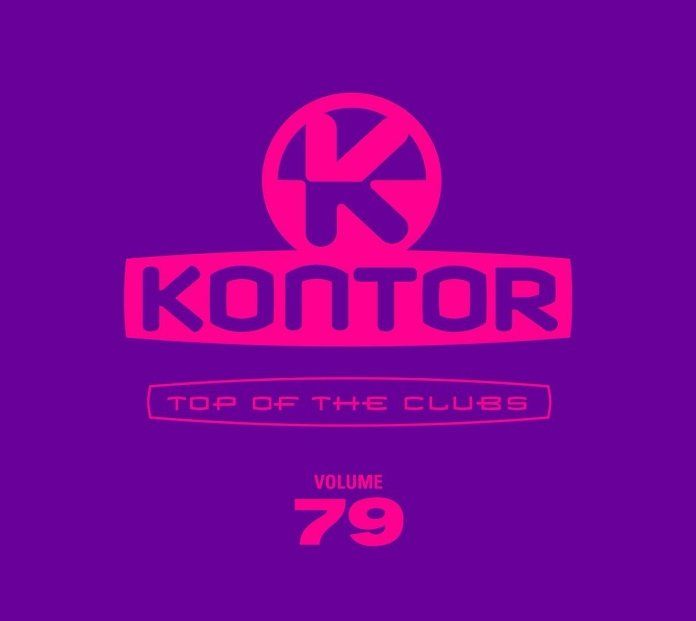 Disk: 1
1. El Profesor : Bella Ciao (HUGEL Remix)
2. Lost Frequencies feat. James Blunt : Melody (Ofenbach Extended Remix)
3. VIZE : Glad You Came
4. Tujamo & Sidney Samson : Riverside (Reloaded)
5. David Guetta, Martin Garrix and Brooks : Like I Do
6. Tiësto & Mesto : Coming Home
7. Afrojack X Jewelz & Sparks : One More Day (Nicky Romero Extended Remix)
8. Martin Garrix & LOOPERS : Game Over
9. Adam Trigger : Olé (HUGEL Extended Remix)
10. Kygo & Miguel : Remind Me To Forget
11. Patz & Grimbard : Sommermädchen
12. Jack Wins feat. Rae Hall : Feel My Love
13. Bougenvilla, Albert Neve & David Puentez : No Matter What
14. Magnificence : Cobra
15. Jasted : La La Life
16. Plastik Funk & Melody Federer : Standing
17. Jasper Forks : Like Butterflies
18. Miss Nipple : Lick It (Nicola Fasano & Dual Beat Remix)
19. Dave202 : Venom
20. Armin van Buuren : Blah Blah Blah
21. Jerome vs. Beatfighterz : Sky
22. Ran – D : Zombie
23. W&W x Darren Styles feat. Giin : Long Way Down
Disk: 2
1. Loud Luxury feat. Brando : Body (PBH & Jack Shizzle Extended Remix)
2. Cecilia Krull : My Life Is Going On (Alok, Jetlag Music, Wadd & Hot – Q Remix)
3. Purple Disco Machine : Dished (Male Stripper)
4. Blank & Jones : One
5. Like Mike : Rewind (Sem Thomasson Remix)
6. Franky Rizardo : Revoke
7. Lauv : Chasing Fire (Robin Schulz Remix)
8. Marcapasos feat. Phrazer : Rest Of My Life
9. Kav Verhouzer feat. BullySongs : Get What You Came For
10. ATFC & David Penn : Hipcats
11. Ron Carroll : Walking Down The Street (Sugarstarr Extended Remix)
12. Kristine Blond : Love Shy (James Hype Extended Remix)
13. Joseph Armani & Baxter : Happy People
14. Thomas Gold : Begin Again
15. Danielle Diaz feat. Clint Jun : Anyone But You (MBP Remix)
16. Eric Chase : Time To Shine (Chassio Extended Remix)
17. Sigala & Paloma Faith : Lullaby
18. Gil Sanders feat. Zay : Over The Hill (Jordan Magro Extended Remix)
19. Neptunica : Butterfly Effect
20. Ninetoes : Finder (Matador Remix)
21. Lexy & K – Paul feat. Richard Judge : RAVERohneENDE (Alle Farben Extended Remix)
22. Hagen Feetly : U Got Me
23. Sans Souci : Comina
Disk: 3
1. EDX : We Can't Give Up (Hugh Grove Extended Remix)
2. Ferreck Dawn & Robosonic : In Arms
3. Rudimental feat. Jess Glynne, Macklemore & Dan Caplen : These Days (CamelPhat Remix)
4. Nora En Pure : Don't Look Back
5. Weiss : Feel My Needs
6. Au/Ra & CamelPhat : Panic Room
7. Lucas & Steve x Brandy : I Could Be Wrong
8. Sam Smith : Pray (MK Remix)
9. Ben Delay : You Bring The Sunshine
10. Disciples : Atheist
11. Armand van Helden vs. Butter Rush : I Need A Painkiller (MK Edit)
12. Black Legend & Vincenzo Callea : 7 Ways To Love
13. Croatia Squad : Café Brasil
14. Pablo Nouvelle feat. Andreya Triana : Sunshine In Stereo (HUGEL Remix)
15. Leandro Da Silva : So Excited (Calippo Remix)
16. Sons Of Maria : Break Through
17. Jude & Frank & Raul Mendes : Colombina
18. Alex Kenji & Federico Scavo : Gimme Five 2k18
19. Yvvan Back & BigNoise : Rather Be (Instrumental)
20. Barkley : Ligona
21. Sebjak & Matt Nash : I Need A Friend
22. Fehrplay : Malnati
23. TheDjLawyer : Give It Up
Disk: 4
1. Armin van Buuren : Blah Blah Blah
2. Lost Frequencies feat. James Blunt : Melody (Ofenbach Extended Remix)
3. Afrojack X Jewelz & Sparks : One More Day (Nicky Romero Remix)
4. Blank & Jones : One
5. EDX : We Can't Give Up (Hugh Grove Remix)
6. VIZE : Glad You Came
7. Nora En Pure : Don't Look Back
8. El Profesor : Bella Ciao (HUGEL Remix)
9. Cecilia Krull : My Life Is Going On (Alok, Jetlag Music, Wadd & Hot – Q Remix)
10. Adam Trigger : Olé (HUGEL Extended Remix)
11. Loud Luxury feat. Brando : Body (PBH & Jack Shizzle Remix)
12. ATFC & David Penn : Hipcats
13. Patz & Grimbard : Sommermädchen
14. Neptunica : Butterfly Effect
15. Ben Delay : You Bring The Sunshine
16. Pablo Nouvelle feat. Andreya Triana : Sunshine In Stereo (HUGEL Remix)
17. Like Mike : Rewind
18. Danielle Diaz feat. Clint Jun : Anyone But You (MBP Remix)
19. Lexy & K – Paul feat. Richard Judge : RAVERohneENDE (Alle Farben Remix)
20. Ninetoes : Finder (Matador Remix Edit)
21. W&W x Darren Styles feat. Giin : Long Way Down
22. Jerome vs. Beatfighterz : Sky
23. Ran – D : Zombie