Zeitreise gefällig ? Mit der Future Trance – The Real Classics und ihrer Tracklist, begebt ihr euch auf eine Zeitreise der ganz besonderen Art. Wie der Name schon sagt, gibt es hier nicht die Typischen Euro Dance Hits oder Hands Up Tracks, die man ständig findet auf solchen Compilations, sondern die Real Classics.
Gemeint sind da Songs von z.B. Southside Spinners, Blank & Jones, ATB, FLutlicht, Marc El claude, Paul van Dyk, Faithless, DJ Quicksilver, Barthezz, Rocco, Brooklyn Bounce, Schiller, Moguai und unheimlich vielen mehr, aus der guten alten Zeit.
Wer direkt in den Laden stürzen möchte, um sich die Future Trance – The Real Classics zu kaufen, muss sich noch ein weile gedulden. Erst ab dem 20. Juli 2018 steht das gute Stück für euch im Handel bereit. Wir haben natürlich wie immer die Tracklist und das passende Cover für euch am Start, damit ihr wisst was euch hier erwartet.
Sicherlich können gerade die jüngeren Leser von uns mit der Future Trance – The Real Classics nicht viel anfangen aber die Älteren dafür sicher umso mehr.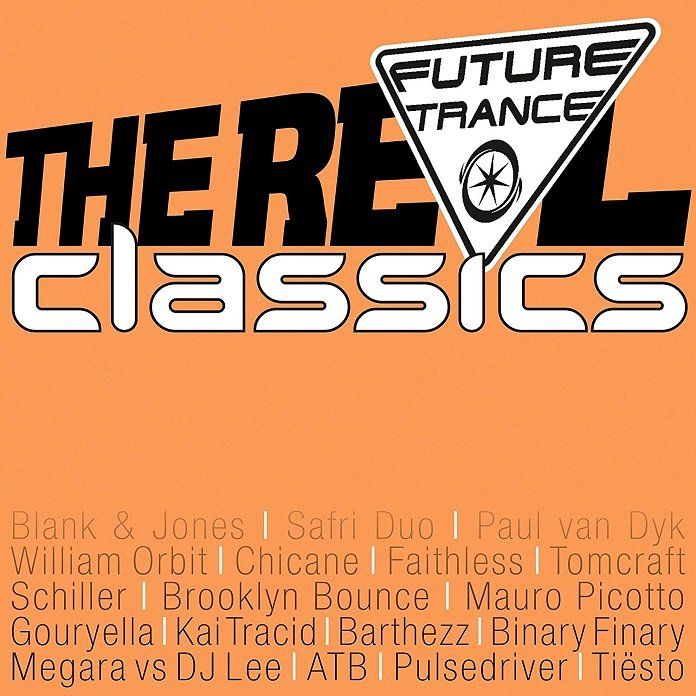 Disk: 1
1. Let U Go (Clubb Mix) – ATB
2. DJ Culture (Kaycee Remix) – Blank & Jones
3. Baya Baya (Future Breeze Club Mix) – Safri Duo
4. Infected (Original Mix) – Barthezz
5. Luvstruck (Marco V & Benjamin Remix) – Southside Spinners
6. Beatbox (Original) – Dial M For Moguai
7. Equinoxe IV (Club Mix) – DJ Quicksilver
8. Trance & Acid – Tracid, Kai
9. Moonflight (Original Mix) – Green Court
10. 1999 (Kaycee Remix) – Finary, Binary
11. Pulsar (R.A.F. Zone Mix) – Picotto, Mauro
Disk: 2
1. Traffic (Original 12″) – Tiësto
2. Barber's Adagio for Strings (Ferry Corsten Remix) – Orbit, William
3. Carte Blanche – Veracocha
4. Tenshi (Original Mix) – Gouryella
5. Saltwater (Original Mix) – Chicane
6. Icarus (The Flight) (Original Daedalus Mix) – Flutlicht
7. Musical Society (Club Mix) – Megara
8. La (Moonman's Flashover Mix) – Marc Et Claude
9. Your Spirit Is Shining (Extended Mix) – Pulsedriver
10. Ayla (DJ Taucher Remix) – Ayla
Disk: 3
1. Time Of Our Lives (US Radio Mix) – van Dyk, Paul
2. God Is A DJ (Monster Mix) – Faithless
3. Overdose (Lady Mix) – DJ Tomcraft
4. U Know Y (Original) – MOGUAI
5. Das Glockenspiel (X/Tended) – Schiller
6. Paradise (Nu Gray Mix) – Fridge
7. I Feel Love (DJ Jamx & De Leon Remix) – CRW
8. Fly Away (Extended Radio) – Moor, Vincent
9. God Music (Cosmic Gate Mix) – Dumonde
10. Into My Brain (Plug 'N' Play Club Mix) – Lopez, Mario
11. Bring It Back (Club Mix) – Brooklyn Bounce
12. Generation Of Love (Walt & Feliz Remix) – Rocco